Stellar (XLM) has seen some strong momentum throughout the past few weeks, but this is starting to show some signs of faltering as its buyers fail to surmount a crucial resistance region that it has tested multiple times.
Its current signs of weakness may not be emblematic of its near-term outlook, however, as one analyst is noting that a variety of factors suggest that it could be gearing up for a fresh leg higher.
This trader – who predicted XLM's last 45% rally – is now noting that he expects it to surge by another 60% before hitting a resistance level that proves to be insurmountable.
Despite this possibility, there are a few disturbing signs regarding the cryptocurrency's present strength.
Another analyst is warning investors about getting too excited when it comes to Stellar's mid-term outlook, adding that the chances of another strong uptrend are "slim" until it sees a pullback.
Stellar (XLM) Sees Stalling Momentum as Resistance Mounts
At the time of writing, Stellar (XLM) is trading down just over 1% at its current price of $0.0986.
This marks a slight decline from its recent highs of nearly $0.11 that were set earlier this week.
It is important to note that the cryptocurrency's stalling momentum comes after it posted a wild rally that led it up from its late-June lows of sub-$0.06.
Before making this movement, one popular cryptocurrency analyst on Twitter forecasted that a massive trend shift was looming, pointing to the existence of a 301-day old ascending triangle.
After breaking out of this technical pattern, the cryptocurrency began the climb that ultimately led it to its recent highs.
The same analyst is now noting that Stellar may have more fuel left in its tank. In a tweet from yesterday evening, he explained that XLM could get "absolutely launched" soon.
The chart he put forth shows an upside target against BTC that is roughly 60% above its current price level.
"XLM is +46% since I started this thread and I'm just here to remind you that it is going to get absolutely launched soon. It's easy to get caught up in the defi craze but they aren't the only things that are hot right now. Commence the sending," he said.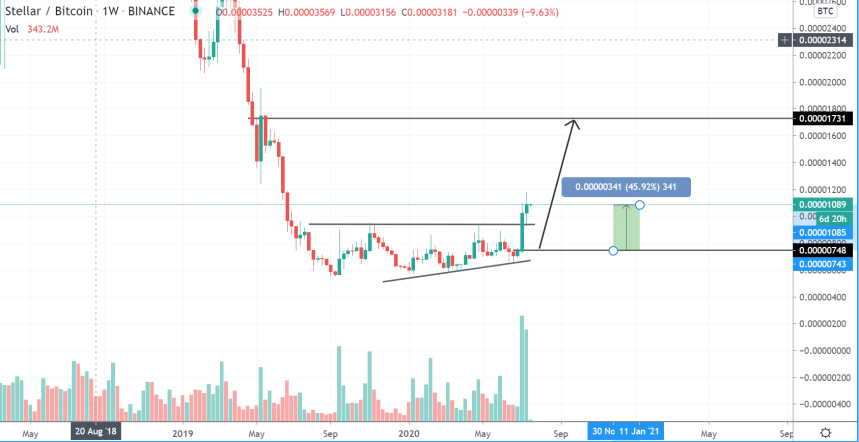 Image Courtesy of "SmartContracter." Chart via TradingView.
Here are the Signs that Spell Trouble for XLM's Mid-Term Outlook
Despite further upside being a strong possibility, another analyst recently explained that a few factors are signaling that a pullback may be imminent.
"I'm a big fan of the breakout on XLM. I've already played one long position but I'd like to position around the range break for a swing long and ride. Chances? Probably slim. Wicks showing multiple taps with good buy up. Trend looks good, but I can't enter here."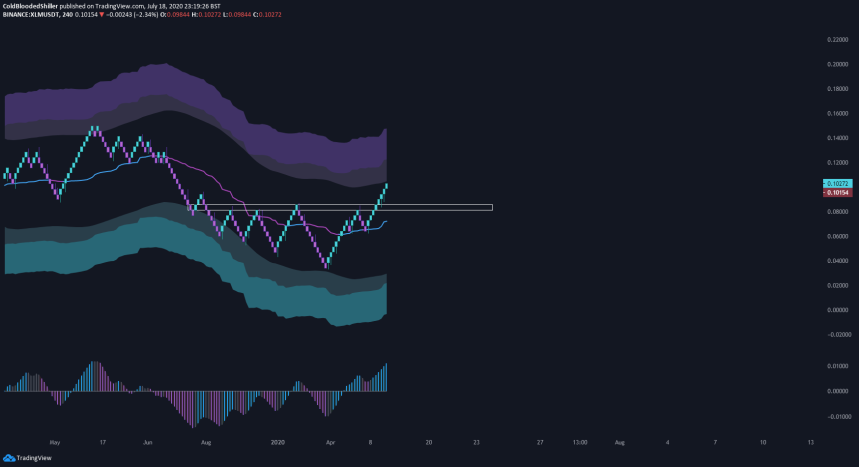 Image Courtesy of Cold Blooded Shiller. Chart via TradingView.
How XLM trends in the days ahead should provide insight into whether these factors will be enough to slow its ascent.
Featured image from Shutterstock.

Charts via TradingView.