Over the past few weeks, crypto investors have been wondering if Bitcoin bottomed during the crash to $3,700. After all, the asset traded there for mere minutes, falling to that level as a result of a seeming cascading series of orders on derivatives exchanges rather than pure, organic price action.
According to a simple market cycle study of Bitcoin's two macrocycles, 2013-2015 to 2016-2018, the bottom is not yet complete.
Simple Market Cycle Study: Bitcoin May Not Be In
Although Bitcoin may seemingly move without rhyme or rhythm, the movement of the cryptocurrency falls into patterns over time, responding to different events in similar ways and overall investor psychology.
One such pattern is one recently shared by Dan Talman and Nunya Bizniz. Talman, who came up with the idea, suggested that Bitcoin's bear market has seven distinct points and three distinct phases, depicted by the numbers and colors in the below chart.
The first phase is marked by a steep crash and bound; the second phase is short but sees the cryptocurrency crash again to set a new low; and the last phase is capitulation, where prices set fresh lows.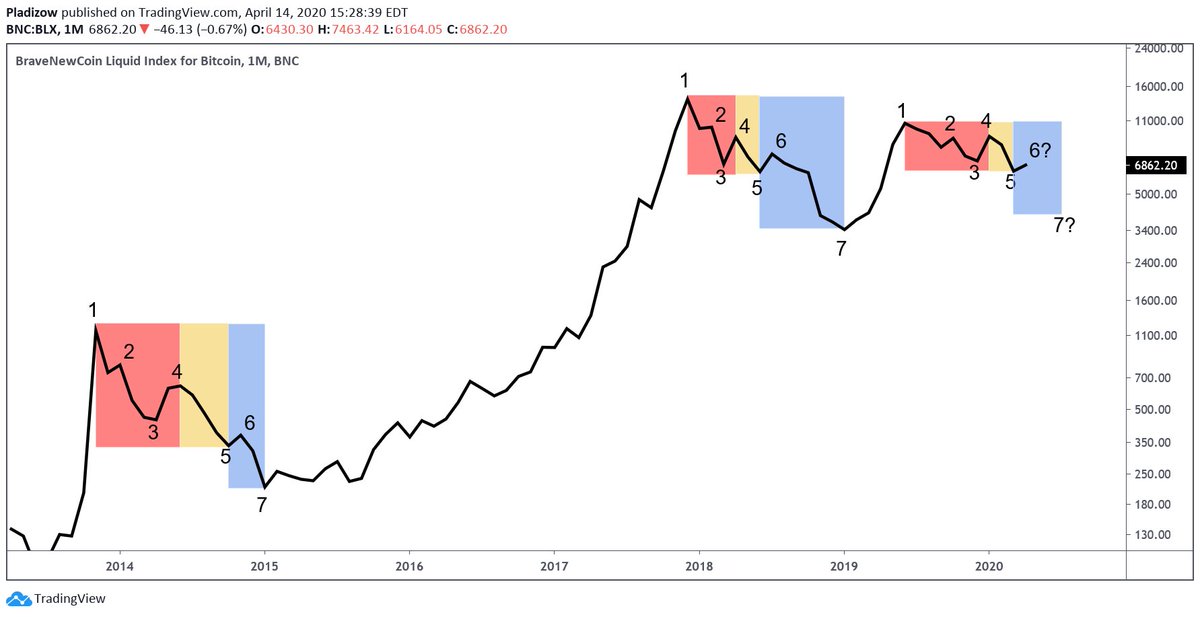 Bitcoin is currently at the start of the third phase, the chart suggests. It also shows that should BTC complete the pattern as it has done in the past, it will fall and then consolidate around the $4,000 lows once again.
It isn't only Bizniz that suggests the bottom is not yet in.
Not Only One Touting This Theory
These analysts aren't the only ones touting this sentiment that the bottom is not yet in.
On April 3rd, a crypto trader with the moniker of SmartContracter suggested that when looking at Bitcoin's chart from the perspective of an Elliot Wave analyst, he's not yet sure it can be reliable said the bottom is in as this move seems "impulsive" rather than a truly bullish move:
"[T]heres [sic] so many different ways you could count BTC here: either wxy, larger triangle, larger flat, I'm not too sure, the one thing that does stick out is the series of 3 wave moves and lack of 5 wave motives. [F]or this reason, I think its still too early to call a bottom."
This is especially notable as the analyst in the middle of 2018, when Bitcoin was in the midst of a bear market, said that he expected the asset to find an ultimate bottom at $3,200:
"I'm calling a bottom at exactly 3.2k with a 200 dollar leeway either side."
There's also Ross Ulbricht — the founder of the Silk Road online marketplace and one of the earlier Bitcoin adopters. He shared in an article that his use of Elliot Wave analysis also suggests the bottom is not yet in, proposing that a move under $3,000 could be seen prior to a massive explosion higher.
Photo by Francesco Ungaro from Pexels