Bitcoin's potential rise to $10,000 against the ongoing Coronavirus frenzy may have been limited by one of its rival cryptocurrency projects.
Cardano, or ADA, surged by close to 10 percent against the benchmark cryptocurrency on Tuesday, registering a fresh top near 588 sats. The move pushed the ADA-to-BTC exchange rate to its eight-month high, also inching closer to a long-term technical resistance that kept the pair in an overstretched consolidation phase.
The wild upside swing followed CEO Charles Hoskinson's announcement of entering partnership PwC, a $42.4 billion global giant. The senior executive revealed that PwC could utilize Cardano's blockchain within its network of professional services, which includes assurance, tax, and consulting to 420 out of 500 Fortune 500 companies.
Traders took cues from Mr. Hoskinson's announcement and started increasing their exposure in Cardano blockchain's native asset, ADA, thereafter. As a result, the token registered fresh gains in both the US dollar and bitcoin markets.
Against the dollar, in particular, ADA surged by as much as 13.75 percent on a 24-hour adjusted timeframe (data from CoinMarketCap).
Cardano Technical Resistance
The latest push to the upside took ADA to test its long-term technical resistance – the upper trendline of a slightly-ascending channel, as shown in the chart below.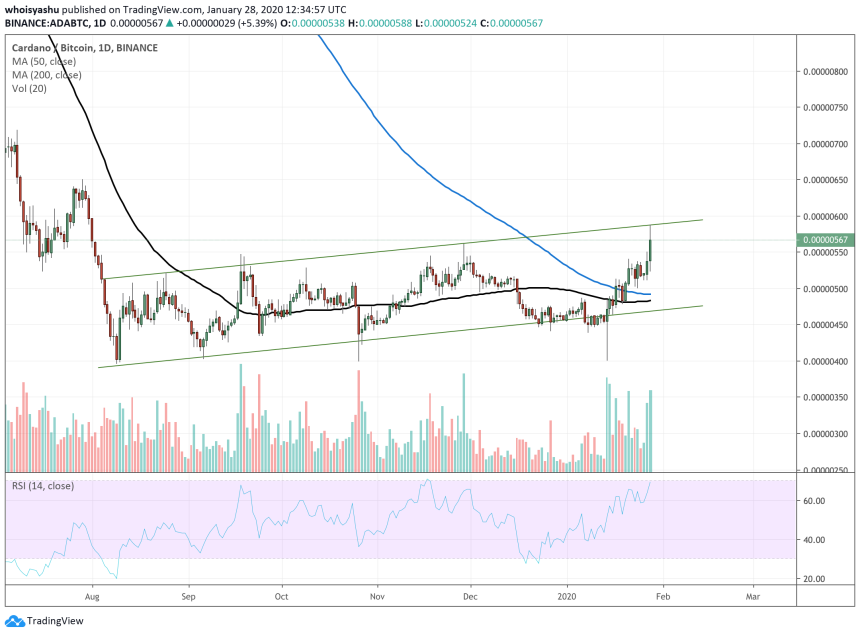 As of late, the ADA-to-BTC exchange rate was declining upon testing the greened upper trendline. The corrective mood showed traders' inclination to remain capped by technical levels despite solid fundamentals backing them. That said, even though Cardano's bullish move was spectacular, the cryptocurrency expressed its tendency to fall back.
Profit-taking at local tops could also be one of the key reasons why ADA's intraday pump didn't translate into a full-fledged breakout. Nevertheless, the cryptocurrency could likely benefit from a market-wide bullish scenario, driven partially by speculation over bitcoin's role as a safe-haven against the fears of the Coronavirus outbreak.
Falling Wedge – Another Bullish Case
Noted market analyst Crypto Rand indicated that Cardano's latest recovery was also a part of a technical breakout from a long-term Falling Wedge pattern.
In retrospect, the Falling Wedge technical indicator serves as a bullish scenario. Experts believe its formation during a downtrend eventually leads to solid upside breakouts. Crypto Rand shows that ADA has been in one like it lately, as shown in the chart below.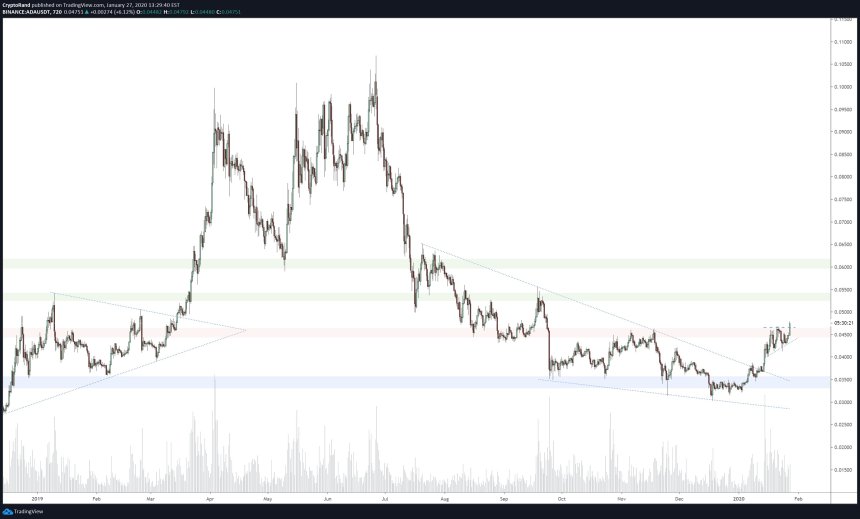 The technical indicator aims to send the ADA rate to the upper greened channel – near $0.060.
With both technical and fundamental scenarios flashing a buying scenario, it is likely that Cardano is coming out from its overlong consolidation phase, registering a real recovery as it heads further into the year 2020.