XRP has been facing some intense turbulence throughout the past few weeks, but the cryptocurrency is now facing some intense consolidation as analysts await more insights into where the rest of the market will trend in the days and weeks ahead.
The resistance that the cryptocurrency faces within the mid-to-upper $0.60 region is quite intense and may continue hampering its price action in the near-term.
Until there's a second wave of buying pressure that causes "legacy altcoins" like XRP to rally higher, the cryptocurrency may continue extending this bout of sideways trading,
One trader explained in a recent tweet that he is watching for the cryptocurrency to see some massive momentum in the near-term, noting that the upcoming airdrop that XRP holders will receive could spark further momentum.
This airdrop is widely looked upon as the impetus of this entire rally that the cryptocurrency has seen, with the recent break above its multi-year range highs at $0.30 also sparking the momentum.
If the aforementioned trader's upside target comes to fruition, then the cryptocurrency will likely revisit its recent highs in the mid-$0.70 region in the days ahead.
XRP Continues Consolidating as Bout of Sideways Trading Persists
At the time of writing, XRP is trading down marginally at its current price of $0.63. This is around where it has been trading throughout the past few days.
The resistance just above where it is currently trading is significant and has slowed its ascent on multiple occasions throughout the past few days and weeks.
If it can regain its momentum and push higher in the near-term, there's a strong possibility that the cryptocurrency will start the second leg of its parabolic journey higher.
Here's Where Analysts Think It May Trend Next
One trader explained in a recent tweet that he is expecting XRP to rally higher in the days and weeks ahead as the highly anticipated airdrop approaches.
This airdrop – which will be sent to XRP holders – is widely thought to be what helped sparked this entire move higher, which means that it could continue being a bullish catalyst.
He believes that a move up towards the $0.70 region is imminent in the near-term.
"XRP: Pretty sure this does something freaky leading up to airdrop. Still a complete shitter though."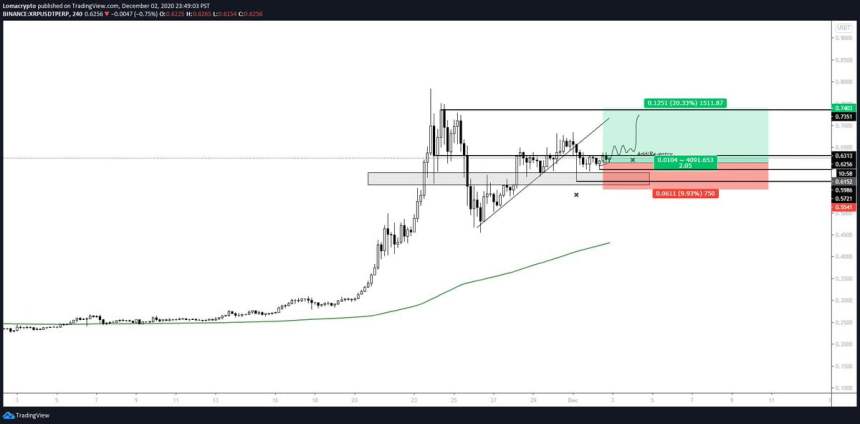 Image Courtesy of Loma. Source: XRPUSD on TradingView.
Where the entire market trends in the mid-term will depend entirely upon the rest of the market, as any strength or weakness amongst Bitcoin and Ethereum will sway XRP's price action.
Featured image from Unsplash.
Charts from TradingView.