Bitcoin has recently been picking up steam, stealing some of the capital and thunder from the DeFi trend and Ethereum. XRP, however, continues to lag behind both top crypto assets and linger sideways.
According to the Bitcoin trading pair, however, Ripple could soon rip against the leading cryptocurrency by market cap and catch up against Ethereum after long trailing behind.
TD 9 Buy Setup Prepares Ripple For Recovery Against Bitcoin And Ethereum, Revenge Against Tether
Believe it or not, there was once a time when XRP had unseated Ethereum as the number two cryptocurrency by market cap. Now, even stablecoin Tether has printed enough market cap to put it ahead of Ripple, making now the fourth-ranked cryptocurrency.
At the height of Chainlink's parabolic run this summer, it had also beaten XRP moving it further down the top ten cryptocurrencies by market cap. If XRP doesn't catch up soon, investors could lose hope and capitulation could set in.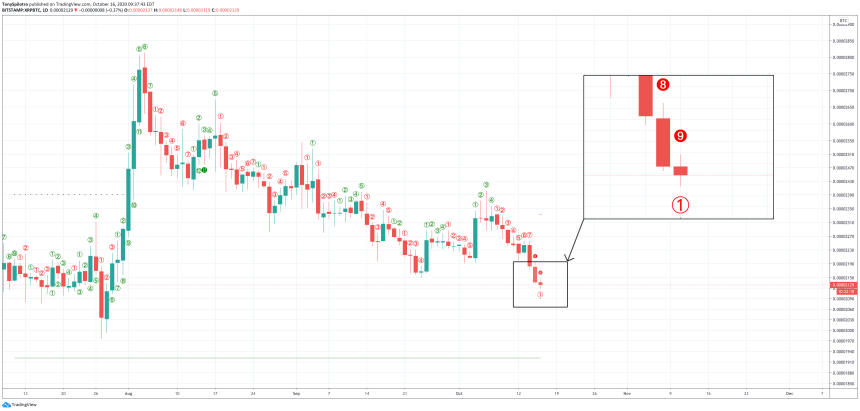 TD 9 Buy Setup Triggered On TD Sequential Daily | Source: XRPBTC on TradingView.com
But the return of Ripple could soon finally be here, according to the XRPBTC trading pair and a buy setup triggered by the TD Sequential technical indicator. The signal, is widely used across the crypto space and known for its undeniable accuracy.
Related Reading | XRP Up-Move To Leave Bitcoin And Tether Traders "Sidelined"
However, it's not the only sign that things could soon turn around.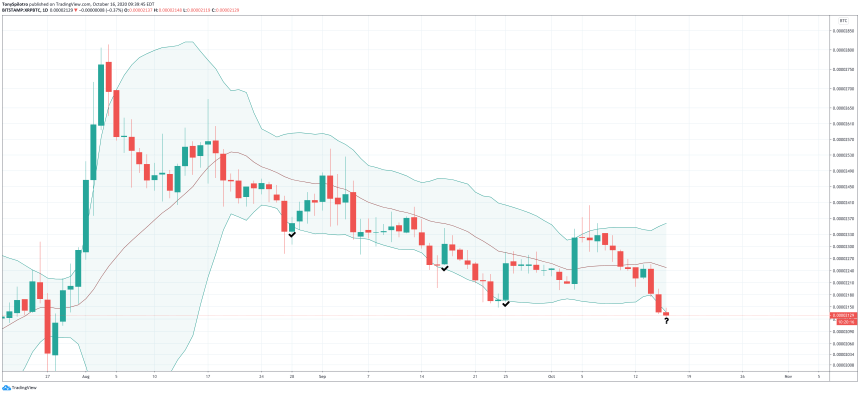 Daily Bollinger Bands Doji Reversal Potential | Source: XRPBTC on TradingView.com
XRPBTC About To Blast Off If Downtrend Line Retest Holds, Bollinger Bands Rebound
Coinciding with the TD 9 buy setup triggering on daily timeframes, XRPBTC is forming a doji at the bottom of a short- and medium-term downtrend, just as it closed outside of the bottom Bollinger Band.
Past doji closes back into the Bollinger Bands have resulted in at least some upside following. Many instances resulted in strong reversals.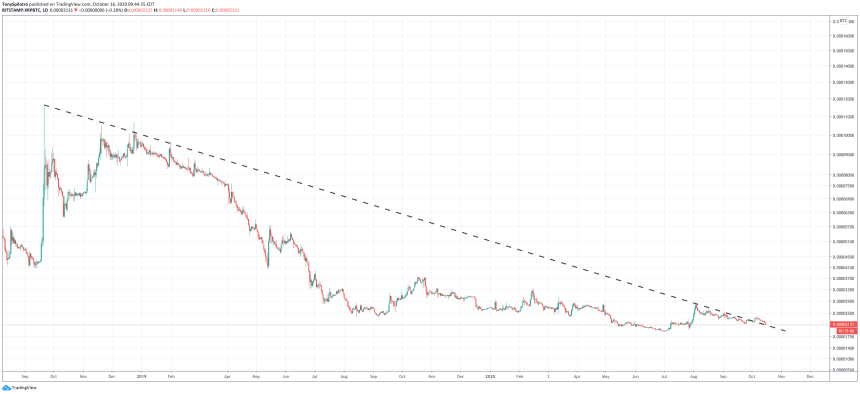 Retest of Downtrend Resistance Turned Support | Source: XRPBTC on TradingView.com
Zooming out, XRPBTC also seems to be retesting a breakout of its long-term downtrend resistance line as support. If Ripple can hold against Bitcoin here, the recovery could finally follow.
Related Reading | Underdog Story: Why XRP Could Soon Outperform Bitcoin And Ethereum
XRP has been trading around the $0.25 range for almost all of 2020, potentially building up pressure for a massive move both against dollar and the top cryptocurrency by market cap. If it does as it has in the past, Ripple moves fast and furious, and it could reclaim any of the top spots above it in a flash, except for perhaps Bitcoin.
Featured image from Deposit Photos, Charts from TradingView.com