AXS, the native token of Axie Infinity, has seen its price jump in recent hours. The project is a blockchain-based game metaverse in which players collect and breed digital pets called Axies that they can be used in a turn-based card game.
At one point, AXS rose to $8.82 after trading as low as $6.41 yesterday and has seen a 28% rally in recent hours. At press time, AXS was at $8.14, still recording a price pump of about 20% over the last 24 hours.
Over the last seven days, it's up 25%. Today's gain is accompanied by a massive surge in trading volume, which has grown to $295 million over the past 24 hours, up 750% from the day before.
Currently, Axie Infinity (AXS) has risen to the 52nd largest cryptocurrency with a market cap of nearly $812 million.
However, despite the massive pump, AXS is still one of the biggest losers of the bear market. AXS' all-time high stand at $164.90 and was reached in November 2021. This represents a whopping 95% loss in value.
A look at the 1-day chart reveals that Axie Infinity has still not been able to break out of its downtrend channel. For this, a break above $9.00 would be required. If it fails, AXS would continue to move in bearish territory despite the recent pump.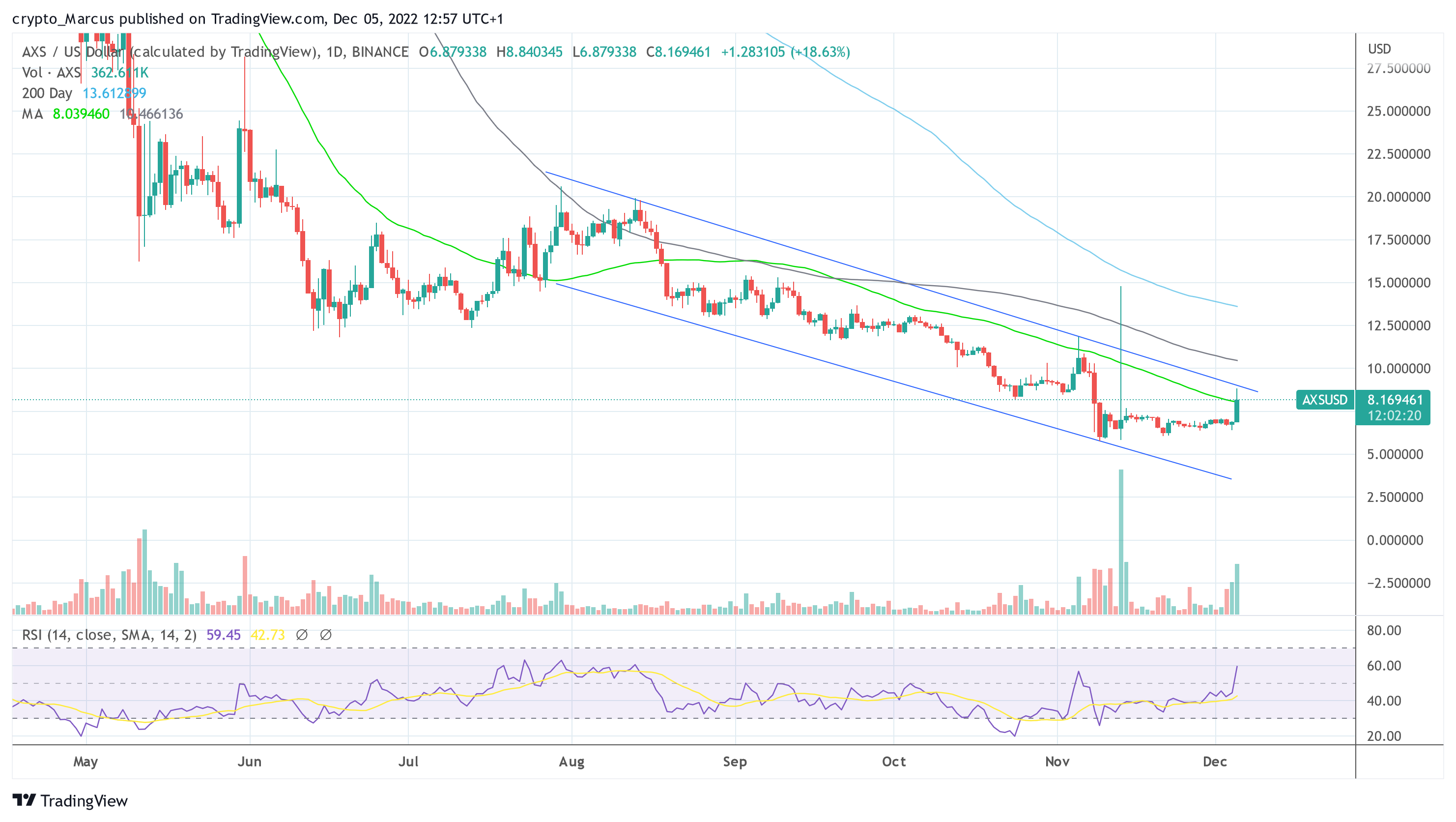 Fundamentals Of Axie Infinity Look Weak
Meanwhile, the fundamentals for Axie Infinity continue to look less than rosy. According to the data platform CryptoSlam, the sales volume of Axie Infinity has shrunk massively since the peak on November 3, 2021 at $40.8 million.
Since May, volume has been bobbing around below $500,000, though it was still close to $100,000 at the end of October. Yesterday, December 4, it was only $19,500.
On Its Way To Decentralization
So what is driving the AXS pump? One reason could be the impending decentralization of the project.
The team published a blog post today. In it, they shared that a group of over 700 invested and influential community members have come together to shape the future of Axie Infinity.
The Lunacian: Axie Contributor Initiative Kickoff! https://t.co/Yjs9njT5Rv

— Axie Infinity | #AxieOrigins (@AxieInfinity) December 5, 2022
The team said it wants to actively work toward an end state. In this state, "invested" community members are responsible for making decisions about resourcing the Axie Infinity ecosystem.
Currently, the project is still in the initial decentralization phase. However, important progress has been made recently as part of a step-by-step strategy, the blog post states.
As progress is made on the decentralization continuum, actions like council formation, resource allocation, on-chain voting, and treasury activation will be unlocked.
The ultimate goal is to give the collective the responsibility to advance self-organization. To this end, a collective of established community members of Axie Infinity, the "town builders," was formed back in May.
In July, they decided to bring in a number of contributor electors to play a critical role in an initial pilot program for contributors.
In August, the town builders and contributor electors distributed applications for the contributors program. Each proposal submitted hundreds of applications.
After being elected town builders by the founding town builder team, the first 700 community members were selected today to participate in the first pilot "season" of Axie Contributors.
They will contribute to a newly created governance area on Axie Infinity's Discord.