Avalanche and its dApp ecosystem shall now be supported by Amazon Web Services (AWS), which also comprises one-click node deployment through the AWS marketplace.
With this partnership with AWS, Ava Labs can help customers deploy custom offerings linked to over 100,000 partners spread across 150 countries.
Technically, the Avalanche node operators can operate in AWS GovCloud for the FedRAMP compliance use case, which is an essential pre-requisite for many enterprises and governments.
This partnership will help scale blockchain adoption among many enterprises, government organizations, and other institutions.
Howard Wright, the VP and Global Head of startups at AWS, stated:
Looking forward, web3 and blockchain are inevitable. No one can call the time or date or quarter that it's going to happen and it'll be mainstream, but we've seen the cycles of growth before. The velocity of this one seems like it's accelerating and we're just excited to be a part of this.
Through the partnership, individuals will find it much easier to launch and manage nodes on Avalanche; additionally, it will strengthen and make the network more flexible for developers to work on. This new development has positively affected the altcoin's price, but it is yet to be seen if the coin can sustain this price sentiment.
Avalanche Technical Analysis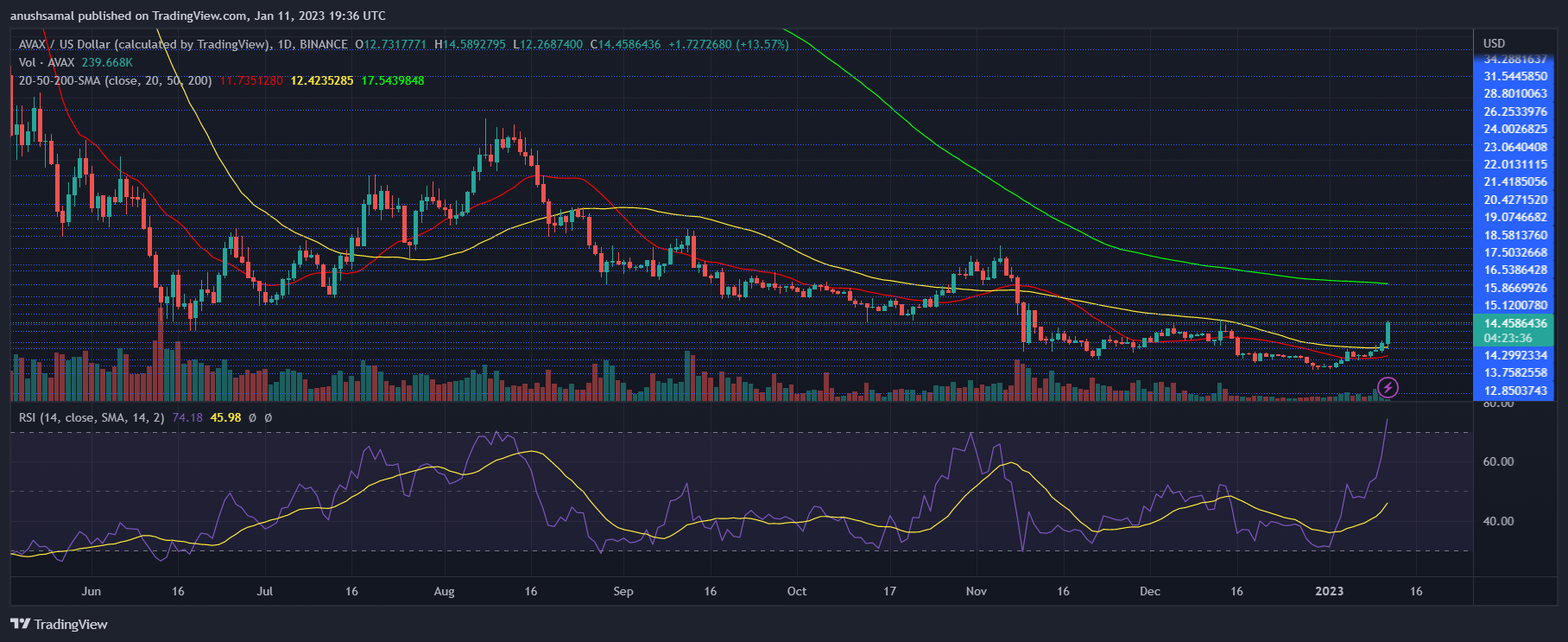 The news of AWS being incorporated into the Avalanche ecosystem has instantly spiked investor interest. The daily chart of AVAX displays a 6.6% gain, which can be termed a rally.
This has made the coin break past the $13.60 resistance level, and now AVAX is valued at $14.40. It is yet to be seen if the coin manages to breach the $15 mark, acting as a resistance mark for the coin. A fall from the current price will bring the altcoin down to $13.70.
The Relative Strength Index was overbought, which means the asset was overvalued. The overvalued condition can be attributed to the newest development. Usually, once the asset is overbought, the price corrects itself.
Due to bullish sentiment, AVAX shot past the 20-Simple Moving Average line (SMA), indicating that buyers have been driving the price momentum in the market. Not just the 20-SMA, the altcoin was parked above the 50-SMA due to excessive demand.
The Moving Average Convergence Divergence suggests price momentum and a trend reversal. The indicator formed a few green histograms, which are buy signals for the coin. The most recent histogram increased in size, anticipating the rise in the price of the asset.
Investors could quickly take this as a signal for entry as the price would increase over the next few trading sessions before it started to retrace.
The Directional Movement Index reads the price direction, and it was bullish. The +DI line (blue) was above the -DI line (orange).
The Average Directional Index (red) was near 20 with a slight uptick, confirming that although the price witnessed a northbound movement, the price direction lacks substantial strength.
Featured Image From Unsplash, Charts From TradingView.com