A Brief Review of Canada's Pioneer Crypto Exchange
Canada features high on the list of crypto-friendly states, and Bitbuy is one Canadian crypto exchange platform that makes it easier for users to buy and sell these digital assets. Started in 2016 to make Bitcoin accessible to everyone, the Toronto-based platform has come a long way. It has expanded its offering from just BTC to popular altcoins like ETH, LTC, XLM, XRP, BCH, DAI and EOS, with more to be added soon.
One Exchange Fits All
Bitbuy is a secure, user-friendly platform that satisfies the needs of novice as well as experienced traders. Available in the website and mobile app versions, Bitbuy offers three primary services –Express Trade, Pro Trade and Bitbuy OTC.
While the Express Trade feature allows beginners to trade cryptocurrencies in few seconds by entering the amount they wish to buy/sell and hitting a button to execute the trade, the Bitbuy Pro Trade feature caters to advanced users who aren't in a hurry and would wish to have more control over their trades. The Pro Trade option on Bitbuy enables users to place Limit Orders at prices of their choice and wait for them to get executed when market conditions are met.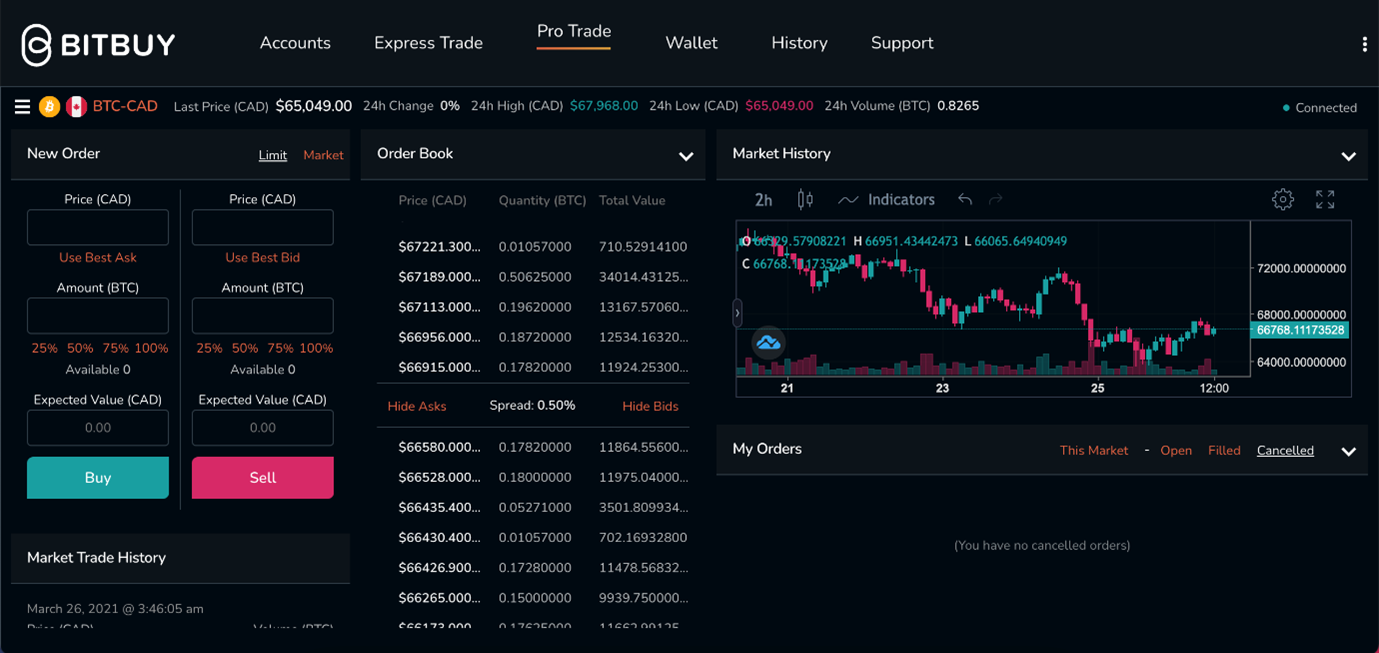 Meanwhile, those looking to conduct transactions higher than CAD 50,000 have the option to make use of the over-the-counter trading option offered by Bitbuy OTC for a much better deal. The platform also offers corporate accounts for businesses that like to indulge in cryptocurrencies.
Taking the First Step Isn't That Hard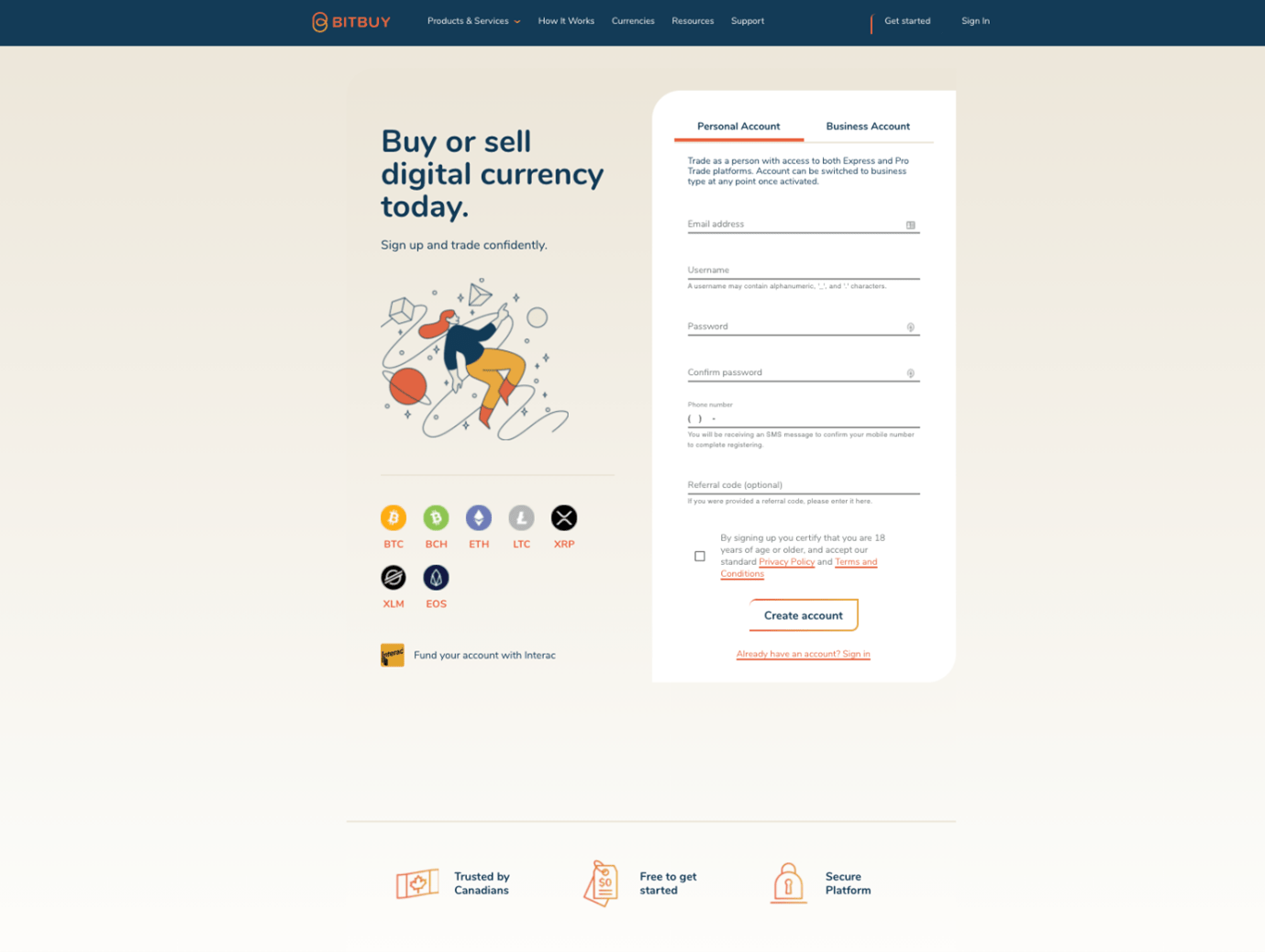 Bitbuy caters exclusively to the Canadian population. As long as one is in the region, they can easily sign up by entering and verifying their email address and phone number. Also, the platform requires new users to satisfy the KYC requirements in the interest of keeping its operations transparent and compliant with any present-day and future regulations.
With the sign-up process out of the way, users can go ahead and fund their account with fiat currency through wire transfer or Interac e-Transfer and buy their first BTC or any other supported alts. Existing crypto users can transfer their assets to the Bitbuy wallet and execute crypto-fiat or crypto-crypto transactions in no time.
Bitbuy Keeps Your Cryptos Safe
In terms of security, Bitbuy implements mechanisms of the highest standards. The features safeguarding its users include a 95% cold storage policy, SOC compliance, mandatory 2FA, a privately maintained and periodically audited codebase, regular proof of reserves audits and more. In addition, Bitbuy has also partnered with a well-known insurance provider—Knox, to become the only Canadian crypto exchange that offers 1:1 BTC insurance to its userbase.
Why Use Bitbuy?
If you are based in Canada and looking for no-frills crypto exchange, look no further than Bitbuy. The simple yet powerful platform will satisfy most of your needs while offering the best-in-class trading and security features. It also has some of the lowest fees in the industry with no hidden charges.
The platform is undergoing a transformation that will make it nimbler and cheaper at the same time.  Soon, Bitbuy will sport a further enhanced user interface with support for additional crypto assets and lots of automation. The new developments in-store include:
Automated sign-up and onboarding process
"Username" feature for faster login experience
More 2FA options
Improved CAD funding flows with instant e-Transfers
A new "Gold Account" status
Support for lots of cryptocurrencies
The Time is Right for Bitbuy
Bitbuy is already a trusted brand in the crypto industry. Regulated by FINTRAC, the platform has successfully served more than 100,000 users with daily trading volumes surpassing CAD 22.5 million. Its excellent track record combined with a user-friendly approach and a strong customer support structure makes it ideal for every crypto user. Sadly, Bitbuy has limited itself to Canada, which leaves the rest of the world wanting for more.
If you are based out of Canada and love cryptocurrencies, then Bitbuy is definitely worth trying.
Explore and Sign up on Bitbuy at – http://bitbuy.ca/