Platform Name: Bityard
URL: https://www.bityard.com
Location: Singapore
Regulated: Yes
Licenses:
ACRA, Singapore # 201938576H
MTR, Estonia # 14875721
AUSTRAC, Australia # 639073519
FINCEN, USA MSB# 31000157825533
Instruments: Cryptocurrency Contracts
Trading Pairs: BTC/USDT, ETH/USDT, LTC/USDT, XRP/USDT, BCH/USDT, ETC/USDT, EOS/USDT, TRX/USDT, DASH/USDT, LINK/USDT
Social Media:
Twitter: https://twitter.com/Bityardofficial
Telegram: https://t.me/BityardExchange
Facebook: https://www.facebook.com/Bityardofficial/
LinkedIn: https://www.linkedin.com/in/bityard/
Quora: https://www.quora.com/profile/Bit-Yard
Tumblr: https://www.tumblr.com/blog/bityard
Medium: https://medium.com/@bityardsns
Blogger: https://bityardsns.blogspot.com/
Steemit: https://steemit.com/@bityard
Naver: https://blog.naver.com/bityard_sns1
Overview
Based out of Singapore, Bityard is one of the world's leading cryptocurrency contracts exchange operating under the motto "Complex Contracts Simple Trade". The platform is designed to offer a highly simplified, user-friendly crypto contracts to traders, irrespective of their experience levels. Bityard is a regulated platform with licenses from not one, but four different geographies. Armed with these licenses, the platform legally provides crypto asset trading services to traders in over 150 countries.
The platform goes head-on with some of the well-established names in the crypto contracts sector (e.g. BitMEX), without really competing with them. Bityard also has some well-known names including the renowned Muay Thai fighter Buakaw Banchamek backing and putting their faith in the platform.
Platform
The Bityard platform is available for users across almost all internet-enabled devices. Users on the desktops and tablets can make use of the browser-based Webtrader, while those who prefer to trade on-the-go can download the Bityard mobile application on their Android and iOS-powered mobile devices. However, the Bityard Webtrader is ideal for power users as it packs a lot of features including various charts, a full suite of technical analysis tools, and modular viewing panels that can be customized based on an individual's preference.
The Bityard trading terminal on both browsers as well as mobile phones are designed to be beginner-friendly, while it caters to all the needs of advanced and professional traders as well. Bityard also has its own BYD utility token that can be earned through interactions on the platform and used to pay trading fees or generate additional income from listing. To cater to the global audience, the platform is available in English, Russian, Simplified Chinese, Traditional Chinese, Vietnamese, Korean, Japanese, and Indonesian languages.
Bityard also has a demo account for users to familiarize themselves with the platform by placing real-time trades without putting their funds at risk. The demo account works just like a regular account with all the features in place to give a completely genuine trading experience.
Trading
Trading on Bityard is a breeze. The crypto contracts trading platform, with its easy to use terminal offers the top Crypto/USDT pairs including BTC, ETH, LTC, XRP, BCH, ETC, EOS, TRX, DASH and LINK. It has an easy registration process, where the users can choose to sign up either using their email address or mobile number. Once entered, they will have to verify the code sent to their email/mobile, create a password and hit the "Register" button.
After finishing the registration process, users can start trading crypto contracts on the platform by making a deposit in any of the supported cryptocurrencies or fiat payment options (available only in select regions). With the account funded, traders can navigate to the "Trade" section on the website to select the crypto pair of their choice and open contracts.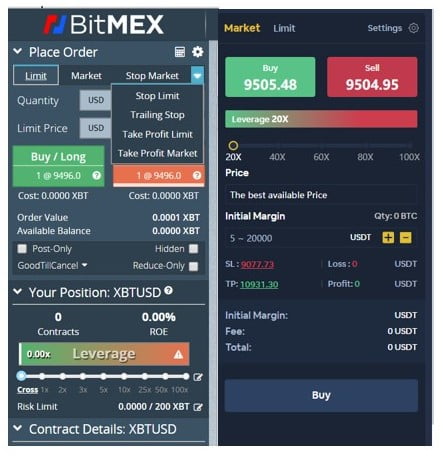 Unlike its counterparts, Bityard provides a simplified operation panel on which they can easily select market or limit, buy/long or sell/short, adjust the leverage, enter margin. They can further tweak the trading parameters by adjusting the Take Profit Ratio or Stop Loss Ratio to maximize returns. Users can trade on Bityard 24/7; however, the platform automatically closes all open orders every day at 05:55:00 (Singapore time) unless the user opts to hold it overnight. All orders held overnight incurs an overnight fee which is calculated according to the formula:
Overnight fee = Margin*Leverage*0.045%* No. of days.
Where the maximum leverage offered by the platform is up to 100X
Bityard is highly transparent when it comes to prices and trading fees. All the contract prices are derived from the K-line weighted average of prices on Binance (30%), OKEx (40%) and Huobi (30%) to ensure that there is no manipulation of prices at any time. It has some of the lowest fees in the industry at 0.05% of the position that includes both opening and closing fees, charged upfront while opening a position.
Payment Methods
Users on Bityard can make deposits in multiple cryptocurrencies. The list of supported crypto includes BTC, ETH, TRX, HT, XRP, EOS, USDT (USDT-Omni, USDT-Erc20, and USDT-Trc20). However, care should be taken to ensure that the right crypto deposit option is chosen before sending any funds as transfers to wrong cryptocurrency wallets will lead to loss of assets. All deposits have to be confirmed on the blockchain before the balance is credited to the user's account. The minimum confirmation is set at 1 for all cryptos except for ETH and USDT-Erc20, for which it is 12 confirmations.
Currently, Bityard only supports withdrawals in USDT, with a minimum withdrawal amount of 50 USDT and a maximum of 100,000 USDT. The number of withdrawals is limited to two per day. All withdrawals are processed only after the user authenticates their account, after entering the withdrawal address and amount.
In a few geographies, Bityard users can indulge in OTC trades by making fiat payments with Visa and MasterCard powered credit and debit cards. The fiat-supported geographies include Vietnam, Indonesia, and Mainland China, with more countries yet to be added to the list soon. All the deposit and withdrawal options are available under the "My Assets" section of the platform.
All transactions on Bityard are settled in less than 60 minutes irrespective of the chosen payment method. Further, the platform doesn't charge deposit fees but imposes a nominal withdrawal fee of 2 USDT.
Customer Support
Bityard has a strong customer support team trained to handle all platform and trading related queries. The customer support can be reached through multiple channels, including instant chat on the website, filling the support request form, or sending an email to [email protected]. Once the request is received, they have a pretty short response time.
Security
It is important for financial platforms to have fool-proof security and Bityard doesn't fall short in any area. The crypto contracts trading platform implements all the industry-standard features like two-factor authentication for login, additional PIN-based authentication for withdrawals, SSL encryption, offline multisig cold storage of crypto assets and more.
Apart from the cybersecurity features, Bityard also conducts real-time risk audits for all trades happening on the platform to ensure the profitability of its users.
Overall, Bityard has all the bases covered when it comes to platform security. However, in order to make it effective, users will also have to play a proactive part by following the best practices.
Conclusion
Even though relatively new, Bityard is one of those platforms that has set everything in place to offer a great experience to its traders irrespective of their experience levels. Both beginners and professionals can use these features to their maximum capabilities and generate profits. Anyone who tries trading on Bityard won't be left disappointed.