Platform Name: Changelly
URL: https://changelly.com/
Founded: 2015
Companies and Subsidiaries:
Fintechvision Ltd
1801-03, 18/F., East Town No.41 Lockhart Road,
Wan Chai, Hong Kong.
CGL Pro Technologies Limited
306 Victoria House, Victoria,
Mahé, Seychelles
Products: Instant Exchange, Changelly PRO, Changelly Fiat-to-Crypto Marketplace
Languages: English, Spanish, Arabic, Korean, German, Portuguese, Russian, French, Hindi and Turkish
Social Media
Facebook: https://www.facebook.com/changellyteam
Twitter: https://twitter.com/changelly_team
Telegram: https://t.me/changelly
BitcoinTalk: https://bitcointalk.org/index.php?topic=1435275.0
Mobile App
Google Play: https://play.google.com/store/apps/details?id=com.changelly.app
Apple App Store: https://apps.apple.com/us/app/changelly-crypto-exchange/id1435140380
Overview
One of the popular names in the cryptocurrency industry, Changelly is an ecosystem that offers a range of products and services for the community. The easy-to-use global platform delivers a one-stop-shop experience for users looking to purchase, sell, swap, or trade cryptocurrencies.
A multilingual platform, Changelly serves as the gateway to all crypto needs. It lists over 160 cryptocurrencies and supports a majority of fiat currencies viz., USD, EUR and GBP. It has also cultivated a wide partner network comprising of who's who in the crypto industry to provide quality, seamless service to its user base.
The mainstay products of the Changelly ecosystem includes:
Changelly Instant Exchange
Changelly Fiat-to-Crypto Marketplace
Changelly PRO
Changelly Earn
Changelly Instant Exchange
The very first product from the stable of Changelly, Instant Exchange offers a fast and secure way to exchange over 160 cryptocurrencies. It acts as an intermediary between reputed crypto exchanges such as Binance, HitBTC, etc and users to enable users exchange their cryptocurrencies effortlessly. The entire process of swapping one crypto to another takes less than 10 minutes on the platform.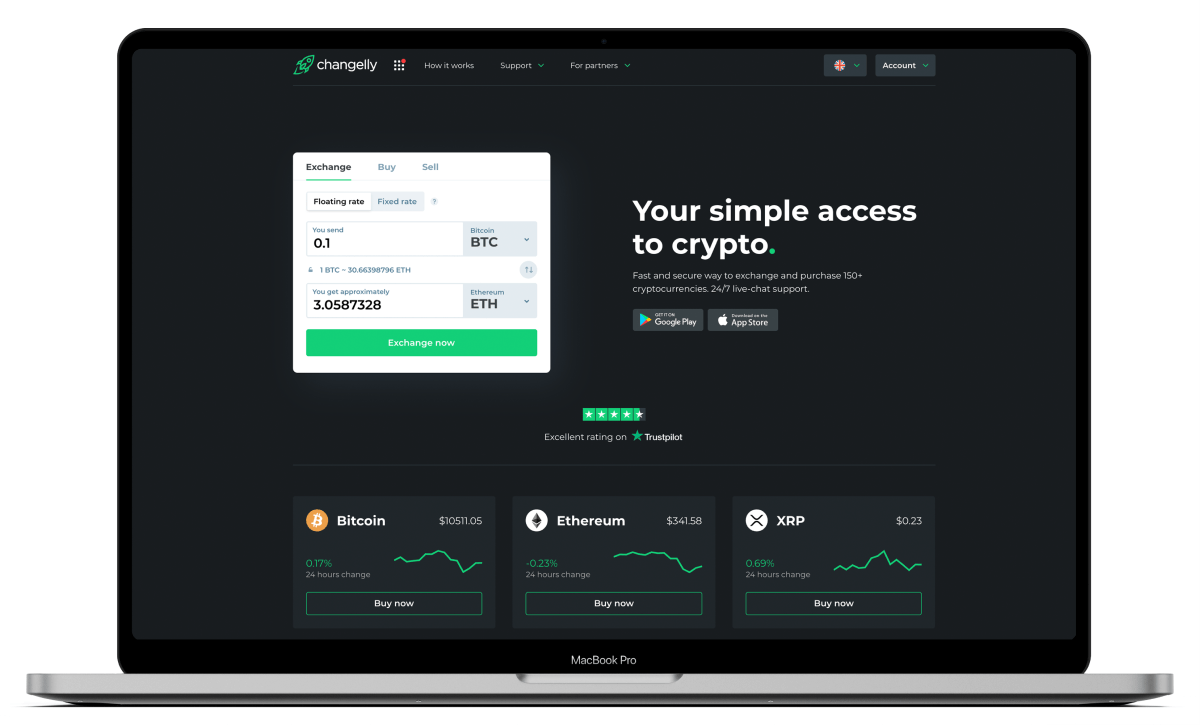 Benefits:
Competitive rates and commission of 0.25%
5-30 mins transaction speed
An intuitive interface
Changelly does not store your coins
24/7 live support
The Changelly Instant Exchange is available as a responsive web application that can be accessed over any browser, or as a native mobile application on Android and iOS powered devices.
Changelly Fiat-to-Crypto Marketplace
The Fiat-to-Crypto Marketplace on Changelly is the best place for anyone planning to invest in cryptocurrencies or expand their digital asset portfolio. It offers the flexibility of purchasing their favored cryptocurrency with fiat currencies. As a relatively new product offering, the Fiat-to-Crypto Marketplace merges the best crypto offers from reputable fiat providers such as Banxa, Simplex, MoonPay, Indacoin, Coinify, Mercuryo and Wyre, allowing users to compare current rates, limits, payment methods and choose the most beneficial deal.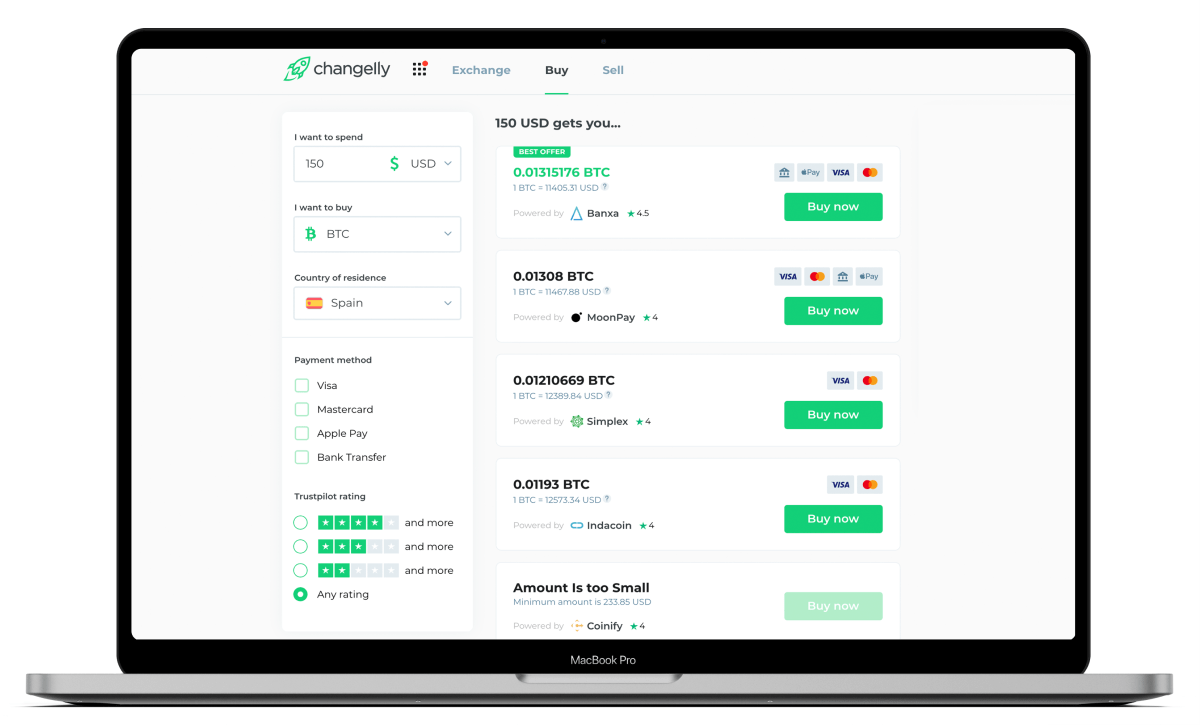 Benefits:
Only verified reputable fiat providers
1-2h transaction speed
A variety of payments methods such as bank cards, bank wires, Apple Pay, etc
No KYC under $150USD
Amazon-like intuitive interface
Changelly does not store your coins
24/7 live support
The platform offers an enhanced user experience which is quite similar to purchasing any product from familiar ecommerce platforms like Amazon. Currently, Changelly fiat-to-crypto marketplace aggregates offers. Each provider on the platform will have their own requirements and fees structures that need to be met before a user can complete the purchase. Depending on the transaction value and the chosen provider, they may be asked to complete KYC requirements before they could complete the transaction.
Upon successful completion of the transaction, the purchased cryptocurrency will be deposited into the wallet address provided during the earlier steps. However, there will be additional payment gateway charges that may be applicable for fiat payments, along with platform fees which are subject to vary from one provider to another.
Changelly PRO
Changelly PRO is a flagship product that focuses on the needs of professional crypto investors and traders. Considered as an evolution from simplified products catering to newbies to seasoned crypto community members, Changelly PRO offers a fully compliant, regulated and easy to use platform for retail buying and selling of crypto assets.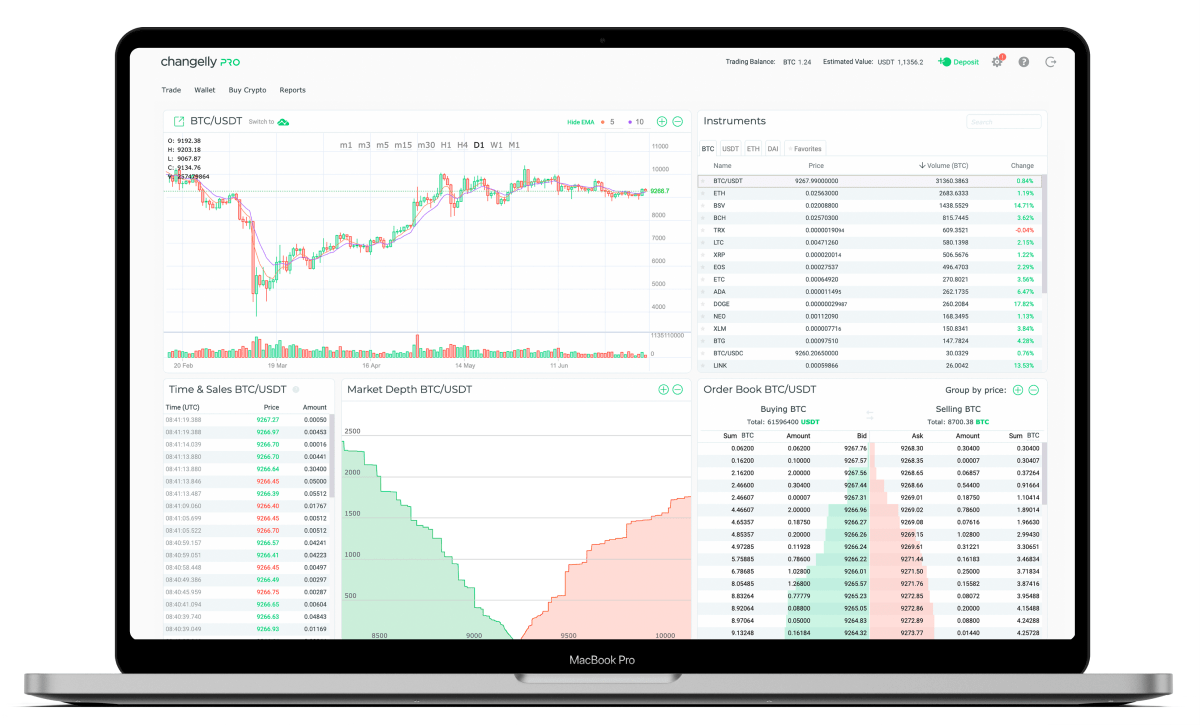 Benefits:
Spot and margin trading with 10x leverage
Multi-currency wallet to store a variety of coins
Interactive and customizable terminal
Access to 50+ markets
Competitive trading fees
Lowest withdrawal fees on the most popular coins and tokens
Simple registration process
24/7 live support and learning materials
It is a transparent spot and margin trading platform intimately connected with the rest of the Changelly ecosystem products to offer a simplified yet feature-rich trading experience. Users on Changelly PRO can choose from three different account types – Starter, Trader and PRO. Each account type varies based on the levels of verification, which also dictates the associated trading and withdrawal limits. While the Starter account doesn't need any verification and comes with a daily withdrawal cap of 1 BTC, the PRO account is a fully KYC-verified account with no upper limits on withdrawals.
The platform also has a trader-friendly fee structure in place, which can be classified into deposit fees, trading fees and withdrawal fees. Crypto deposits on Changelly PRO are completely free, whereas fiat deposits made through Fiat-to-Crypto Marketplace may vary from 1% to 5%, depending on the provider. Fiat deposits can also be made directly through wire transfers. The platform charges a flat 0.1% taker and maker fees for Starter Accounts which can go as low as 0.04% and 0.02% respectively for verified accounts depending on the trade volumes. Meanwhile, the withdrawal fees on Changelly is among the lowest in the industry and charged on a per-transaction basis and not per the volume withdrawn. There are no minimum limits for withdrawals on Changelly PRO.
Customer Support
The Changelly ecosystem has a strong customer support team, available round the clock to resolve any queries or issues related to transactions over the platform. The team can be reached through the live chat feature available on the website or by creating a ticket on their support page. Alternatively, users can also connect with them on Facebook and Twitter.
Security
Changelly offers a highly secure and reliably crypto ecosystem for its users. The platform implements the latest cybersecurity standards to ensure the safety of users' funds and private information. The platform also implements two-factor authentication for user accounts, along with lots of informative resources on protecting oneself from potential scams and frauds targeting crypto users.
Conclusion
Changelly offers a well-rounded crypto ecosystem that meets the needs of novice as well as seasoned cryptocurrency users. Over the past 5 years, the platform has built a reputation for itself as a fast, reliable, and user-friendly platform. The Changelly ecosystem, with strong partnerships and open APIs for the developer community, is open for all to utilize and promote the use of cryptocurrencies.