The top ranked altcoin, Ethereum, has broken its all-time high and like Bitcoin's big breakout, it has attracted more and more participants to the cryptocurrency market. Valuations are rising everywhere, and the total altcoin market cap is on the verge of a life-changing breakout, if history repeats. And given the current momentum and FOMO across the market, a shocking surge is only weeks if not days away.
Ethereum, Bitcoin FOMO, Reignite Crypto Market Bull Run
Years ago, few knew of Bitcoin let alone Ethereum and the thousands of altcoins that have emerged since the introduction of the first decentralized currency.
Bitcoin's meteoric rise from $1,000 to $20,000 in 2017 prompted other coins to soar, and Ethereum reached a peak of $1440. With the two top coins roaring, capital began to flow into illiquidity low cap altcoins, which skyrocketed in value.
Related Reading | Here's How High Bitcoin Could Go If 2017 Repeats
The same scenario is now happening again, following a big bullish breakout by both Ethereum and Bitcoin. Bitcoin led the charge with a rise from $20,000 to $42,000, and Ethereum is already trading $200 more than its former high just days after breaking the record.
Both assets are in price discovery now, and are dragging up the rest of the market. But according to the last major altcoin market breakout, we've not seen anything yet, and what's about to arrive could be life-changing.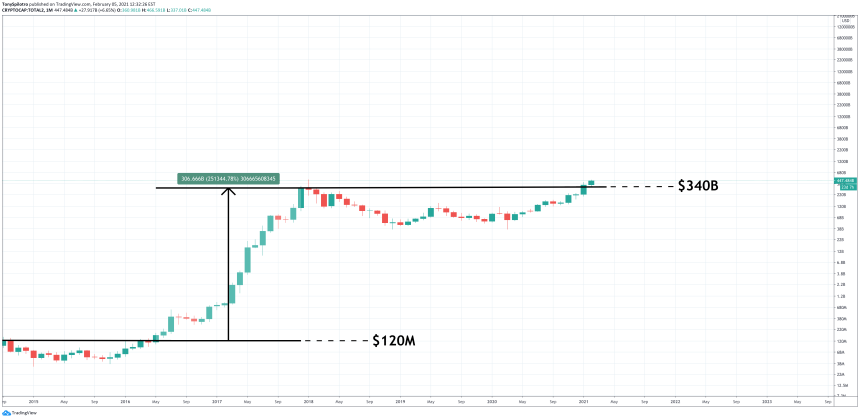 Altcoin market is on the verge of a major breakout | Source: CRYPTOCAP-TOTAL2
Altcoin Market Cap On The Cusp Of Incredible Breakout
Looking back at the last bull market for crypto, the total altcoin market cap went parabolic and added more than $340 billion in value in the coming months.
From millions to billons in months in no easy feat. The total crypto market cap including Bitcoin is now well over $1 trillion. Could altcoins alone soon be valued in the trillions? Some analysts believe that Ethereum alone could be worth more than $1 trillion. Estimates for Bitcoin reach as high as $10 trillion, so why can't other altcoins eventually do the same?
Related Reading | Altcoin Season Is Here: "Buy Crypto" Surpases Bitcoin Searches On Google
Crypto is in bull mode and as a speculative asset class anything is possible, but when still so many coins have little to no use case, or are nothing more than memes, even if the market does make it to trillions the capital will flow into projects with real value.
Life-changing wealth could be right around the corner, but remember, wealth is only made when positions are closed. Don't be stuck holding bags of worthless but once pumping coins when its all said and done. XRP, for example, remains significantly below its former all-time high, proving that not all altcoins are winners.
Featured image from Deposit Photos, Charts from TradingView.com