Renowned exchange Kraken is battling issues with its crypto funding gateways, which include BTC, ETH, and ERC-20, as users experienced delays in deposits and withdrawals. 
On their status page, Kraken informed users that the Kraken Futures platform would not be available for approximately 10 minutes on June 6, 2023, at 10:30 UTC. As such, users cannot carry out financial transactions on the exchange within the specified period. 
Updates Users Of Payment Delays
Kraken informed users of site maintenance with a post-only period once the platform is back online and the necessary checks are complete. Notably, the Support Center with new features will be unavailable at intervals on June 7 between 11:00 and 13:00 UTC.
Related Reading: Bitcoin Current Position Is Sensitive, Glassnode Explains Why
Also, customers using chat and support will deal with a likely service disruption of 60 minutes during this maintenance period. However, despite the downtime, the Kraken exchange attained some notable milestones in the past few weeks. The recently announced upgrade on crypto gateways will bring additional features for users on the exchange.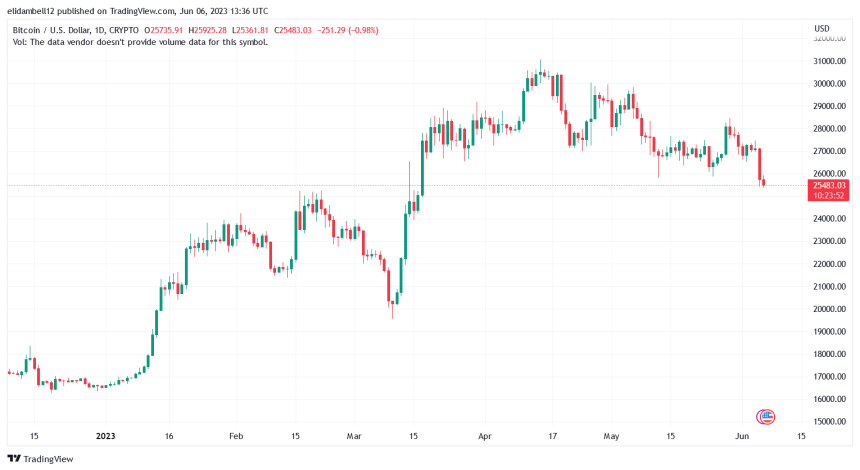 BTC tanks on the chart l BTCUSDT on TradingView.com
Kraken Attains Newsweek Top 100 Global Most Loved Workplace Milestone
In a blog post on May 31, 2023, Kraken announced it attained number 16 in Newsweek's Top 100 Global Most Loved Workplaces List.  Notably, they were the only crypto company to feature on the list, which the company claims align with their focus on prioritizing employee well-being. 
Newsweek rankings arise from survey results of over 2 million employees in different companies and industries of varying sizes.  According to Kraken's Chief People Officer Pranesh Anthapur, Krakenites value autonomy and flexibility in the exchange. 
Related Reading: Ethereum Top 10 Whales Now Hold 31.8M ETH, A New All-Time High
He stated that Kraken is proud to tell the world that their unique company culture helps Krakenites to love their work and excel. 
Also, Anthapur stated that they provide employees with opportunities, for career growth, learning, and health benefits, such as an in-house fitness plan and health awareness. 
Kraken Completes SOC 2 Type 1 Supporting Custody And Funding Services
Crypto exchanges have been under intense regulatory pressure following the FTX crisis in 2022. However, Kraken assured its users of continuous commitment to ground-breaking research on security. 
Kraken completed its SOC 2, Type 1 compliance test announced on May 23, 2023. The SOC 2, Type 1 is an independent third-party auditor's examination focused on the security and availability of systems and data in an organization. 
This audit ensures an exchange employs the necessary steps to protect users' data and funds. The American Institute of Certified Public Accountants (AICPA) set this compliance standard. 
The AICPA's Trust Services Criteria has five categories, security, availability, processing integrity, confidentiality, and privacy. Completing SOC 2 implies that Kraken complies with top financial; security measures and controls.
Featured image from Pixabay and chart from TradingView.com