According to the details, this year's bearish market trend is the worst in history for BTC and other coins. It records many BTC traders engaging in panic sell-offs even with losses to ensure they are not drowned.
Volatility is one attribute that marks digital currencies. Unfortunately, it's a trend that could cause most inexperienced investors to suffer huge losses of funds with their crypto holdings. In most cases, many issues could trigger a bear market. Though some experienced players would use a bear trend to build up their crypto portfolio, a lingering bear market is never profitable.
The 2022 trend seems to be taking the worst historical turn. Glassnode, a blockchain analysis company, has revealed an unfavorable overview of the 2022 bear market. Furthermore, the firm recorded many contributory factors for the prevailing crypto market price drop.
Related Reading | Bitcoin Coinbase Premium Gap Approaches Zero, Selloff Ending?
The analytic firm reported on crypto market trends tagged A Bear of Historic Proportions. The report, released on Saturday, explained how Bitcoin's price fall pointed to 2022 as the worst year for BTC.
Some of the listed factors for the BTC bearish trend in 2022 include the following:
Bitcoin's methodic drop beneath the moving average (MA) of 200 days.
Cumulative realized losses.
Negative shifts from BTC realized price.
According to Glassnode records, BTC and ETH prices became less than their previous all-time high cycles. Such a plunge has never happened in the history of cryptocurrency.
Glassnode report indicated the severity of the bear market in 2022 as BTC went below the 200-day MA half mark. Notably, the first and apparent red alert of a bear market in the fall of BTC's spot price beneath the 200-day MA. Also, it could go beyond the 200-week MA when the situation becomes critical.
BTC Price Falls Below 0.5 Mayer Multiple, MM
Additionally, the analytic firm displayed the extreme conditions of the crypto bear market as the spot price goes beneath the realized price. With the situation's outturn, many traders are selling off their crypto tokens even as they make losses.
In its illustration, Glassnode revealed that BTC plummeted below 0.5 MM (Mayer Multiple). This level makes it the first price fall to such an extent since 2015. Usually, the MM is a measure of price changes when it's above or below the 200-day MA.
Related Reading | Bitcoin Whale Presence On Derivatives Still High, More Volatility Ahead?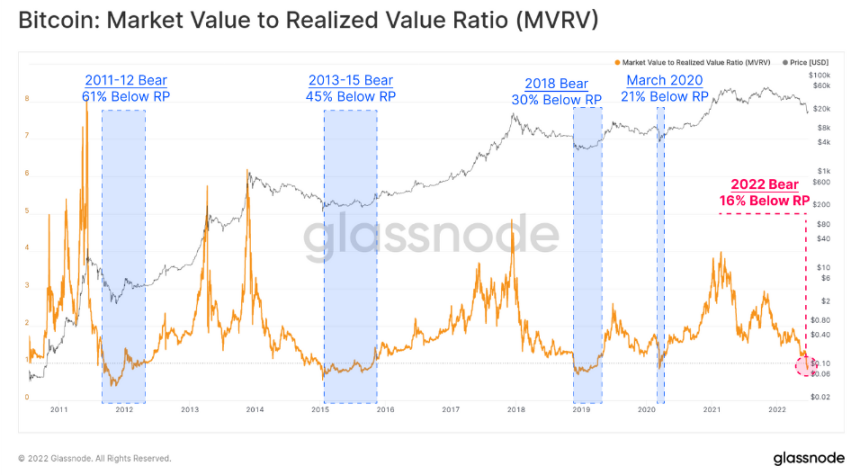 The implication means over-buying if it's above or overselling below. Also, the data from the company shows an MM of 0.487 for the 2021-22 cycle against the lowest recorded cycle of 0.511.
The firm maintained that this is a historic occurrence as it's uncommon for spot prices to go below the realized price. Finally, with an overview of all the negative values in the crypto market, the analytic firm concluded that the market has transited to a capitulation state.
Featured image from Pexels, charts from TradingView.com and Glassnode