The cryptocurrency market is known for some strange occurrences and insane rallies, especially during a bull market. In a flashback to almost four years ago during the crypto bubble, Filecoin, an ICO funded back in 2017 just launched its mainnet and immediately saw 3x returns.
Is this a sign the bull market is back for crypto assets or is Filecoin a project packing something special that attention must be paid to? Find out why FILUSD soared as high as 297% on launch day, taking those whose bags were packed to the moon and back.
To The Moon And Back In Minutes: Filecoin Does 3x Rally, Drops 50% Intraday
During the peak exuberance of the crypto bubble, "moonboys" were buying up altcoins in hopes of finding the next Bitcoin or Ethereum. ICOs were bought up by the dozen for this very reason, but it ultimately left investors burned except in rare cases.
ICOs and even Ethereum the tokens were built on fell as much as 90% or more after the bubble popped, and very few of those ICOs survived. Filecoin, however, a project created that back then within 30 minutes raised $200 million.
Related Reading | The Great Ethereum Debate: DeFi Versus ICOs
Fast forward to today, and Filecoin's mainnet has just launched causing the asset's price to rise almost as fast as funds were raised in August 2017.
? Filecoin is coming…

get ready for #FilecoinLiftoff

October 19-23https://t.co/8m58KD6qJI pic.twitter.com/vz3B3dSsx6

— Filecoin (@Filecoin) October 15, 2020
The relatively young crypto token has ballooned from around $30 per FIL at the time of its listing on Gemini and Kraken, to as high as $120 at the peak.
Related Reading | Will Next-Gen Altcoins Boom During Next Crypto Bull Run?
Volatility already has prices falling back to roughly $70 per FIL currently, but because prices are changing so rapidly, by the time you read this it will have changed 20% or more several times.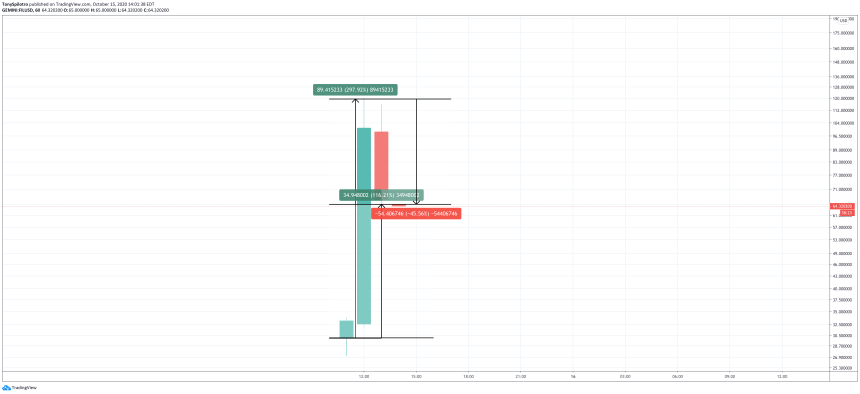 Filecoin Debuts To Immediate 3x Rally, Falls Back Almost 50% | Source: FILUSD on TradingView.com
Cryptocurrencies are volatile by nature, but when they debut to such a buying frenzy, valuations can skyrocket quickly. Filecoin was the fastest newly launched crypto project to reach a $1 billion valuation, for example.
Crypto industry pioneers say the project is "valuable" which is a rare nod in such a jam-packed and competitive marketplace. It is a protocol designed to support decentralized data storage sharing, built by Protocol Labs on top of InterPlanetary File System.
Currently, the platforms at which Filecoin trades on are few and far between, but following this recent trip to the moon, it is bound to be listed elsewhere – especially if the hype and momentum sustains.
Featured image from Deposit Photos, Chart from TradingView