A global survey of Chief Financial Officers has revealed that hedge funds are planning to hold 7% of their wealth in crypto within the next 5 years.
Reuters has described the survey results as a major vote of confidence for cryptocurrency assets within the current market environment.
The Hedge Funds Crypto Survey
Financial administrator Intertrust conducted the survey with over 100 CFOs participating from all over the globe. Chief Financial Officers, or CFOs, are executives who are responsible for managing their company's finances.
As per Intertrust, the results of the survey indicate that hedge funds plan to increase their crypto assets in the next five years.
An average figure based on the responses shows that by 2026, funds aim to keep $313 billion in digital assets, which is around 7.2% of their total assets.
Related Reading | Nearly 1% Of Bitcoin Supply Is Now Wrapped In Ethereum
Another interesting finding from the poll is that 17% of the survey takers believe their funds will work with at least 10% of their assets as crypto, a figure that is around 3% higher than the average.
It's unclear what the current crypto holdings by the funds look like, but one thing worth noting is that many big-names in the sector seem to already have invested appreciable amounts in digital assets.
Increasing Interest In Cryptocurrency
While huge volatility and uncertainty over regulation keep the majority of traditional asset managers skeptical about cryptocurrency, the hedge funds survey shows that there is still a growing interest in digital assets.
Executive Director at Quilter Cheviot Investment Management says hedge funds "are well aware not only of the risks but also the long-term potential" of crypto assets.
Related Reading | MicroStrategy Receives Over $1.5B In Orders For $500M Notes To Fund Bitcoin Purchases
Examples of firms that have already invested in digital assets include Man Group, Brevan Howard, and Renaissance Technologies. Some of the big-name fund managers who have also committed are Alan Howard and Paul Tudor Jones.
Another prominent case is Skybridge Captial, a US-based firm setup by Anthony Scaramucci, that invested into Bitcoin late last year. Due to trimming their investment early in April, Bitcoin became the largest contributor of their gains.
Overall, it is clear that there is a growing enthusiasm towards crypto assets in the industry.
Bitcoin Price
At the time of writing, Bitcoin price hovers over $39,280. The asset is down 11% in the past 30 days, but up 12% in the past 7 days. Here is a chart noting the change in the price of the cryptocurrency: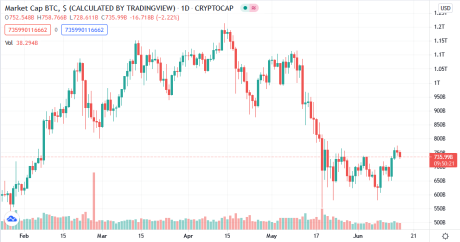 Bitcoin seems to be on an upward trend | Source: BTCUSD on TradinvView
While BTC seems to be back on track for going up, it's not yet clear whether we are looking at a bullish market. Some experts believe we may be witnessing a bull trap.
Featured image from Unsplash, chart from TradingView