Hi Everyone,
Things have been moving incredibly fast in the crypto market over the past few days.
What seems to be on most people's minds is the massive announcement that came out on Friday.
There are several facets to this story so let me break it down.
First, Starbucks will not be accepting bitcoin. Not any time soon anyway. The planned crypto-friendly ecosystem called Bakkt aims to create a more user and regulator-friendly way of storing and spending bitcoin, and possibly other digital assets down the road.
Wall Street is throwing their very best at this. The announcement was made by Kelly Loeffler,  ICE's head of communications, who recently announced her departure from the role.

Overall, this is a good thing for the bitcoin network. If ICE is successful in setting up a bitcoin-backed payment network that is regulated by the US government, it could pave the way for more regulated crypto products and for competition in this space, which ultimately has the power to drive adoption going forward.
In parallel, we also have the Stuttgart Borse in Germany which plans to open its own ICO platform. So that's pretty cool.
@MatiGreenspan — eToro, Senior Market Analyst
Unfortunately, there will be no daily market update on Tuesday or Wednesday as I will be traveling. We'll continue as usual from Thursday.
Today's Highlights
China Hits Back
RBA Tonight
Crypto Data Uncertainty
Please note: All data, figures & graphs are valid as of August 6th. All trading carries risk. Only risk capital you can afford to lose.
Traditional Markets
The trade war is indeed escalating but that might not be the biggest deal right now. On Friday we saw this…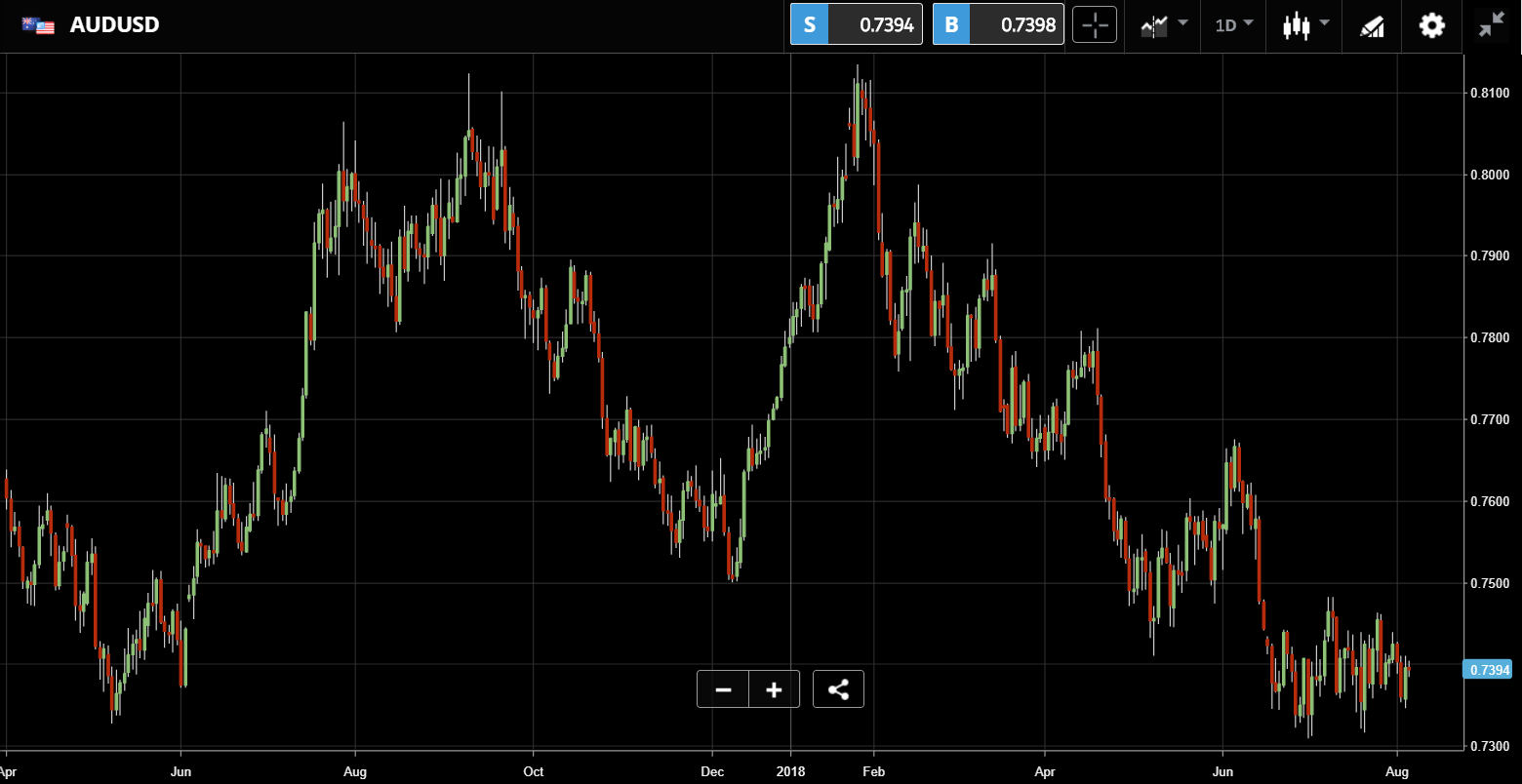 However, this announcement seemed to be more a matter of policy than any real concern. According to a recent research, China is more worried about issues at home such as economic and political stability.
The markets haven't taken any sort of direction yet this week. So let's see how it goes.
Watch out for the RBA interest rate announcement in Australia, which will be late tonight for most of the rest of the world. The AUDUSD has been consolidating near its lows for the past few weeks. Any indication that Australia might follow the United States towards tightening its policy could send it higher.
Crypto Information
There were two things that happened over the last few days that could forever change how we get information on crypto transactions and hopefully will shape things for the better going forward.
Firstly, there was a glitch in one of the world's largest websites.
The error had many crypto traders confused as erratic prices were being displayed for bitcoin and for some of the other coins. CoinMarketCap did apologize for the glitch and explained that it was due to an error in the way that Tether volumes are calculated.
Because many plugins rely on CMC data, the confusion spread pretty quickly.
The second thing was some research that came out from CoinDesk, which served to change my personal perspective a bit.

The perception that Japan dominates bitcoin trading makes sense to me. I know that they traditionally dominate the currency market, with one figure I heard claiming that up to 90% of Forex volumes come from Japan.
So the fact that bitcoin is legal there and that they're already traders fits into the narrative. The data from cryptocompare was confirming this, until now.
It seems that cryptocompare was actually including volumes from derivatives on bitflyer FX in their overall stats, whereas they were not including similar derivatives from BitMex.
Cryptocompare has also apologized for this and has now deducted the volumes from bitflyer FX from their overall volume metrics. We can see pretty clearly where the change occurred on July 31st.
Let's have an awesome week ahead!
This content is provided for information and educational purposes only and should not be considered to be investment advice or recommendation. 
The outlook presented is a personal opinion of the analyst and does not represent an official position of eToro.
Past performance is not an indication of future results. All trading involves risk; only risk capital you are prepared to lose.
Cryptocurrencies can widely fluctuate in prices and are not appropriate for all investors. Trading cryptocurrencies is not supervised by any EU regulatory framework.
About the Author: Mati Greenspan is a Senior Market Analyst at eToro
Connect with Mati on….
eToro: http://etoro.tw/Mati  | Twitter: https://twitter.com/matigreenspan | LinkedIn: https://www.linkedin.com/in/matisyahu/  | Telegram: https://t.me/MatiGreenspan | Office Phone: +44-203-1500308 (ext:311)
Disclaimer: The opinions expressed in this article do not represent the views of NewsBTC 
or any of its team members. NewsBTC is neither responsible nor liable for the accuracy of 
any of the information supplied in Sponsored Stories/Press Releases such as this one.