All last week, the altcoin market was on fire, with many crypto assets – including Ethereum and XRP – breaking out from downtrend resistance and going on massive rallies – some of which set over a few hundred percent gains.
However, an indicator designed to spot reversals before they happen is suggesting that the two top altcoins Ethereum and XRP are due for a deep retracement.
TD9 Sequential Indicator Signals Sell on Ethereum and XRP
When the total altcoin market cap broke out from its downtrend resistance, fireworks followed across each individual altcoin price chart.
Even Bitcoin rallied by as much as over 30%, dragged higher by the bullish sentiment across altcoins – a stark contrast from the blood bath altcoins experienced in 2019 at the hands of the first-ever cryptocurrency.
Related Reading | Altcoin Market Explodes By Over 50% In 30 Days, Is Crypto Due for A Pullback? 
From bottom to top, the number two cryptocurrency by market cap, Ethereum rose 50% in 30 days, from a price of $116 to $179.
XRP, the third-largest cryptocurrency, didn't fare quite as well, but still outperformed Bitcoin with 46% returns, growing from a trough of 17 cents to a peak of 25 cents before falling to current levels.
While these altcoins have already experienced a drop, the TD9 Sequential indicator created by expert financial market analyst Thomas Demark, are signaling that a deeper retracement is inevitable in the days and weeks ahead.
The TD9 Sequential indicator, just as it sounds, focuses on a sequence of candlesticks that often precede a reversal.
If a crypto asset follows this sequence to the ninth candle, a reversal oftentimes results.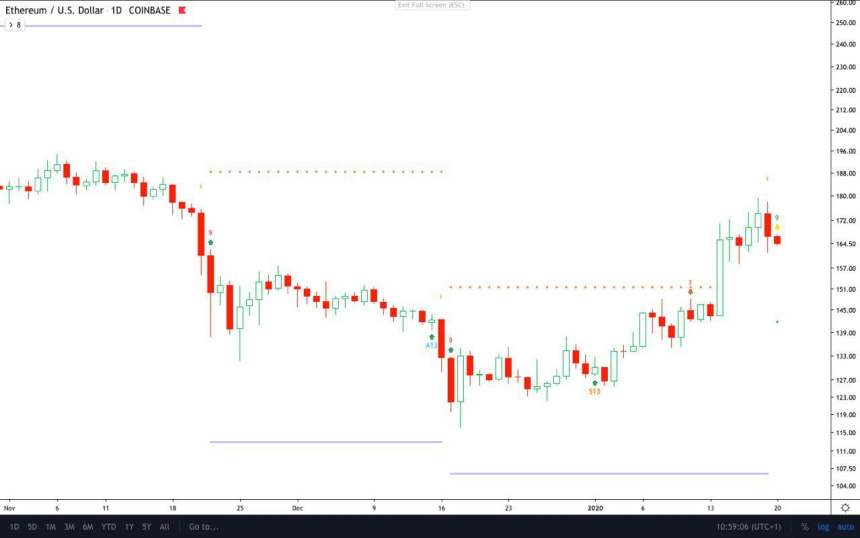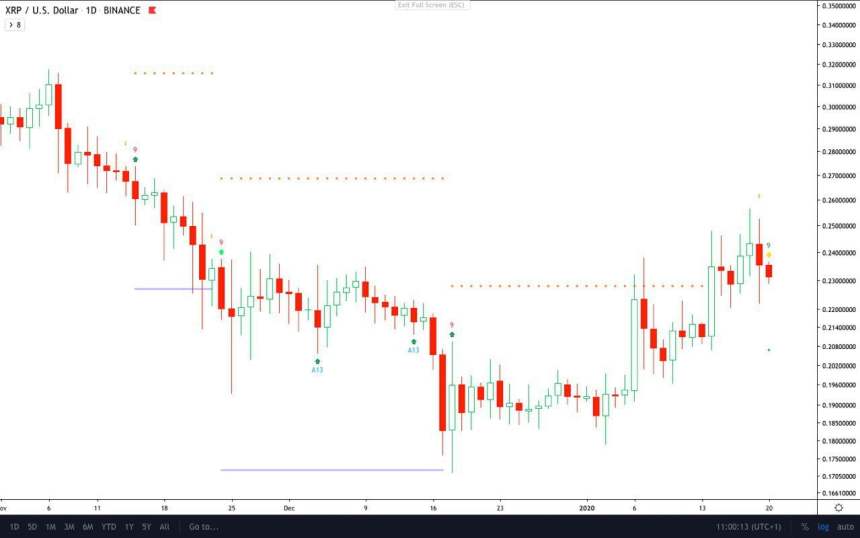 Both Ethereum and XRP have signaled sell on daily timeframes using the indicator, suggesting that both of these top altcoins will fall in value in the days ahead.
Even if they do drop, after last week's breakout of downtrend resistance most crypto investors believe the bottom to be in for altcoins. Any retracements are likely to be bought up ferociously, confirming the downtrend resistance as support.
The Rest of the Altcoin Market May See Deep Retracement Also
Elsewhere across the altcoin market additional crypto assets are also signaling sell via the TD 9 indicator.
Dash flipped sell on the USD pair after an enormous rally, while Ethereum, Litecoin, Binance Coin, and Tron have all signaled sell against Bitcoin on daily timeframes.
Related Reading | Even a Billionaire Crypto Investor Doesn't Understand The Recent Altcoin Rally
If all of these altcoins begin dumping at once against both Bitcoin and USD, it could look like carnage once again across the altcoin space. However, after last week's breakout this next retracement may be the greatest buy opportunity for altcoins for the foreseeable future.