It is now likely that alt coin Monero bears will drive prices lower after price action failed to close above $136 on 5 different occasions after November 12.
Generally, most alt coins other that NEM seem to be shedding their recent gains. Alt coin NEO is a perfect example.
Let's look at the charts:
NEM INCHING HIGHER AND FURTHER FROM THE 20 PERIOD MA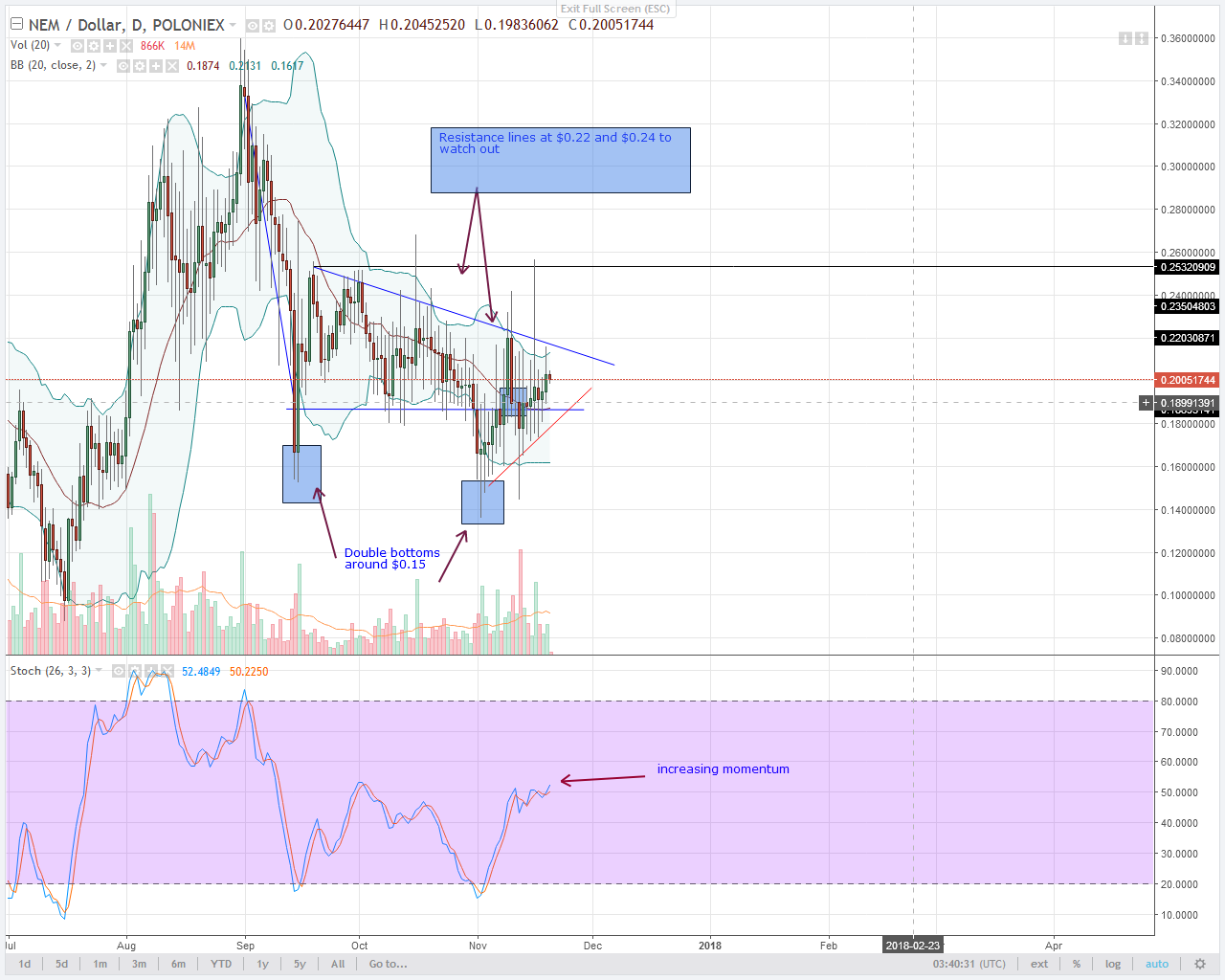 After period of consolidation and NEM price action trending around the support zone of around $0.20, price action continued to swing higher yesterday.
As we can see with yesterday's bullish candlestick which was also accompanied by buy momentum as stochastics momentum shows.
Note that after November 16 above average volumes and a bullish candlestick with a $0.08 Hi-Lo, NEM prices have been inching higher. Besides that, price action is gradually moving further away from the now support 20 period MA.
We recommend NEM bulls to continue loading their long positions.
DASH IS NOW CORRECTING LOWER AFTER TESTING $500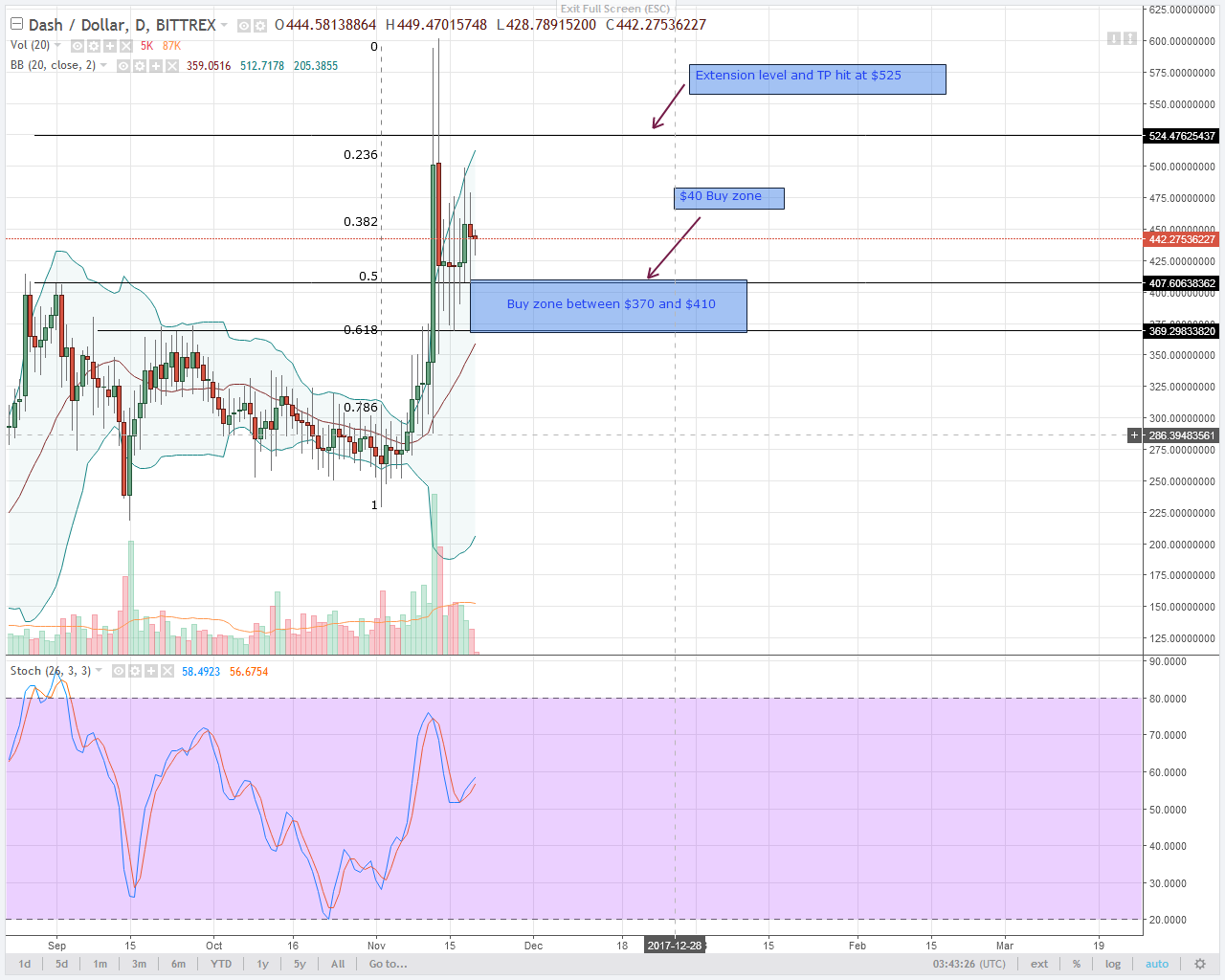 Even though we are net long and in sync with the weekly time frame trend, DASH became expensive on November 18. This was after DASH closed above the upper BB in the 4HR time frame.
On top of the over-extension, there was a bear divergence and consequently, we saw USD bulls driving prices lower and shedding $84 on November 19.
November 18 lows of around $410 will act as our immediate support now that bull momentum is decreasing even in the daily chart. Notice those lower lows relative to the upper BB.
$0.90 WILL DEFINE ALT COIN IOTA SHORT TERM TREND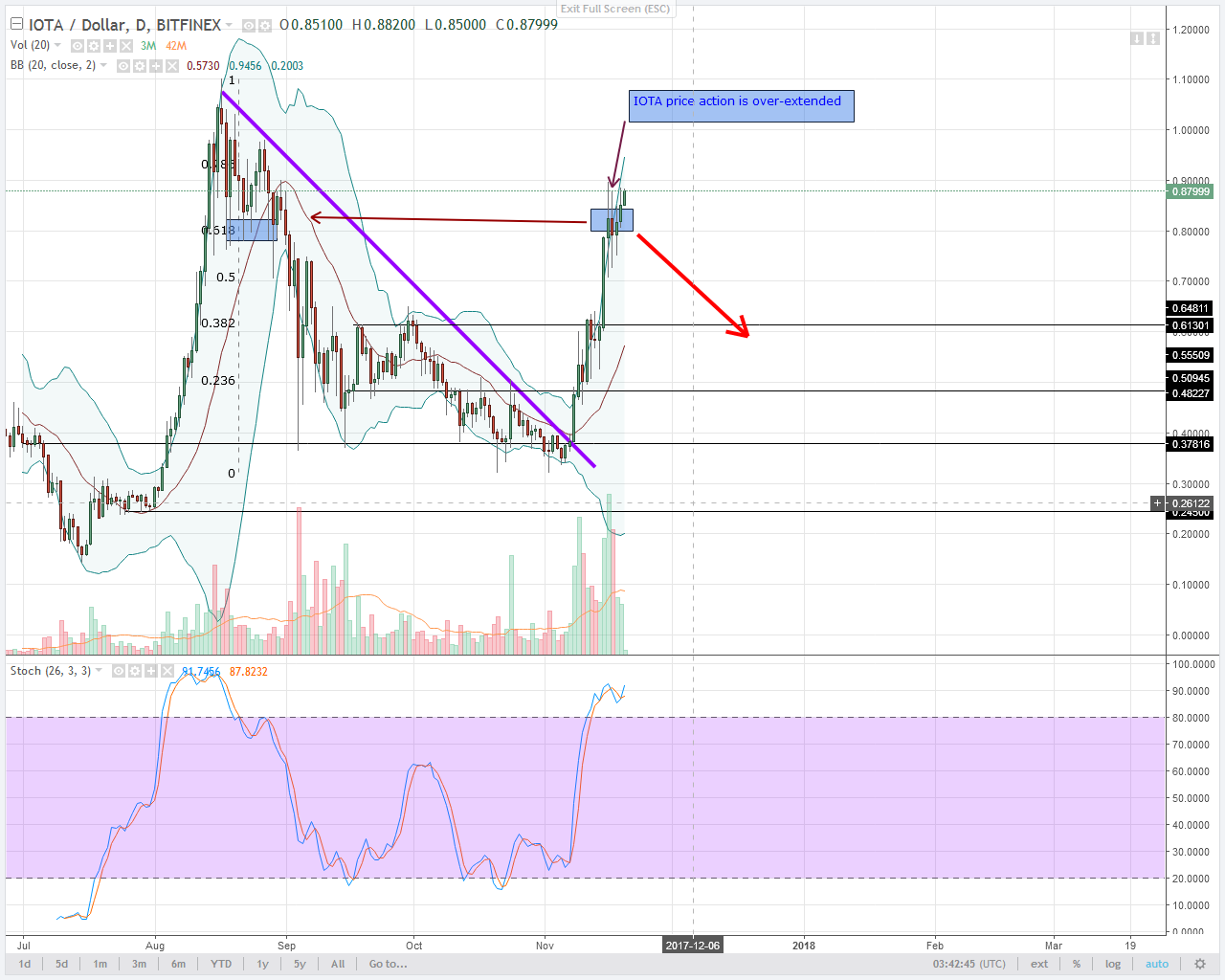 Despite the stochastic sell signal on November 18, IOTA prices continued to appreciate.
These IOTA higher highs and upper BB hugging hint at strong bull momentum. If IOTA bulls continue to rage, immediate resistance lines will be at $0.98 and $1.1.
For that to happen, we have to check price action for any close above November 16 highs of $0.90. Any close above that with no stochastic sell especially in the 4HR chart means bulls are in charge.
Otherwise if USD bulls jump in and drive prices lower, bears should initiate sells.
ALT COIN MONERO BEARS IN CHARGE AFTER PRICE ACTION TESTS $136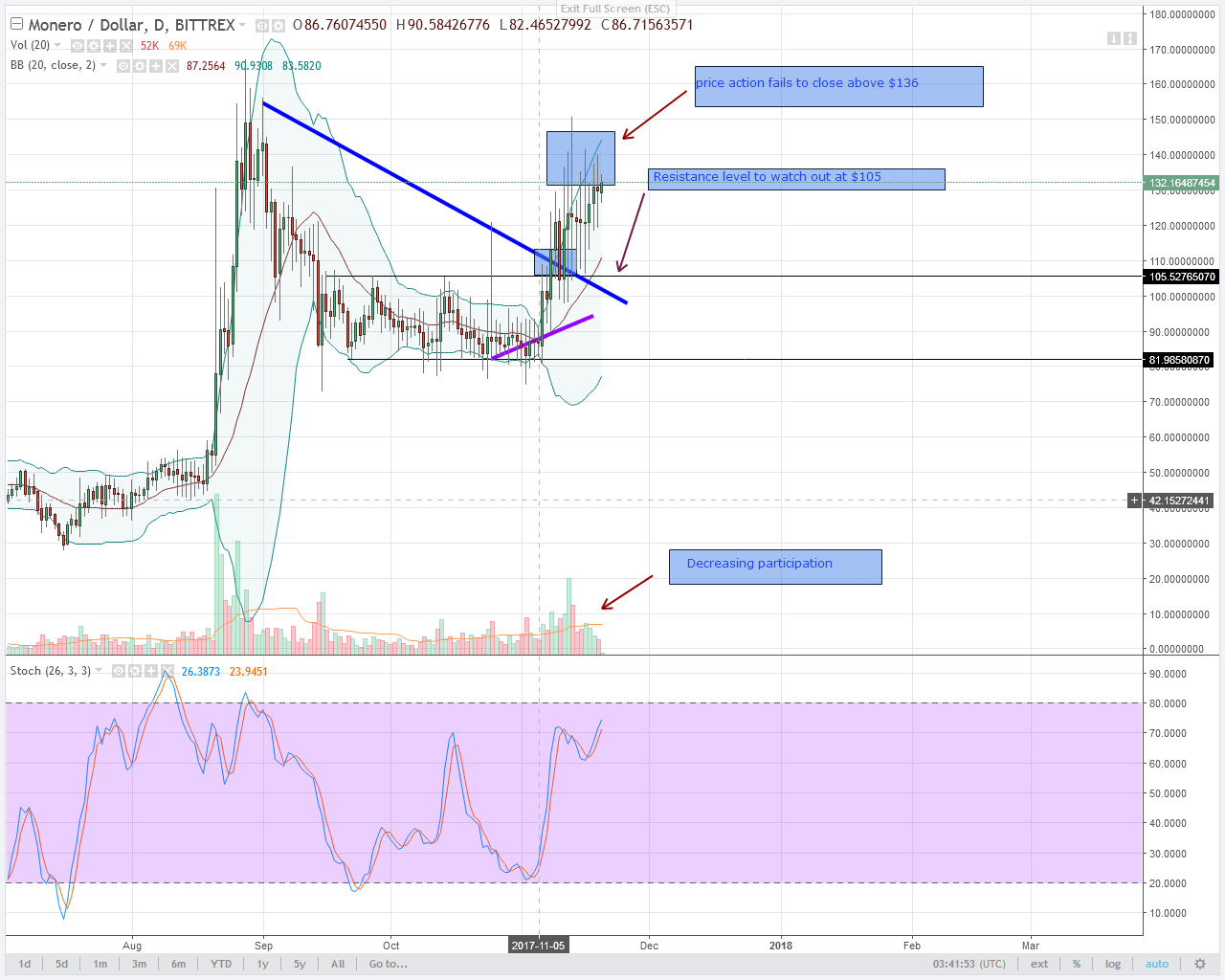 Even after 7 days of decreasing momentum and lower lows relative to the upper BB, alt coin Monero is still resilient and stagnating at resistance zone.
Judging from volumes chart, November 18 was bullish but prices were buoyed mainly by sentiment. Check out the participation levels which kept decreasing after November 12. In the 4HR chart, the path of least resistance is a correction towards immediate support at $120.
First of all notice that price action failed to close above September 9 highs of $136. With this realization, it is increasingly becoming likely that alt coin Monero bears shall push prices lower.
Even though Monero bulls inject momentum, prices have been closing with long upper wicks below $136 in the past 8 days. That itself is caution enough.
NEO HITS $45 BUT CORRECTION IS IMMINENT
After hitting bull targets on November 18, NEO is now retracing. The bull ride was very strong and abrupt. As a result, our triggers will be based on two things that will determine the short to intermediate term trend of this cryptocurrency.
The first one is the reaction at the main resistance-previous support-trend line on November 19. NEO prices reversed sharply after testing $45 which was also a key resistance line marking September 23 highs.
In the 4HR chart, there is a clear bear divergence after that USD drive on November 19. Other than the bear divergence on the 4HR chart, November 18 candlestick close was above the upper BB. This means NEO was temporarily over-valued and now prices is correcting low for equilibrium purposes.
Despite stochastics being bullish we have to see how today's prices will close. That will largely depend on how prices will react around $34 support line.
All charts courtesy of Trading View