The further Bitcoin has climbed, the worse the altcoin market has suffered, to the point many are calling for an altcoin apocalypse that takes the price of most crypto assets to zero, except for Bitcoin and a select few that still provide value and utility.
Of the top ten crypto assets, only two altcoins have statistically outperformed Bitcoin year-to-date and could provide insight into which altcoins have the best chance of recovering and reaching a new all-time high.
Only Two Out of Ten Crypto Coins Have Outpaced Bitcoin
While many crypto analysts are calling for another 50% drop in the altcoin market that'll form a double-bottom, others believe an all-out "alt season" is just ahead. The answer, however, is likely somewhere in between, with many altcoins from the last hype bubble doomed forever, and other clear winners with real utility emerging from the ashes of the altpocalypse.
Related Reading | Continued Bitcoin Correction Could Cause Lead to Altcoin Market Double Bottom 
A quick look at the crypto market top ten by market cap and how they've performed in correlation with Bitcoin could help shed some light in which of the bunch will return to their former glory and even go on to set new highs.
According to data shared by San Diego-based Blockforce Capital Chief Investment Officer David Martin, only two of the top ten crypto assets have outpaced Bitcoin in 2019 thus far: Litecoin and Binance's native token, Binance Coin or BNB.
10/ #Altcoins Altcoins continue to underperform #bitcoin, as #BNB and #LTC are the only two in the top ten that are outpacing bitcoin year-to-date. #ETH #XRP #BCH #EOS #XLM #TRX #ADA #BTC pic.twitter.com/DUzRMe2JZF

— David Martin (@mrtn_dvd) August 12, 2019
Bitcoin has grown 168% in 2019, while Litecoin has brought investors as much as 214% year-to-date. Binance's native crypto token's year has been nothing short of amazing, setting new records and gathering more and more use cases each new day. It's helped the altcoin asset perform 364% in 2019 so far, making it the top-performing crypto of the year.
Bitcoin Cash is right behind Bitcoin in fourth place, and EOS edges out Etheruem in a neck-and-neck race for fifth and sixth. Cardano is in seventh, followed by Tron in eighth place.
In ninth place is Ripple, held down by the company behind the protocol selling off an abundance of tokens throughout the year – something that they say will be reduced in the future. In dead last in the top ten, is Stellar, which has barely shown any performance in 2019 and has only declined further year-to-date, making it the clear loser of the bunch.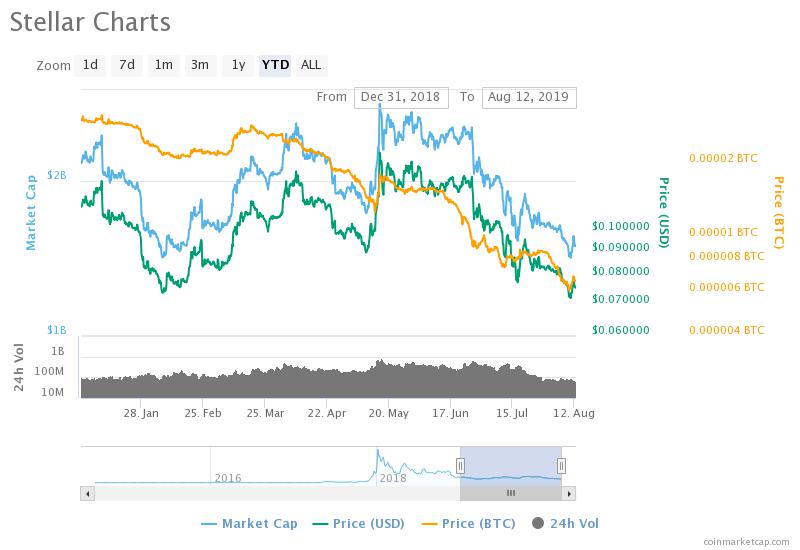 Most Alts Won't Reach All-Time High If Altcoin-to-BTC Ratio Remains
Many of these altcoins would have suffered further if not for Bitcoin driving up their USD values due to their close relation to Bitcoin via their ratio and trading pairs. Altcoin ratios and value relative to their BTC trading pairs have only further dropped, showing just how poorly these assets have performed in correlation to Bitcoin.
Related Reading | Crypto Capitulation: An Altcoin Obituary, Or the Biggest Buy Signal Ever? 
If current ratios are maintained, most altcoins would never again revisit their all-time highs or set new ones, even if Bitcoin were to reach $100,000 per BTC. The realization that crypto investor's already heavy bags may only get heavier, while Bitcoin continues on toward its next bull run, the leading crypto asset has only further absorbed the capital from altcoins. While most believe that an alt season could occur once Bitcoin continues to correct, others believe that the negative sentiment and sell pressure surrounding altcoins could drag Bitcoin down and cause the crypto market to collapse completely.