The past year has been an extension of last year's bear market for most altcoins. All bar a few are set to end the year lower than they began it and there have been very few survivors from 2019.
2019: An Altcoin Nightmare
While total crypto currency market capitalization is currently over 55% up this year, it is predominantly Bitcoin's doing. The king of crypto has gained 95% in 2019 but the same cannot be said for its digital brethren.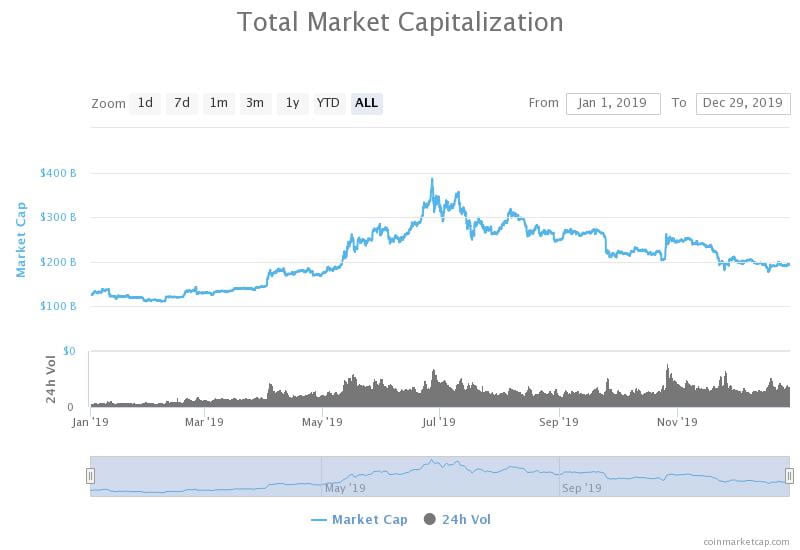 Altcoins have had another annus horribilis and most of them have lost ground in 2019.
The second largest crypto asset in the world has been crushed again this year. Following a rally to over $350, Ethereum has dumped back to January levels around $130. This has left the asset 90% down from its peak and still buried under the crypto winter snow and ice.
If Ethereum's story is bad then Ripple's is even worse. XRP has plunged 45% this year dumping the cross border transfer token to its lowest level for over two years. Prices are currently back before they were before the 2017 bubble leaving XRP a painful 95% down from all-time high.
Bitcoin Cash is up marginally on January prices but the whole year has been pretty flat for the BTC fork. A pump to $500 has dumped back to $200 and there has been no independent movement for the fourth most popular crypto asset.
Litecoin had an epic halving surge of almost 400% to top out at $145 but has since crashed back to winter levels around $40. It is unlikely LTC will do much without its big brother in 2020.
The 'Ethereum killer' EOS has itself been killed as the token fails to live up to the hype and crumbles under centralization concerns. EOS is currently trading lower than it was at the beginning of the year.
Bitcoin SV has been another under-performing altcoins with a year-end price of around $100 which is exactly where it was at the beginning.
Rounding out the top ten is Stellar which has been absolutely crushed this year following its big brother at Ripple. XLM has dumped a painful 60% over the course of this year extending its bear market to two years.
Nearly all of the higher market cap altcoins including Tron, Cardano, Cosmos, LEO and Monero have ended the year equal or lower than they started it.
The Crypto Survivors
Binance Coin is one of 2019's few productive altcoins with a surge of 560% for the first half of the year. BNB has followed the rest down into the digital doldrums by year end but is still trading 130% higher than it did at the start.
Tezos has been another darling of 2019 with a surge of 185% since January first. Major exchanges offering staking rewards has driven XTZ prices making it one of the best performing altcoins of the year.
Exchange based tokens have performed will this year and Huobi Token is another notching up triple digit gains in 2019. HT has cranked 160% over the past twelve months joining its bigger brother at Binance.
The final top twenty performer this year is Chainlink which has outperformed all other altcoins ending the year 530% higher than it began it.
Unless there is another massive alt-surge many of the crypto assets mentioned above will continue their decline in 2020 as interest, liquidity and volume wanes. Only the strongest will survive.
Image from Shutterstock