This week, the total altcoin market cap broke out from local downtrend resistance, causing many individual crypto assets to go on monstrous rallies, some to as much as 400% gains.
The breakout also caused the total crypto market cap sans Bitcoin to rise from $50 billion to over $77 billion, resulting in 50% growth within a 30 day period. With such astronomical gains, are investors ready to take profits, causing a pullback across the crypto market?
Altcoin Bulls Push Forward to 50% Gains, But Bears Await a Deep Crypto Correction
All this week, altcoins across the top ten cryptocurrencies by market cap and deeper on the list, have been exploding through downtrend resistance and going on massive rallies.
The increased bullishness is on the heels of Bitcoin potentially bottoming this past December once again. On December 17, the leading cryptocurrency by market cap touched a low of $6400 forming the head of a sizable inverse head and shoulders pattern. The pattern later confirmed, and push the price of Bitcoin all the way to $9,000 as the high as of the time of this writing, but the cryptocurrency could push higher given how strong the momentum appears to be.
Related Reading | Ready for Liftoff: Altcoin Market Cap Breaks Out of Downtrend 
Bitcoin's bullish momentum also caused surges in Ethereum, Litecoin, Ripple, and many other top cryptocurrencies. Even Bitcoin forks Bitcoin SV, Bitcoin Cash, Gold, and Diamond all went on a tear.
The clean break of downtrend resistance on the total altcoin market cap – a weighted aggregate of all cryptocurrencies sans Bitcoin – has caused the crypto market to catch fire, with dozens of assets going on rallies of 50% of higher.
$BTC pumped nearly 40% in the last 30 days.

Are you taking any profits here?

— The Crypto Dog? (@TheCryptoDog) January 17, 2020
Even Bitcoin itself rose over 30% in 30 days. However, the altcoin market's gains were even stronger, given how oversold the alternative crypto assets are after two full years of a bear market.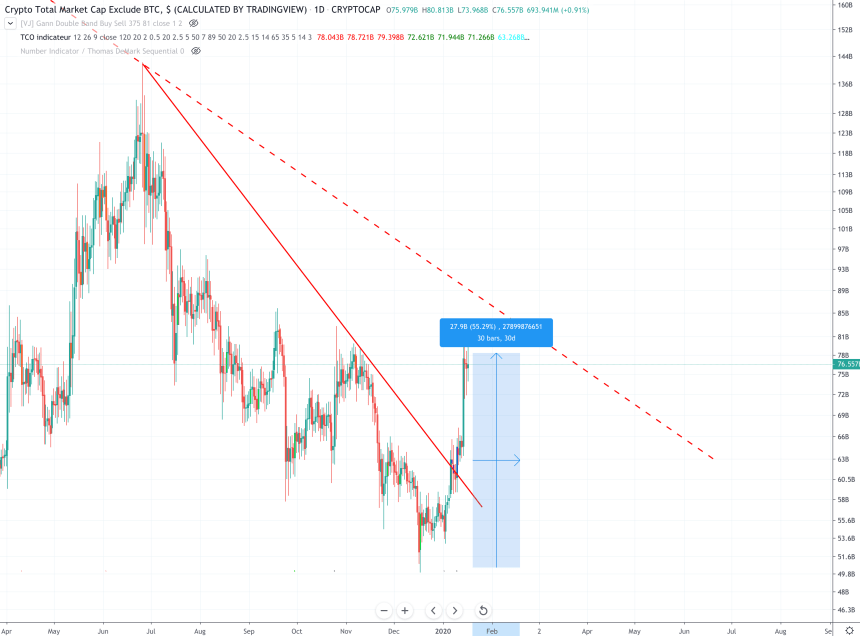 The total altcoin market cap rose a total of over 55% in 30 days. As the saying goes, what goes up, must come down, and after such a strong, parabolic rise, the market is almost certain to suffer a deep correction that puts over-exuberant investors in check.
Crypto consensus is max pain is higher. I do think so, up to the $BTC 9K break and the 200DMA – which is very close. This market is very levered up, long speculators getting cocky, and many alts extremely overextended. Good odds IMO alts puke on $BTC rejected at the 200.

— Alex (@classicmacro) January 17, 2020
A pullback in Bitcoin when it reaches the 200-DMA could be the trigger that kicks off such a selloff, sparking not only Bitcoin to suffer losses, but altcoins across the market as well.
Ethereum, Litecoin, and others have only recently begun to catch up slightly to Bitcoin on their ratios, so the fall in altcoins may not be as deep as what could result in Bitcoin, especially because altcoins have broken out of their downtrend resistance, while many argue that Bitcoin has not.
Related Reading | Even a Billionaire Crypto Investor Doesn't Understand The Recent Altcoin Rally 
Bias often clouds how trendlines are drawn, so it's difficult to say who is wrong or right. The only thing for sure is, after 50% gains, it wouldn't at all be surprising to see a large correction.