Bakkt officially confirmed that its bitcoin futures volume achieved a new record high on December 19 at 6,226 contracts. In USD terms, that is about $44 million on a single day.
Yesterday we set a new volume record:

6,226 physically delivered Bakkt Bitcoin Futures contracts traded at ICE Futures U.S.

— Bakkt (@Bakkt) December 19, 2019
Around the same period, the bitcoin price spiked to more than $7,400 across major cryptocurrency exchanges like BitMEX and Binance.
Was it a coincidence?
On a daily basis, both Binance and BitMEX record volumes in the range of $300 million to $1 billion. Yesterday, for instance, Binance saw about 95,000 BTC traded, worth well over $600 million.
Given that Bakkt's record high volume accounts for around 10 percent of the normal daily volume of Binance, it is difficult to say that Bakkt has a significant impact on the short-term price trend of bitcoin.
It is also hard to conclusively state that the rise in the bitcoin price on major cryptocurrency trading platforms are directly causing Bakkt volume to increase as it targets a different investor base in accredited and institutional investors.
Rather, Bakkt's growth in volume shows two major factors that boosts the short-term outlook of bitcoin: rise in institutional demand and overall sentiment.
Why the bitcoin market reacted with optimism
The strong upside movement the bitcoin market saw on Wednesday carries more weight than just a relief rally.
The move itself was most likely a short squeeze as short contracts stacked up on both BitMEX and Binance to turn both funding rates to negative.
But, it crucially prevented BTC from dropping to much lower levels, potentially in the $5,000s as the dominant cryptocurrency faced intense selling pressure.
It was also on the edge of testing an important support level which BTC has defended relatively well since 2015.
As such, the reaction from traders during a critical phase that could dictate the medium-term trend of bitcoin led to significant interest across various trading platforms.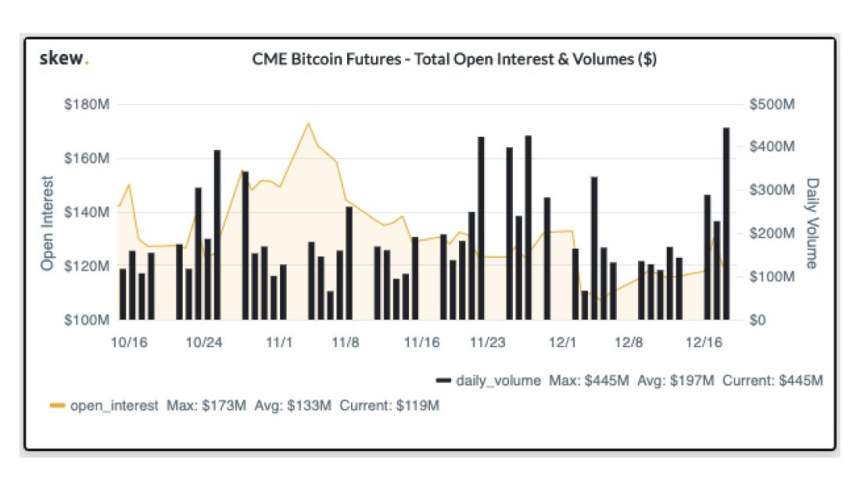 According to Skew Research, the daily volume of CME also saw a large spike, rising to as high as $500 million.