Popular crypto exchange Binance is planning to enter the Chinese market with the launch of its new China website. This comes after Binance was forced to leave China following strict regulations that shut down all domestic cryptocurrency exchanges in September 2017.
Since then, mixed messages have been coming from Beijing. While financial institutions are not permitted to deal with crypto, it's not illegal for a person to hold it.
And when taken in conjunction with constant reports of anti-crypto moves, such as the proposed ban on Bitcoin mining, it's clear the Chinese government holds a standoff approach as far as cryptocurrency is concerned.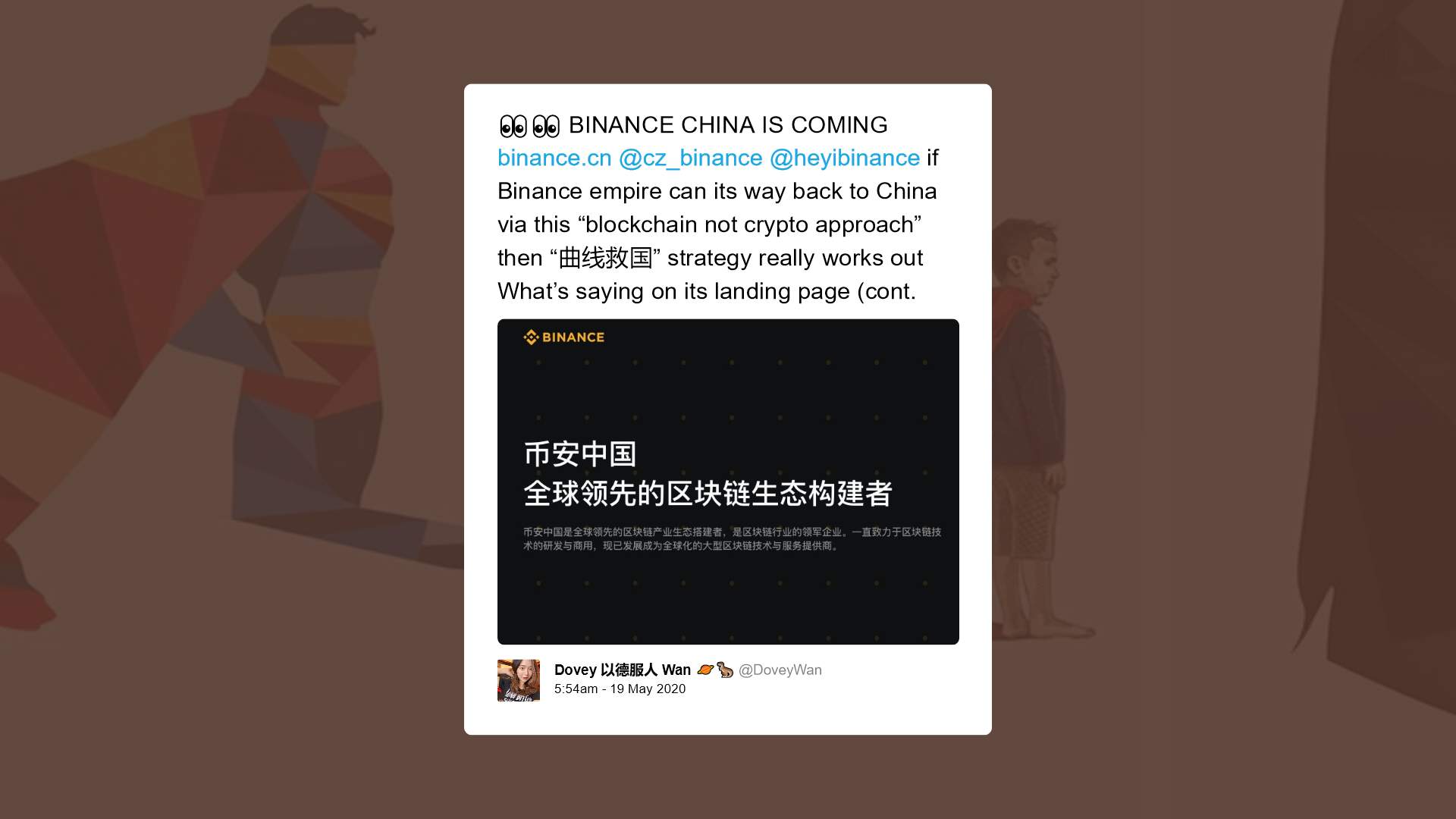 But before crypto advocates rejoice, Binance's come back is mostly in respect of education, and not for trading at this present time. Dovey Wan, the Co-founder of blockchain investment firm, Primitive Ventures noted:
"Looks like the CN site is mainly for blockchain courses. and other business include blockchain tech development, research and consulting, incubation, academy, talent service, Binance Chain, blockchain charity."
However, Binance CEO Changpeng Zhao was quick to chime in by hinting that trading on the China site could come at some future point.
One step at a time. Let's focus on education and technology first. ?

— CZ Binance ??? (@cz_binance) May 19, 2020
The Chinese Government Doesn't Care For Crypto Speculation
When it comes to crypto, the Chinese government holds a patchy record with regard to its endorsement. While many countries, including the US, are also cautious, most look to at least work with industry heads to coin appropriate frameworks.
This, of course, comes from a FOMO perspective, that is, a recognition of capital flight and loss of technological innovation from domestic shores. But China stands alone in that they hold no such qualms.
In fact, it's been well-publicized on numerous occasions that the Chinese government is actively anti-crypto. For example, at the start of the year, Beijing renewed its tough stance by stating firms are not to engage in activities related to cryptocurrency.
This was reiterated by China's central bank, The People's Bank of China, which remarked that the trading of private virtual currencies, including Bitcoin and Ethereum, is:
"essentially unauthorized illegal public financing, suspected of illegal sale of tokens, illegal issuance of securities and illegal fund-raising."
However, it's well known that public orders are often flouted in China. And while trading is deemed illegal, Chinese citizens employ a raft of means to buy and sell. These include using VPNs to access overseas exchanges, OTC, and P2P trading.
The Digital Yuan is a Play Against US Hegemony
Although Beijing maintains a tough approach towards the trading of digital assets, it still has massive plans in place to accelerate the adoption of blockchain technologies.
Most notable, from an international perspective, is the digital yuan. Talk of a Chinese central bank digital currency (CBDC) has been doing the rounds since 2014. It's only the past year or so that this has intensified.
But with souring relations between China and the US, especially in regard to the virus outbreak situation, a digital yuan has never been so important for the Chinese Communist Party (CCP).
On this point, Circle CEO Jeremy Allaire spoke about his belief that the CCP is attempting to topple US dominance, and how the digital yuan was created for that purpose.
"This becomes a mechanism by which (the yuan) can be used in everyday transactions all around the world. It's ultimately a foundation for the internationalization [of the yuan.]"
Taking this into account, it's difficult to imagine the CCP allowing private cryptocurrencies to hamper with these plans. This is why so many believe Beijing holds such a tough stance towards cryptocurrencies in the first place.
But with Zhao's re-entry into China, at least from an educational standpoint, is this a sign that Allaire, and many others, are wrong?