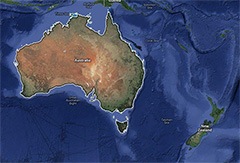 People at the Westfield Sydney shopping center in Sydney, Australia will soon be able to spend their money on something else: bitcoins.
A bitcoin ATM is expected to make its debut in Australia's most populated city. Operated by Australian Bitcoin ATMs, this has been in the making for quite a bit of time.
In late March, it was noted that the first bitcoin ATM in Australia was a mere days away, and here we are in April. I can't and won't say this is the first ATM in the country, but what can be said is that the ATM will make its debut on Tuesday, according to CNET Australia.
It's unclear just what type of ATM will be sitting at the shopping center, but Australian Bitcoin ATMs says that they're in talks with several ATM manufacturers "in order to provide Australian customers with the best experience possible."
Australian Bitcoin ATMs, also known as ABA Technology Pty Ltd, has plans to install some 100 bitcoin ATMs by 2015 and over 500 ATMs around the world by the end of 2016.