In a largely predicted move, Bitcoin has fallen back below five figures once again. Even more predictable is the altcoin action as they too are all in the red during this morning's trading session.
Bitcoin Dips Towards $9,600
Yesterday's pump to $10,200 was short lived. Bitcoin only spent 12 hours trading above $10k before a big red hourly candle dropped it back once again. The 12 hours that followed saw a steady retreat ending in an intraday low of $9,650. Since then BTC has recovered a fraction to trade at just below $9,800.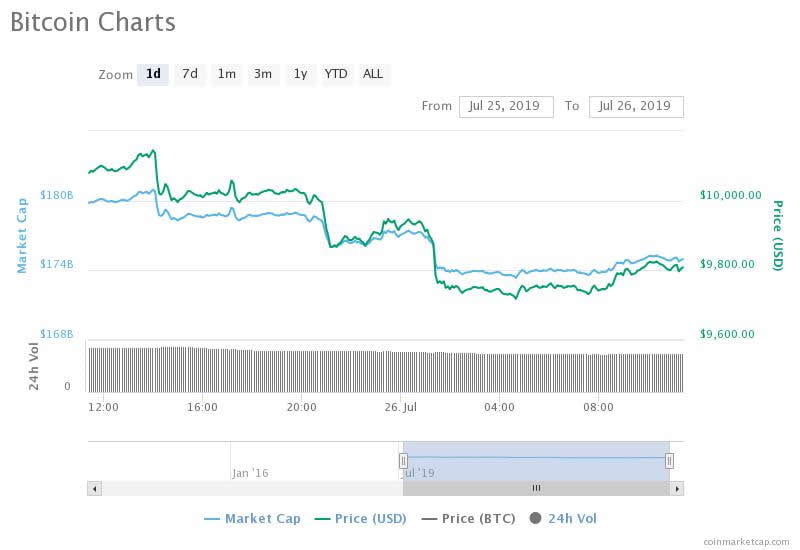 There is support here with a lower level around $9,200 where BTC fell to last week. To keep the trend intact a lower low must be made which will send the asset back to $9,000. Daily volume has also fallen back to $15 billion but market dominance remains just over 67 percent.
Traders are starting to notice the movements in BTC dominance and some are wondering whether it will have any effect on the altcoins.
"$BTC is up, #bitcoin dominance is down? Just very recently before bitcoin started its growth #altcoins started to grow a bit before it"
$BTC is up, #bitcoin dominance is down? Just very recently before bitcoin started its growth #altcoins started to grow a bit before it ? pic.twitter.com/RPgTclf8qO

— CryptoHamster (@CryptoHamsterIO) July 26, 2019
The range bound trading without any clear direction does not appear to be instilling interest at the moment as pointed out by analyst 'Crypto Rand';
"After analyzing #Bitcoin and #Ethereum on different timeframes, same conclusion: sitting on my hands. The current range and volume condition lack interest for trading. Patience is a virtue."
The bears appear to have the upper hand at the moment and the general consensus of opinion among traders and analysts on CT is one of further declines for the coming months with a possible floor in the $7k to $8k region.
Altcoins In The Shadow
As usual the altcoins are blinding following their leader and are mostly in decline as we round out another week of crypto trading. Total market capitalization has shrunk by the same amount it grew yesterday, $10 billion.
Ethereum is still weakened with a further 3 percent lost today as it drops back to $217. Since its peak of the year ETH has corrected 38 percent. Comparatively, Bitcoin is currently at a 30 percent correction. XRP is down a percent or so to $0.315 and Litecoin has lost a couple falling to $93. LTC halving is now only ten days away but it seems that the fomo has all dried up for this asset.
Bitcoin SV, Tron, NEO and Cosmos are all dropping 3 percent today and only Bitcoin Cash and Cardano are in the green with 1.5 percent gained each. It could well be another quiet weekend for crypto markets.
Image from Shutterstock