Yesterday's Bitcoin pullback has extended into Friday as further losses are mounting. The selloff has slowed however as BTC searches for its short term bottom and traders seek buying opportunities. The overall trend for the past few weeks however has been sideways.
Bitcoin Slides 14% in Two Days
From a touch of $13,000 on Wednesday BTC has hit a low of $11,200 a couple of hours ago during Asian trading. The initial dump was triggered late on Wednesday and continued into Thursday after Bitcoin hit the bottom.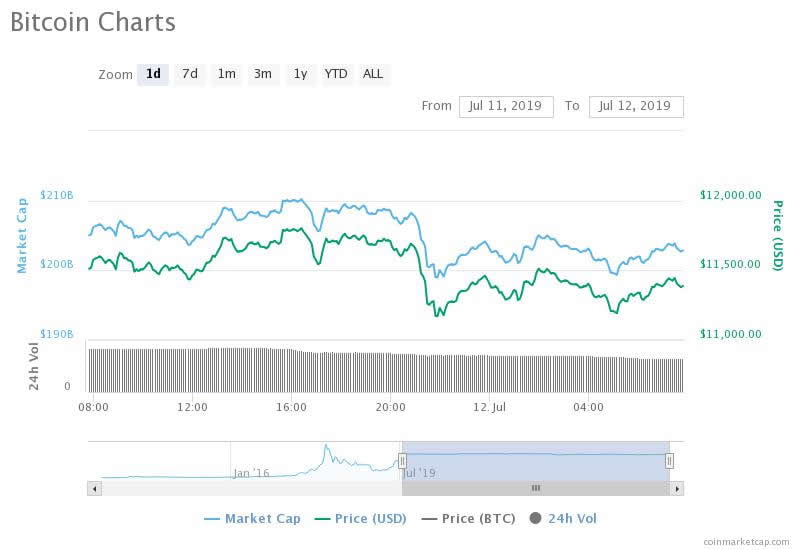 From there it managed to creep back up to resistance at $11,700 but could not hold that and continued to decline today. Daily volume has fallen back to $26 billion and market capitalization is in danger of dropping below $200 billion once again.
As usual crypto traders and analysts are eyeing the charts looking for areas of support and resistance as Bitcoin starts to form a longer term channel of consolidation. Josh Rager has noted support just below $11k and predicts further consolidation:
"$BTC weak buying today with mostly ranging in the mid to low $11ks. Daily support at $10,979 has been the bottom & a breakdown could be likely but expect consolidation before the next major move. Flat/neutral atm"
https://twitter.com/Josh_Rager/status/1149541710587842560
The one day support lies at around $11k and the range bound channel is between current prices at $11,300 and $11,700. The predictions are starting to flow again and the double top pattern is an indicator of further losses. Chart guru 'dave the wave' added: "If the pattern holds, two days of sideways then down to 10K," with a comparison of s similar pattern from 2017.
A comparison of the 2017 top to the possible top here. pic.twitter.com/dcJjvyC4Ln

— dave the wave (@davthewave) July 12, 2019
Trump's comments are the talk of the crypto town today however as markets continue to cool off.
Altcoins Axed Again
Total crypto market capitalization has declined by over $45 billion since the recent market peak of $357 billion. Currently hovering around $310 billion, daily volume has also dumped back to $80 billion but compared to the depths of crypto winter six months ago, that is still sky high.
As usual it has been the altcoins that have borne the brunt of Bitcoin's retreat. Market dominance is still over 65 percent as the rest of the crypto assets get pounded.
In two days Ethereum has dumped over 14 percent plunging ETH prices back down to $270. XRP has collapsed 20 percent as it slides back to a monthly low of below $0.33. Litecoin halving fomo seems to have completely dried up as LTC falls back towards $100 and Bitcoin Cash has crashed to below $350 again.
Bitcoin may be correcting but altcoins are clearly hemorrhaging once again.
Image from shutterstock