As difficult it may be to believe, you've read that headline accurately – altcoins may finally be ready to break out against Bitcoin and bring the battered and beaten asset class more in line with the recovery the number one cryptocurrency has had.
The first shot fired came today with the latest Bitcoin price flash crash, which appears to have been whales taking profit into altcoins ahead of an upcoming altcoin season.
Bitcoin Flash Crash Potentially Sees Captial Flow Into Alts
This afternoon, Bitcoin price plummeted over $600 in less than five minutes in a dramatic flash crash.
Crypto traders and investors scrambled to dump the asset without taking a larger loss in the selloff, further causing a cascade effect. The move also liquidated over $220 million worth of long positions on the notorious crypto margin trading platform BitMEX.
What wasn't as obvious, however, is the fact that much of the capital leaving BTC may have made its way into altcoins like Ethereum, Ripple, Chainlink, and others.
Related Reading | Crypto Exchange Coinbase Fails To Stay Operating During Explosive Market Volatility 
Last night's pump into Bitcoin saw a crash in altcoins that almost immediately recovered. As buyers further drove up the price of the first-ever cryptocurrency, a large player kicked off today's selloff and potentially started a trend reversal.
Coinciding with the selloff in Bitcoin, on the total altcoin market paired against BTC, altcoins pumped while Bitcoin dumped at the exact same moment the leading cryptocurrency asset crashed on the USD trading pair.
The number one crypto trading sideways is the prime environment for altcoins to thrive in, and a full-blown altcoin season is long overdue. It's been well over a year since altcoins truly saw the upside, not counting the early 2020 rally that almost immediately got wiped out in the Black Thursday market collapse.
Falling Wedge Breakout And Historical Recurrence Suggest Altcoin Season Is Finally Here
An altcoin season may soon be upon us, according to chart and date patterns.
Markets are cyclical and history often repeats. There are also strange correlations around dates that don't always make sense.
For example, the BTC block reward halving which is said to be incredibly bullish for Bitcoin in terms of supply and demand appears to be a trigger for a powerful altcoin season.
Related Reading | Bitcoin Price Flash Crashes $600 In Less Than 5 Minutes, Last Night's Rally Erased
After the asset bottomed out in 2015, come July 2016 when it reached its halving, Bitcoin crashed while altcoins began their first-ever rise into superstardom.
From that breakout moment to the very tip-top, altcoins grew over 10,000% against BTC. Meanwhile, Bitcoin also rose to $20,000, showing just how strong performance in altcoins was by comparison.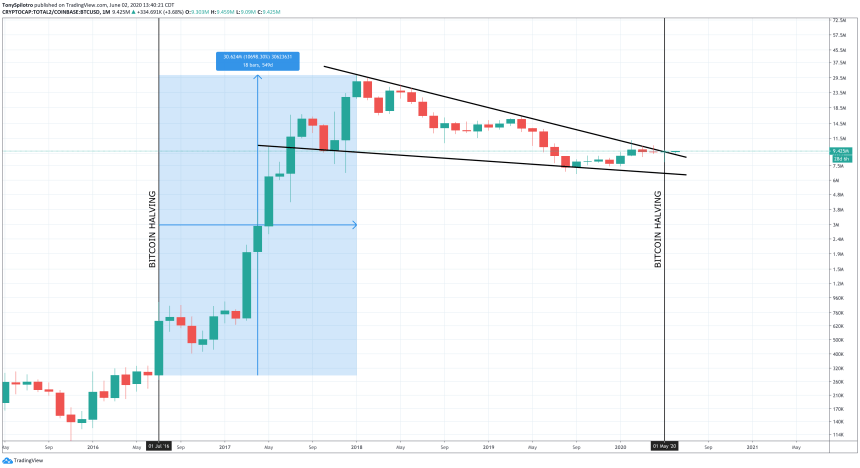 Although sentiment in altcoins remains in the gutter, and Bitcoin sentiment has never been stronger. The asset's recent crash dumping into altcoins, a repeating pattern matching the last halving, and a massive falling wedge on the monthly timeframe on the altcoin/BTC chart indicate that altcoins will once again outperform the first-ever cryptocurrency for a sustained period.