Bitcoin price just reached overvalued status for the first time since September 2019, according to the asset's Energy Value indicator. While this may sound like a negative thing, after this indicator has bottomed out in the past after each halving, it has spiked upward along with the asset's price until they each top out once again.
It also marked the last major correction prior to the bull market officially beginning.
Bitcoin Reaches Overpriced Levels According To Energy Value
Bitcoin is the first-ever cryptocurrency to exist.
While other attempts to create a useable form of digital cash were unable to get their footing and solve many of the complex issues these new-age assets faced, Satoshi Nakamoto got around those challenges by tying the asset's underlying protocol to a process called mining.
Related Reading | Bitcoin 'Smart Money Indicator' Revisits All-Time High, What's Next?
Miners pay high energy costs in order to run computer resources specially designed to solve mathematical equations that validate each block of data and add it to Bitcoin's blockchain for all to see.
Transparency, decentralization, scarcity, and trust are key elements to the cryptocurrency's design.
Because the asset has so many unique elements to consider, unusual valuation methods have been developed to gauge the fundamental health of the asset.
These tools include valuation models based on the asset's digital scarcity, hash rates, or cost of production.
Bitcoin overvalued for first time since September 2019 per Energy Value.

Good news?

When EV bottoms and trends up, it is often a BIG up trend. Particularly after halving.

We are already getting signs of daily EV greater than price. If this continues, expect fast recovery. pic.twitter.com/lEU0n8knmM

— Charles Edwards (@caprioleio) June 1, 2020
Another tool, that analyzes Bitcoin's energy value, has just indicated that Bitcoin price has become overvalued, according to the asset's Energy Value.
While this may sound like an ominous prediction that a crash will bring valuations back to reality, in the past its caused the opposite reaction after an initial correction.
Any Post-Halving Crash Could Be The Last Retest To Confirm Support Before New Crypto Uptrend
Bitcoin's halving came and went, and oddly, not much as changed. No significant bull run has taken place, and the post-halving sell0ff that crypto investors were fearing, has yet to occur.
The asset's Energy Value suggests that the first-ever cryptocurrency isn't yet out of the woods in terms of experiencing a post-halving collapse.
However, this tool signaling that the asset is overpriced compared to Energy Value has in the past given Bitcoin the boost it needs to actually embark on a new uptrend.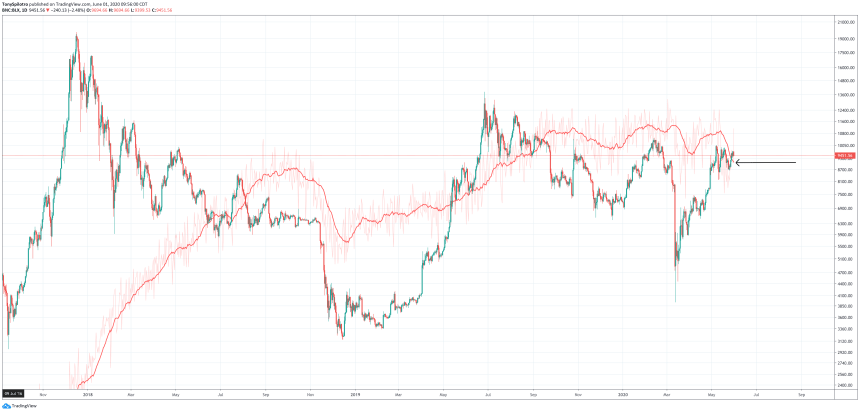 When looking at the previous block reward halving, Energy Value plummeted signaling that Bitcoin was now overpriced.
Price followed briefly, but after that crossunder, it didn't cross back over until May 2018. At that point, over two years of an uptrend had come to an end and two years of downtrend was just beginning.
Now that the asset's price is crossing back under Energy Value once again, even if there's another post-halving correction, it could be the last buying opportunity before the next bull market officially begins.
Compared to the last cycle, Bitcoin price took approximately eight days to cross through Energy Value. This time around, it's taken 17 days.
Related Reading | BTC Hash Rate Falls Lower Than Black Thursday, More Severe Selloff Incoming?
The post halving crash that everyone has been waiting for, didn't take place until after the Energy Value drop happened. This crash happened 22 days following the halving.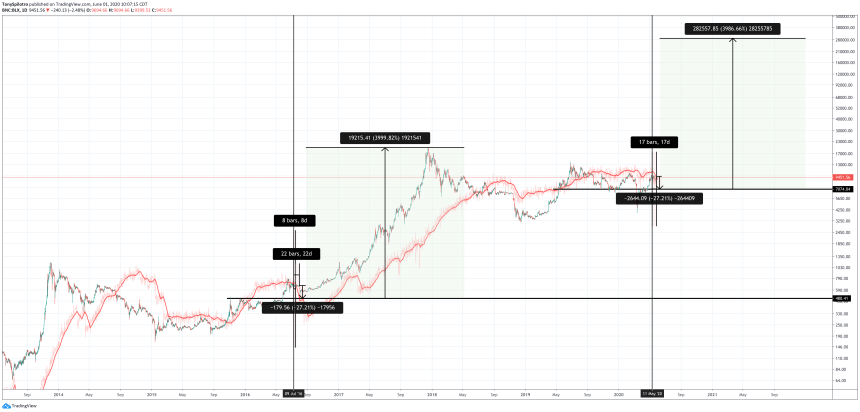 If timing lines up once again, another crash could happen in roughly 5 days. Coincidentally, a weekly sell signal has appeared on Bitcoin price charts and the hash ribbons point to miner capitulation starting. The two factors would coincide with what the data suggests for timing.
When the crash did arrive, it set the leading cryptocurrency by market cap back by 27% in total. Another 27% drop this time around, would bring Bitcoin back to roughly $7,000.
$7,000, has acted as the point of control for the majority of the last two and a half years of price action. This final drop to retest the point of control could be the last confirmation ever that a new cryptocurrency bull run is here.