Already the Bitcoin Foundation has affiliates in Australia, Canada, Mexico, Germany, and the Netherlands (and more), and they now have another affiliate joining up from Bangladesh.
It's the first affiliate in South Asia, making a total of seven affiliates in four continents (over a period of eight months).
Impressive!
It could very well pan out to be a great spot for bitcoin to grow and help the population with transferring money.
Putting things into perspective, the World Bank said in an April press release that people in Bangladesh had received a whopping $14 billion in remittences from approximately 8.6 million migrant workers.
Think of all of the fees that could have gone home instead of a third-party.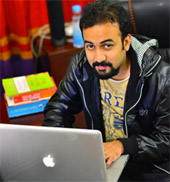 "To be effective in positively improving lives, it's important we join together, align our goals, become educated and coordinate our efforts to encourage Bitcoin's adoption," said S.M. Monir Uz Zaman (Sazeeb, pictured) in a press statement.
Sazeeb will be operating as the affiliate's President, with Mizanur Rahman, Sadia Sultana Mou, and Jamil Akter serving as board members.
Roger Ver will also be hopping aboard as an advisor.
"The Bangladesh team is incredibly passionate about Bitcoin and helping their communities. This is a win for the region and a win for Bitcoin," Bitcoin Foundation Affiliate Director Mark Woods said.
As bitcoin's popularity increases, we can expect to see more and more affiliate sprout in the months ahead.
Each affiliate — in addition to the core Bitcoin Foundation — is responsible for protecting, promoting, and standardizing bitcoin and its usage.
For more information on Bitcoin Foundation Bangladesh, visit bitcoinbd.org