The institutional traders on CME Group's Bitcoin futures trading desk and the retail traders and crypto whales trading on BitMEX often dominate the market and dictate where the market goes next.
With Bitcoin futures contract expiry coming up this Friday, and with BitMEX open interest soaring to new highs every hour, an incredibly massive and volatile move is expected in Bitcoin markets in the coming days.
Volatility Inbound: BitMEX Open Interest Soars Ahead of CME Bitcoin Futures Expiration
Crypto traders and analysts will consider any and all information and data they can get their hands on that might give them a read on the market and a competitive edge.
They regularly conduct detailed fundamental analysis including stock-to-flow models, review hash rate growth, dormant Bitcoin addresses, and more.
Related Reading | Bitcoin Stock-To-Flow Model Updated To Account for Satoshi's 1 Million BTC 
They'll also perform regular technical analysis using a variety of chart patterns, candlestick formation techniques, and indicators and oscillators to help them in their analysis.
Oftentimes, analysts will even rely on more unorthodox information, such as open interest on the margin trading platform BitMEX, or when futures contracts expire on the Chicago Mercantile Exchange trading desk.
CME contracts expiring often lead to a massive increase in relative volatility, and explosive price movements in the days leading up to and following expiry.
And each time open interest on BitMEX gets above $1 billion dollars or over 100K BTC, it typically results in a large rally or sizable drop.
https://twitter.com/JacobCanfield/status/1222142225133514753?s=19
Now, the two possible volatility triggers are coinciding and converging this week, suggesting one of the biggest moves the crypto space has ever seen may be in the cards.
When looking at the past performance of open interest, each time open interest reaches over 100K BTC or over $1 billion, the metric gets rejected, a large move results and open interest drops back down, only to build up again at a later date for another big move.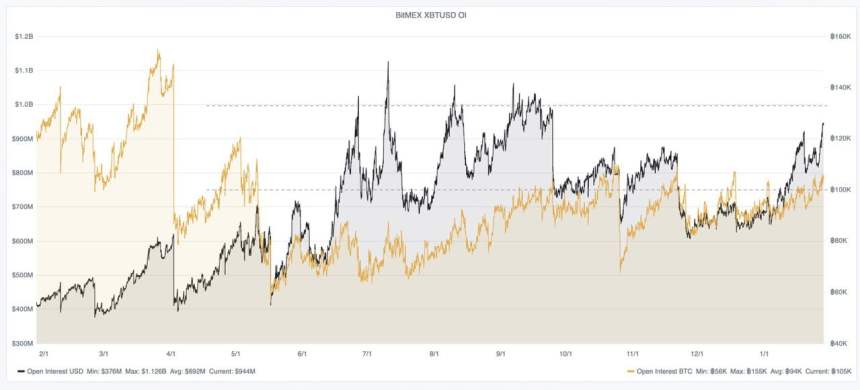 Open interest accounts for all of the currently open positions on the platform BitMEX – which dominates the cryptocurrency market by trading volume and impact.
The metric has reached $950 million and is approaching the important billion figure, and is also over 100K BTC. The surge in open interest almost guarantees an explosive burst of volatility in the coming days.
Coupled with CME futures expiration coming this Friday, there could be fireworks and the largest move in the crypto market in some time.
As can be seen in the chart above and indicated by Bollinger Band Width, leading up to each CME futures expiration causes an uptick in volatility.
Related Reading | Bitcoin is Officially About To Enter a Bull Market  
A large move typically precedes or follows expiration before volatility dwindles again and the cycle repeats. According to the increase or decline following each expiration, there is no rhyme or reason to which direction Bitcoin takes.
However, which direction Bitcoin takes at this point is likely to dictate the trend for the foreseeable future, and is an especially critical moment for the crypto space.