Hash ribbons, an indicator used to depict the health of Bitcoin miners powering the network, has just signaled capitulation for an unprecedented 4th time in this market cycle. And according to the tool, post-halving miner capitulation may have only just begun.
Bitcoin Miners Are Capitulating Due To Post-Halving Production Costs
As a failsafe mechanism ensuring the long-term health of the Bitcoin network, the halving is designed to not only reduce supply but purge the network of smaller time miners.
When the supply is suddenly reduced with each halving, the cost of production essentially doubles overnight. Miners whose operating expenses outweigh the revenue being generated close up shop, and sell remaining holdings to avoid significant loss.
Related Reading | Three's a Crowd: Final Bitcoin Miner Shakeout Points to an Epic Rally 
During each and every previous Bitcoin market cycle consisting of an uptrend leading to a top and bear market bottoming process, there were three distinct periods where miners that secure the network capitulated.
This time around, miners are capitulating for an unprecedented fourth time, according to an indicator called Hash Ribbons.
Bitcoin's Hash Ribbons signal capitulation, and when it occurs, it later issues among the most historically profitable buy signals when the network returns to a healthier state.
At that point, the weakest miners are gone, and what's left are more efficient miners that are able to hold onto any newly mined Bitcoin until the next bull market.
While a fourth capitulation event is unprecedented, the third, and previously final capitulation has always occurred following each halving.
During this cycle, the Black Thursday selloff that sent Bitcoin to under $4,000 and rocked the stock market, was a black swan nobody saw coming and caused a third capitulation event.
This post-halving capitulation is more in line with past cycles, and may – as it has shown in the past – create the final opportunity to buy at low prices before the asset's next bull market.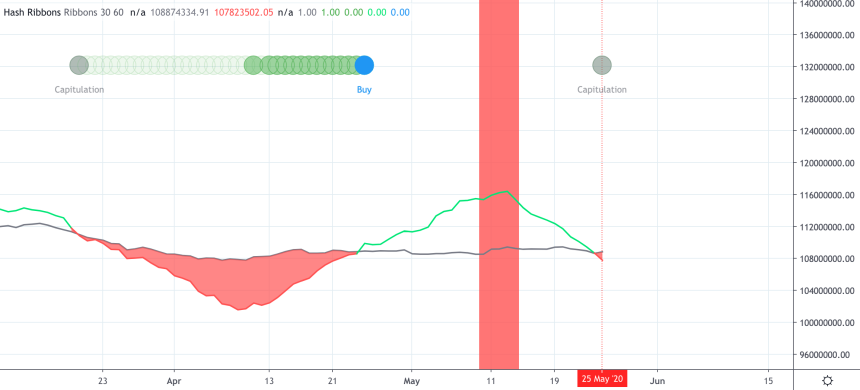 But how low could it go, and how long could capitulation last? Looking at past miner capitulation periods, they typically last roughly one month. This entire time isn't limited to the downside, however, the downside at the start is often severe.
The longest stretch recorded of miner capitulation was back when Bitcoin was trading at $6,000 in November 2018. Later, the asset fell to $3,000 and traded within that range for months while accumulation took place.
Related Reading | Bitcoin Trades Below Production Cost, Miners Are Better Off Buying 
Miners spent nearly three full months capitulating, then in January the Hash Ribbons issued a buy signal. Less than 6 months later, the cryptocurrency was trading once again at $13,000.
When the Hash Ribbons finally signal to buy again, it could very well be the last time to buy Bitcoin at these lower prices before its next bull market truly begins.