Last week, a spike in the Bitcoin price pushed it past the $12,000 mark.
At the same time, Bitcoin dominance continues to squeeze the rest of the market, closing in on 70%. The highest it's been since April 2017.
Reported volume lends supports to the Bitcoin price movement. At the start of August, this stood at $16.5 billion, topping out at a month to date high of $24 billion around August, 6th.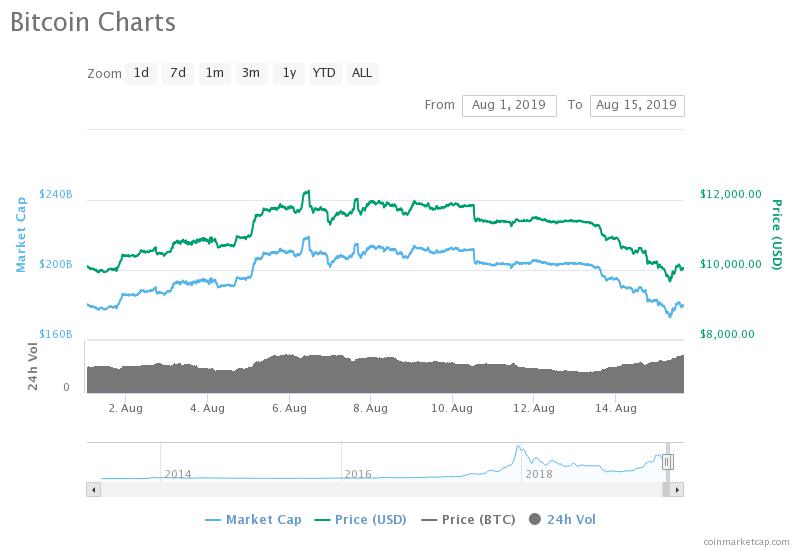 Since the start of August, Bitcoin has been on a steady ascension, having peaked at a 21% gain in less than a week. Analysts have attributed this to the deterioration of US-China trade talks, which has seen a devalued Yuan, and tit-for-tat accusations of currency manipulation.
China dropped the price of their currency to an almost a historic low. It's called "currency manipulation." Are you listening Federal Reserve? This is a major violation which will greatly weaken China over time!

— Donald J. Trump (@realDonaldTrump) August 5, 2019
Bitcoin Gains From Deepening Trade War
As stock markets plunge and trade war hostilities heighten, Bitcoin is seeing a negative correlation with macroeconomic activities. But Bitcoin's slide in performance, this past week or so has put paid to this theory.
All the same, many analysts increasingly see Bitcoin as a safe haven shelter from financial uncertainty in the broader economic sphere. On this point, Circle CEO, Jeremy Allaire, speaking on CNBC's Squawk Box said:
"Raising nationalism, raising amounts of currency conflict, trade wars, these all are supportive of a non-soveriegn, highly secure, mechanism to store value that cna exist anywhere the internet exists."
And it's these very attributes that make Bitcoin attractive to investors, despite its reputation as a volatile and sometimes controversial, asset within traditional circles.
Analysis
As quickly as Bitcoin broke $12,000, a slide in price took back below the $12,000 level.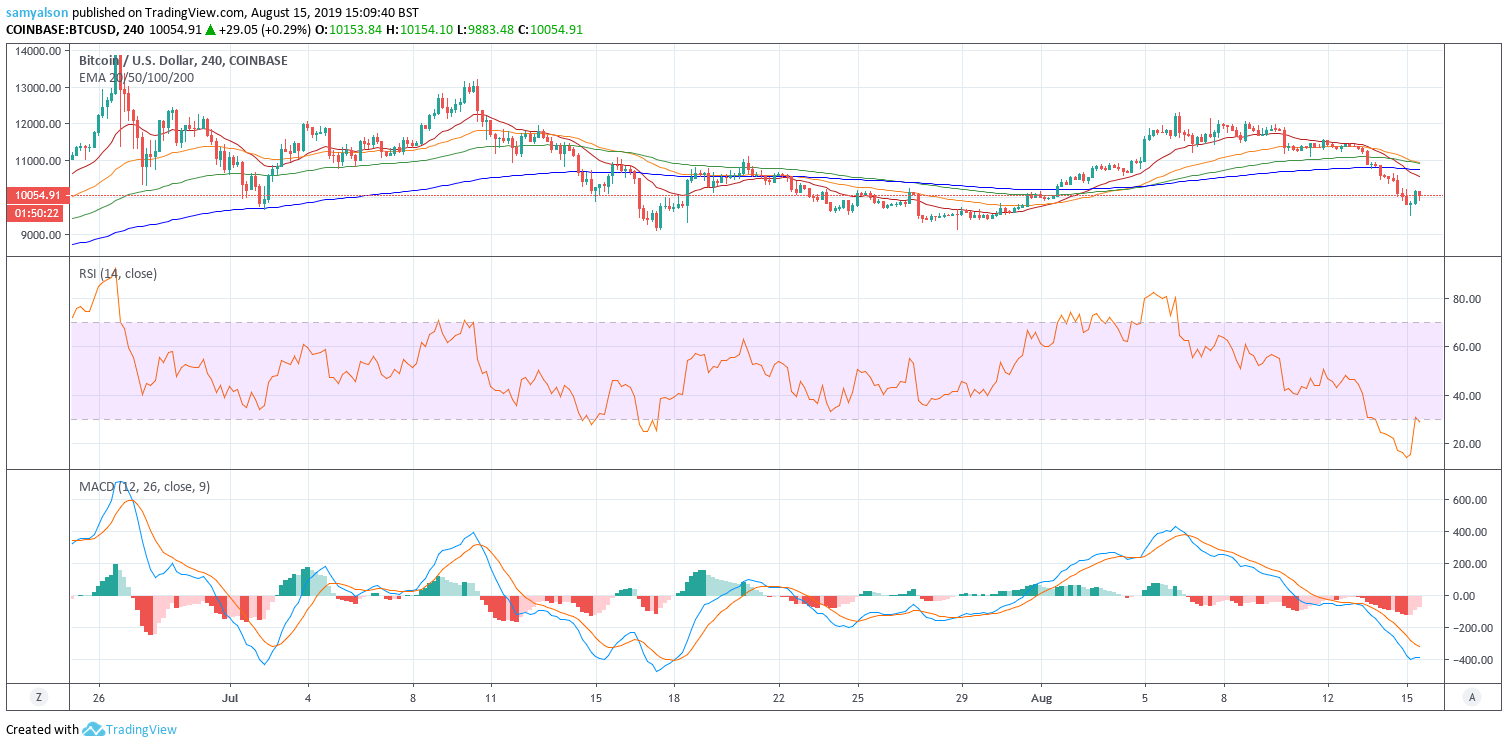 Following this, support was found at around the $11,600 mark, having tested this several times on the chart. Despite that, any gains made since the 5th have been wiped out.
Support broke on Saturday the 10th, and the price has been in free-fall ever since. Today saw a reversal of the downward trend, as $9,300 becomes the new support level.
A sharp slide in the RSI saw it deep in oversold territory. But this bounced back with today's new support level. RSI is currently hovering around 30.00.
The MACD line plunged below the nine-day EMA on the 4-hourly. Which, in line with an increasingly bearish sentiment on the MACD histogram, indicates a significant test of the new $9,300 support level.
Featured Photo by Matt Bowden on Unsplash