The leading crypto asset by market cap has once again reclaimed $10,000, considered an important psychological FOMO trigger that could see Bitcoin price setting new all-time highs in no time.
Now, less than 24 hours after Bitcoin price breaches $10,000, it's already broken through $11,000 and shows no signs of stopping. What's next for Bitcoin price and are new all-time highs right around the corner? Or are there more barriers for the cryptocurrency ahead?
BTC Is Unstoppable: Smashes $10K and $11K, Where Does it Go Next?
Last night, just before the daily candle closed, Bitcoin price breached important psychological resistance at $10,000 that during the last market cycle acted as a major "FOMO trigger" according to crypto bull Tom Lee. Hours later, it was already at $10,500, and now, within 24 hours from breaking $10,000 it has already reclaimed $11,000 and may have only just begun its further bullish uptrend.
Related Reading | Tom Lee: Bitcoin Price Nearing FOMO Trigger, BTC To Trade Between $20K and $40K
Rounded numbers always play important resistance levels, as many orders tend to cluster around them, making each $1,000 increment and more significant numbers like $15,000 and $20,000 the next major resistance levels needing breaking before new all-time highs are set.
Last time Bitcoin price broke above $10,000, less than a month later it had already hit $20,000, and could hint at the speed and fury at which Bitcoin may climb once again now that this "FOMO trigger" has been breached.
During the 2017 bull run, there was far more hype and interest surrounding the asset class, yet prices are trading at similar levels, suggesting that the next bull run that may now be taking shape could eclipse the last one. It may require Bitcoin to break $20,000 though for the mainstream media and public to once again take an interest in Bitcoin.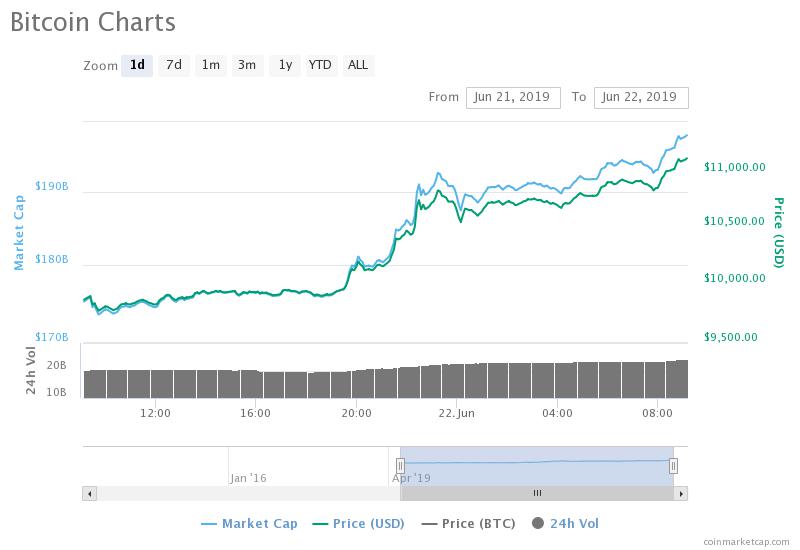 Bitcoin Price: One More Target Before Bull Run Can Begin
Although there are rounded numbers like $15,000 and $20,000 ahead, there is one other critical resistance point that needs to be broken for the bull run to begin: $11,700.
$11,700 is the resistance level at which the 2018 bear market began. Once Bitcoin fell below that bearish breaker, it never again rose above it. $10,000, $9,000, $8,000, $7,000, and even the "unbreakable" $6,000 all had repeatedly been broken back above throughout the bear market, while this one key point stood up to any bullish momentum.
Related Reading | Bull Market Not Confirmed Until Bitcoin Price Breaks Above $11.7K Where Bear Market Began
Should Bitcoin break above $11,700, it could trigger a full blown bull run in the asset and set new highs in no time. The last time $10,000 was broken, Bitcoin reached $20,000 less than a month later. If such a trajectory is repeated, $11,700 will fall any day as Bitcoin price is now trading at $11,150 at the time of this writing.
Featured image from Shutterstock