Bitcoin Price Key Highlights
Bitcoin price enjoyed additional volatility on news that the hard fork will be suspended.
Price popped up to new highs at $7900 before quickly retreating.
The ascending channel marked earlier is still intact, which means that bullish momentum is still present.
Bitcoin price popped higher on reports that the network update will be suspended but settled back inside its ascending channel.
Technical Indicators Signals
The 100 SMA is still above the longer-term 200 SMA so the path of least resistance is to the upside, but the gap between the two is narrowing to reflect weaker bullish momentum.
If a downward crossover materializes, bearish momentum could kick in and lead to a break below the channel support at $7000. Stochastic is pulling up to show that buyers are in control, but RSI is turning lower so bitcoin price could follow suit.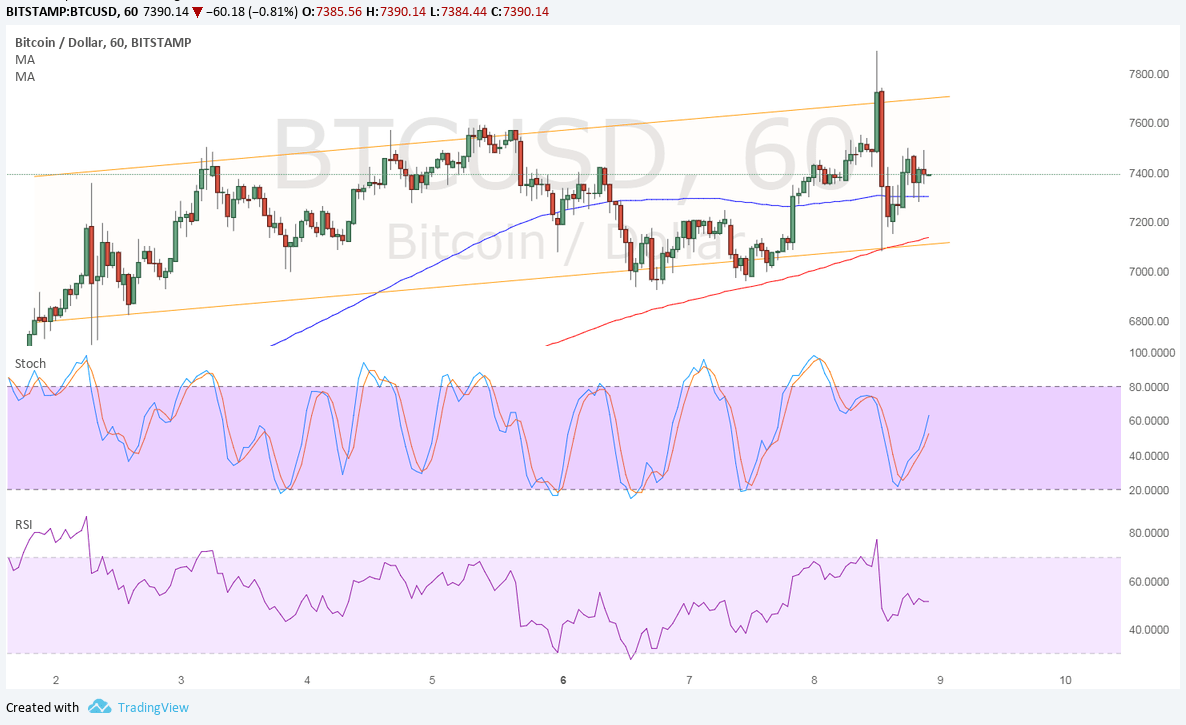 Market Factors
Suspending the hard fork removed the uncertainty lingering over bitcoin price in the near-term, but traders are still wary of how this might impact the cryptocurrency's capacity in the long run. Besides, the need for an upgrade or hard fork could come up again soon.
Proponents of the rival version reportedly suspended their plans to create a parallel version of the digital currency this week. In an email regarding SegWit2x:
Although we strongly believe in the need for a larger blocksize, there is something we believe is even more important: keeping the community together. Unfortunately, it is clear that we have not built sufficient consensus fora clean blocksize upgrade at this time.
The email went on to explain that dividing the community would be a setback to bitcoin growth. With that:
As fees rise on the blockchain, we believe it will eventually become
obvious that on-chain capacity increases are necessary. When that happens, we hope the community will come together and find a solution, possibly with a blocksize increase. Until then, we are suspending our plans for the upcoming 2MB upgrade.