After Bitcoin price rocketed last month from lows around $6,400, the crypto asset touched over $9,000 before falling lower to what a well-known financial market analyst says is "logical support."
Meanwhile, a tool designed by the analyst suggests that volatility in the Bitcoin market is reaching bear market lows, potentially signaling that an exceptionally explosive move could be incoming soon.
Bitcoin Volatility Disappears, Explosive Moving Incoming To Shake Things Up Again
Bitcoin and other cryptocurrencies are known and even infamous for their volatility relative to other financial assets.
The increase in volatility is due to the fact the technology is extremely new, hasn't proven their use case, and is more for speculation currently than anything else.
Related Reading | How Bitcoin's Recent Downtrend Could Have Tripled Your BTC Stack
Volatility can be measured in a variety of ways, but well-known financial market analyst John Bollinger created a technical analysis indicator that measures an asset's price in relation to the volatility the asset has been experiencing.
The aptly named Bollinger Bands expand and contract as volatility picks up or wanes in an asset like Bitcoin.
https://twitter.com/york780/status/1220148712552509446?s=21
According to a tweaked version of the tool that measures just the width of Bollinger Bands (pictured below), the indicator suggests that Bitcoin's volatility has dropped so low on weekly timeframes, it's reaching levels not seen since late September or early October when Bitcoin was ranging before the late October, record-breaking "China pump."
Before that, volatility reached this low in March ahead of the April 2019 rally breakout.
Volatility could even reach dangerous levels not seen since before Bitcoin's deep November 2018 drop to $3,000. When volatility drops so low, it often suggests an extremely large move is ahead – one that revives the volatility for days and weeks to come.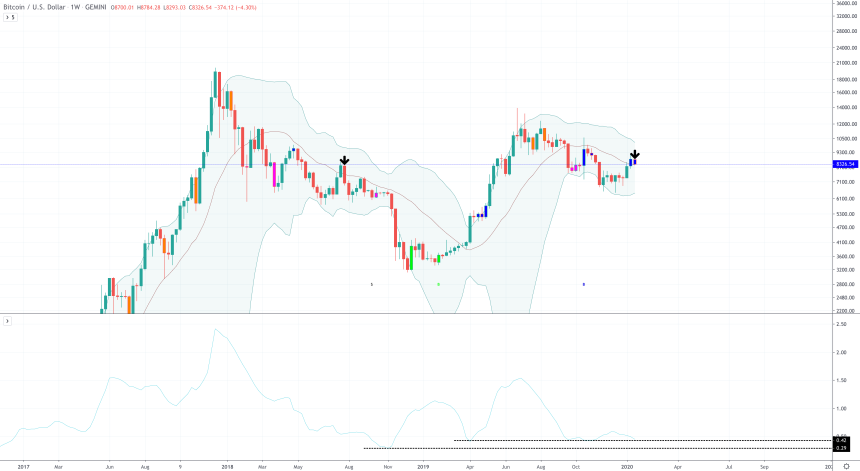 Crypto Asset Reaches Logical Support, Says Creator of Bollinger Bands
Even the indicator's creator, John Bollinger, says that using the tool, it appears that Bitcoin has fallen to "logical support" at the mid-BB line. The mid-BB line often acts as a support for assets that have previously passed through the mid-line.
This is a 'logical place' for $btcusd to find support, a pullback to a breakout level and the middle BB.

— John Bollinger (@bbands) January 23, 2020
Holding above the mid-BB line is critical for Bitcoin's uptrend to continue. If it falls back below, combined with the reducing volatility, the explosive move that the Bollinger Bands are foretelling could be to the downside.
While a variety of similarities have been pointed out between the current price action and the July 2018 rally in Bitcoin markets, even the Bollinger Bands are exhibiting similar patterns as the 2018 bear market.
In July 2018, Bitcoin couldn't hold above the mid-BB line (pictured above) and fell back down, then dropping further through support at $6,000 to reach its ultimate bottom. If Bitcoin cannot hold above the mid-BB line yet again, a repeat of the disastrous drop could be next.
However, if Bitcoin can hold, this time would indeed be different and could lead to a retest of the top Bollinger Band.
Featured image from Shutterstock