Those who are involved in or invested in Bitcoin, likely know full well the crypto asset's long-term price potential and its potential to become the single global currency across the internet and beyond. They also know that Bitcoin has out-performed every asset in history, including anything the stock market has to offer, even including the likes of Amazon and Apple, and others.
But what they haven't been able to do, is to watch this all unfold right before their very eyes, until now. In a new video data visualization, Bitcoin's ROI is put head to head with the top-performing publicly trading companies on the stock market and shows how Bitcoin has easily bested them all to be the best performing asset to ever exist.
Bitcoin ROI Versus Top Stock Market Stocks ROI
When thinking about brand power, longevity, and a company's ability to transform the entire world with their products and services, it's difficult to imagine Bitcoin being more valuable than companies like Amazon, Apple, Microsoft, or VISA. And while value is subjective and when comparing total market capitalization, Bitcoin sure has a long way to go, the leading crypto asset has still been able to bring early investors a better bang for their buck in terms of ROI – or return on investment –than any other stock market asset.
Related Reading | Investor: Bitcoin is the Best Performing Asset, Path to $100,000 is Easy To See 
In a new data visualization shared on Reddit by crypto data analytics firm Datalight, the ROI over time since August 2017 until now of Bitcoin is shown against some of the best-performing stocks on the US stock market, including Amazon, Tencent, JP Morgan, Facebook, Google, and more.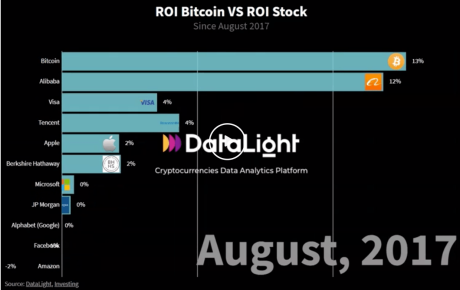 Bitcoin steadily beats all stock market assets during much of the video, until mid-2018 when Amazon takes over, and the crypto bear market really takes hold. Bitcoin then falls off the data set entirely, showing negative returns as Bitcoin plummeted toward its bottom in December 2018 at $3,200.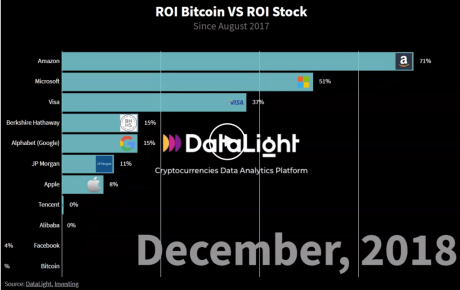 But once that bottom was hit, Bitcoin rocketed back to the top of the data viz video, much like it skyrocketed out of bear market depths toward the current price around $10,000.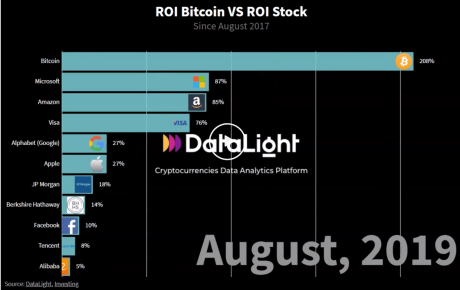 The price per BTC had reached $13,800 in a near non-stop rally before experiencing a strong correction that's now going on its third month. This month, the crypto asset was rejected above $12,000, and abruptly fell to $9,500 before bouncing back to around $10,000 where it is currently trading.
Related Reading | Bitcoin Historical Monthly Performance Could Shed Light on What's Next for Crypto
At current prices, Bitcoin is once again the king of returns across all asset types, and its gains by comparison, even against the biggest brands in the world, show the true potential and power of the first-ever cryptocurrency.
Featured image from Shutterstock