Over the past years, many bodies have published data on massive wealth concentration in an otherwise decentralized Bitcoin network. Some of these reports have identified that less than five percent of all bitcoins addresses hold about 95 percent of all bitcoins. Research published in 2017 by How Much showed that 1 percent of those addresses had control over half of the bitcoin market.
Joining the ranks of those studies is TruStory, a platform for users to research and validate people's claims online. The startup's Founder and CEO Preethi Kasireddy on Tuesday shared new statistics about bitcoin's so-called wealth disparity problems. She noted that now 2 percent of addresses control 80 percent of the cryptocurrency's supply.
Bitcoin wealth distribution: 2% of addresses control 80% of the wealth.

Ouch. pic.twitter.com/MtNe3nKf5K

— Preethi Kasireddy (@iam_preethi) August 13, 2019
Statistical Liberty
Penned by Saurabh Deshpande, an analyst at TruStory, the report derived its conclusion by using the Lorenz Curve, a graph that determines wealth inequality. Deshpande admitted that he let go off specific vital parameters that could give a better clarity over bitcoin's wealth distribution issues. For instance, he observed that cryptocurrency exchanges held a massive number of bitcoins in their cold storage wallets. Deshpande removed those bitcoins from their addresses and mentally reallocated them in addresses holding up to 1 BTC.
"The assumption here is that people with more than 1 BTC would like to store in their hardware wallets," he explained.
Deshpande took more liberties with data, like introducing an error into the data that considers half of the identified exchange addresses as the newly assumed exchange addresses. He also neglected data for addresses that contain 10–100 BTC, stating it was not available. His adjustments ultimately gave a presumed Lorenz Curve output, as shown below: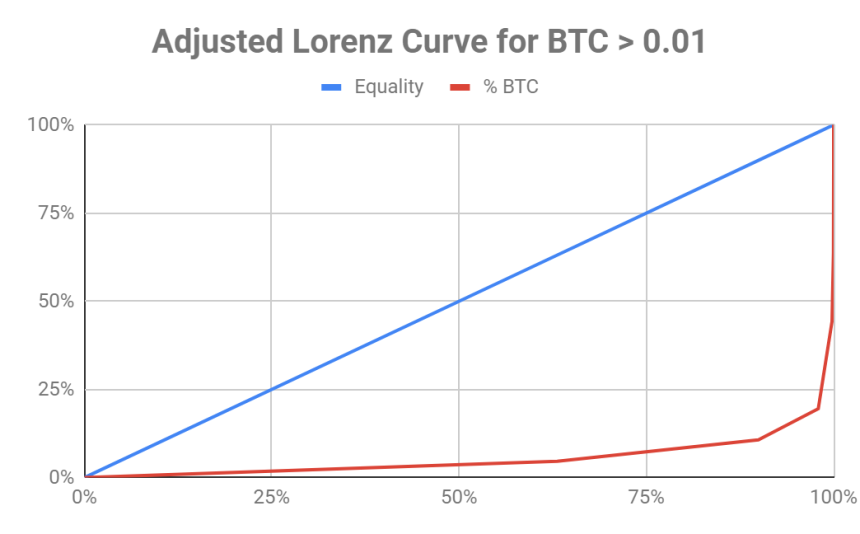 "Though this wealth distribution is better than the first one, I presume the reality might be slightly better," Deshpande explained. "Despite this, the distribution is nowhere close to being ideal. I hope the scenario changes and the distribution gets better as time passes. Till then, one of the greatest threats to bitcoin is this curve."
Criticism
The TruStory's conclusion of bitcoin wealth being hugely centralized met with criticism. Ari Paul, CIO at BlockTower Capital investment firm, said the "percent of addresses" analogy is not meaningful, considering one could create millions of new addresses with dust units in them and disturb the Lorenz Curve output further.
"The problem is that the denominator is [kind of] a nonsense number. What does the total number of addresses mean or matter?" asked Paul. "A more meaningful measure is something like # of addresses with at least 0.1 BTC. Still doesn't tell us much, but at least here an "address" has some meaning."
2/ a more meaningful measure is something like # of addresses with at least 0.1 BTC. Still doesn't tell us much, but at least here an "address" has some meaning.

— Ari Paul ⛓️ (@AriDavidPaul) August 14, 2019
Civic co-founder & CEO Vinny Lingham, on the other hand, supported Deshpande's report, hypothesizing that people who started mining on the Bitcoin network in its early days [probably] amassed millions of units of the cryptocurrency. It gave them adequate control over the market.
"Three million coins haven't moved, and they are still in the hands of a few people," Lingham asserted.