Despite the drawdown in the price of Bitcoin — which some analysts say would result in a change of tides for altcoins — BTC dominance continues to tick higher. As of the time of writing this, the key market metric is approaching 70% for the first time in years, implying that once again, almost all cryptocurrency inflows are making their way into Bitcoin.
But, as time passes, an increasing number of traders have claimed that a so-called "altseason" is on its way.
Bitcoin Dominance Hits Key Mark
In March 2017, the world was shown the power of "altseason" when thousands of what were then little-known crypto assets exploded. If you were to peruse a site like CoinMarketCap during that time — no, era — you would see countless seemingly random digital assets posting 50%+ or even 100%+ days. This occurred for big caps, not just small no-name cryptocurrencies.
In 2017's mania, Ethereum, for instance, rallied from $10 to $1,400, making many cryptocurrency investors fortunes.
At the start of the altseason, Bitcoin dominance was around 70%.
According to a recent tweet from Bitcoin Birch, a founder at crypto startup Lunar, the last time this key metric flirted with this round level, the biggest altseason in history was kicked off shortly after, when BTC fell off a cliff relative to altcoins.
$BTC dominance about to break 70%

The last time it did that was March 2017, right before it fell off a cliff and the biggest ALT season in history kicked off…

— Bitcoin Birch ?‍? (@BitcoinBirch) August 30, 2019
Indeed, in March began a sharp downtrend in Bitcoin dominance, which ended when the figure hit some 32% in early-2018. Youch.
There's no saying that the same will happen again. But, there are other signs pointing towards an impending resurgence for altcoins — or at least a lull in the bloodbath.
As reported by NewsBTC previously, Adaptive Capital partner and analyst Willy Woo believes that altcoins may soon find some support against Bitcoin. He posted the below image on Twitter, which shows that the altcoin capitalization-to-Bitcoin capitalization ratio and the altcoin market volume-to-Bitcoin market volume indicators are currently "heading into a region of support."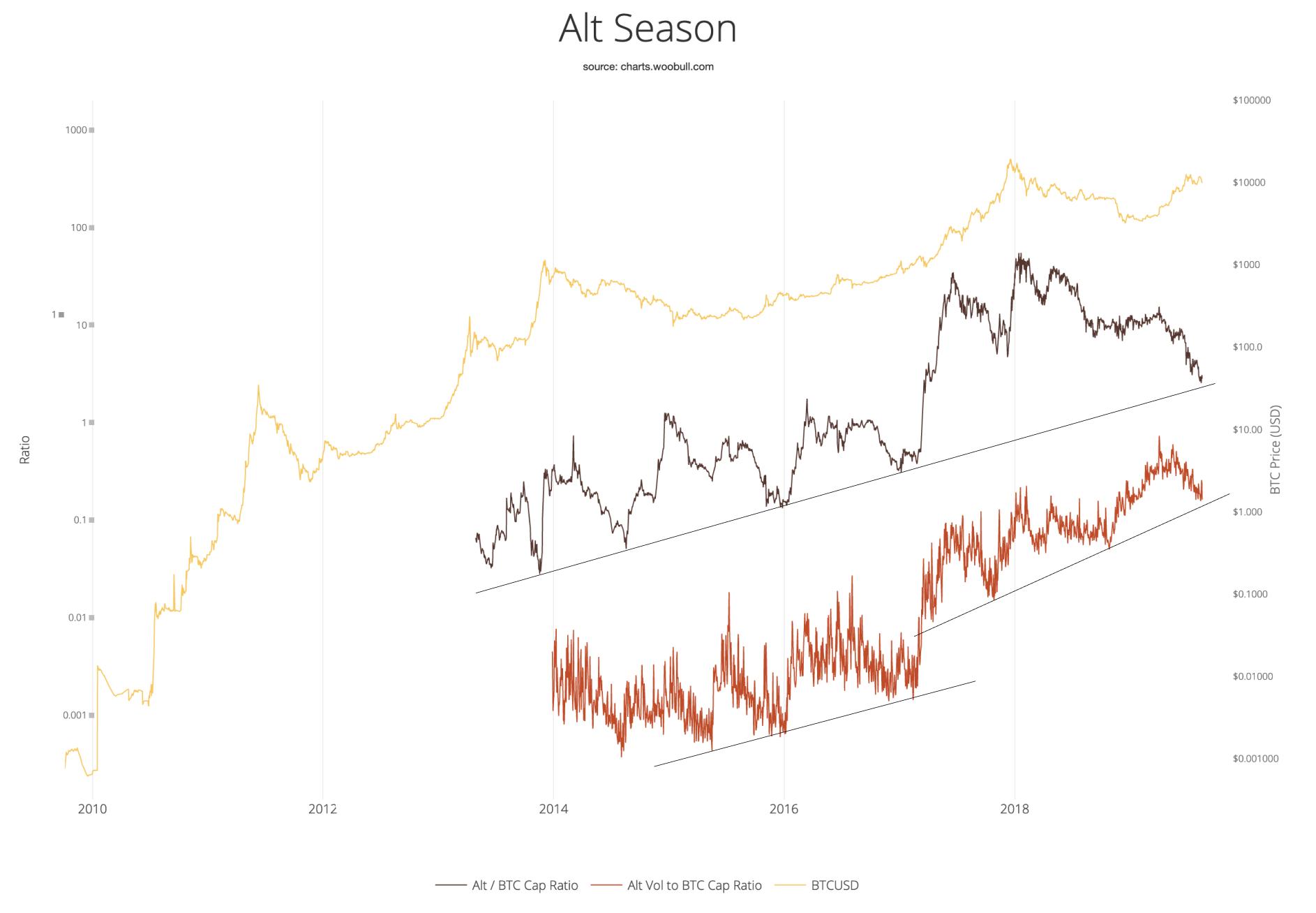 Indeed, as the Bitcoin-centric Adaptive Capital partner chart depicts, the two aforementioned indicators are currently poised to encounter two key lines of historical support. Should history repeat itself, altcoins should bounce in the coming months, potentially to kick off what crypto traders call an "altseason".
Also, last week the TD Sequential indicator flashed a sell nine candle for the one-week Bitcoin dominance chart.
Will There Really be An Altseason?
While these indicators are pointing towards an altseason, NewsBTC would be remiss not to talk about the other side of the story.
Responding to an inquiry about altcoins, Anthony "Pomp" Pompliano, a partner of Morgan Creek Digital, wrote that he believes "almost every single one will eventually be worthless because there will be no liquidity and they will get delisted from exchanges."
When will my altcoins skyrocket Pomp ??

— Stallion (@RyanBelcherDMP) August 24, 2019
Indeed, over recent months, exchanges begin a mass process to purge lower-quality/non-popular crypto assets. Bittrex, for instance, has delisted some 50 altcoins for U.S. clients this year; the SEC has ramped up its attacks on this sector; and Binance's flagship platform, which supports a swath of cryptocurrencies, has decided to pull out of the U.S.
Also, data shows that the altcoin market remains very illiquid. Arcane Crypto found that if you measured a cryptocurrency's dominance by weighting the market capitalization of all cryptocurrencies against their trading volume, "Bitcoin's market dominance is pushed well above 90%."
Featured Image from Shutterstock