Save for news that Bitcoin (BTC) news publication CCN is shutting its doors, Monday was quiet for the crypto industry. But, BTC rallied anyway, quickly rushing past $7,800 and $8,000 in rapid succession during the wee hours of Monday morning.
Due to the strength of this sudden move, which came after days of relative weakness and non-action, optimists believe that BTC is ready to hit play, resuming its previous uptrend. There is a multitude of analysts, however, that are still on edge, waiting patiently for a pullback to even lower levels than $7,500.
Despite $8k Pop, Bitcoin Exudes Weakness
Since hitting $9,100, Bitcoin hasn't been its bullish self. As analyst Bagsy aptly put it in a recent tweet, "the trend is bearish".
He notes that when Bitcoin tried to rally past $8,000 on Monday, it got rejected by the 21 half-day (12-hour) moving average — a key short-term technical level — and the Point of the Control (which acts as resistance) on BTC's volume profile. In fact, BTC wicked to that level, and then quickly collapsed lower, almost as if the move higher didn't happen.
This doesn't mean that BTC will spike lower from here, but it does accentuate the bears are still in control, even after Monday's pop higher.
The trend is bearish; getting rejected by the 21MA and the POC of the VPVR (highest volume node).

If we can start closing above these areas again on higher TF's I'll change my bias, until then I'm bearish. pic.twitter.com/b9DSQ5VOok

— Bagsy (@imBagsy) June 10, 2019
This isn't the only harrowing sign. Analyst RJ Killmex explained earlier this week that Bitcoin's three-day chart is currently experiencing a bearish divergence on its Relative Strength Index (RSI), marked by higher prices and a downtrend in the trend indicator. What's more, the Moving Average Convergence Divergence (MACD) is about to flip red and cross below equilibrium.
As to where Bitcoin could land — if it falls that is — many are eying the low-$6,000s or even high-$5,000s. Teddy, a known trader, explains that Bitcoin's weekly chart is currently waiting with bated breath for a drawdown.
He ventures that "any trend, regardless of the bias, has to retrace and confirm the direction" by touching a key moving average. In this case, he believes it is the 21-week exponential moving average, which BTC tapped four times in 2017's rally.
With there being 70 days since Bitcoin last touched this key level, which is visited around every three months, Teddy suggested that a retrace to $6,000 or so is entirely possible.
https://twitter.com/teddycleps/status/1138025438893264896
Twitter commentator TraderX0 has echoed this analysis but used a different moving average to make a similar point. He noted that during Bitcoin's last long-term uptrend, BTC touched its 100-day EMA seven times. This continual support along a single technical trend is what defined 2017's trend. The thing is, this time around, Bitcoin has yet to even flirt with the 100-day exponential moving average.
And just as the 21-week EMA sits around $6,000, so too does the 100-day, corroborating the necessity for a return to that level.
This move isn't only likely, but purportedly would be healthy for Bitcoin's long-term trends. Parabolic and logarithmic curve expert Dave The Wave recently pointed out that if his parabolic models hold up, BTC will gracefully descend to the $5,000s to $6,000s in the coming months, thus fulfilling the asset's ten-year logarithmic growth curve.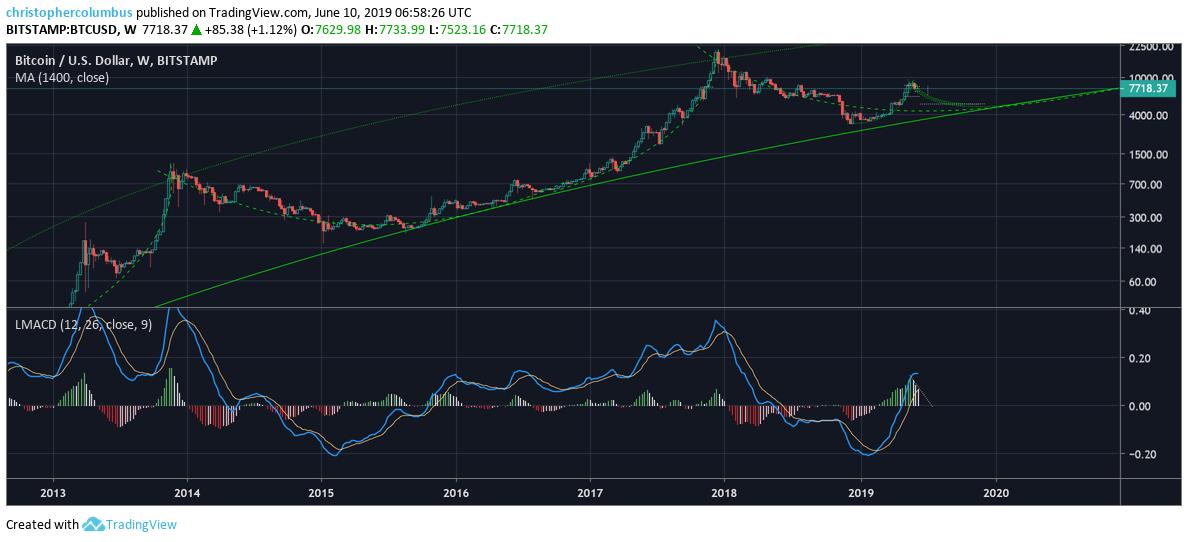 Waiting on the Sidelines
While there are more short to medium-term bears than bulls, many analysts are seemingly telling their followers to wait on the sidelines due to the lack of conclusive trendsetting. Prominent analyst Josh Rager explains that Bitcoin is currently trapped between $7,900 and $8,200, adding that $7,900 to $8,000 is the "most accumulated range since May 13th."
This could mean that barring there's a breakout in either direction, BTC may be settling down for some consolidation, making it foolish to make trades. Commentator CL explains that there are a number of reasons why Bitcoin is poised to range for a while, and may not see any drastic price action: BTC is above its 50-week moving average, the asset often consolidates after a parabolic trend, and volumes remain strong.
[✓] Above weekly 50?
[✓] Immediately followed by parabola?
[✓] Strong Volume?

This is the last consolidation before we ?

We have dozens of institutions exchanges opening soon, and all the infrastructure we need for the next mega bull run. pic.twitter.com/EF6C97U4nL

— CL (@CL207) June 10, 2019
Featured Image from Shutterstock