If you've followed the price of Bitcoin (BTC) at all over the past few weeks, you know there is a large lack of volatility. In fact, for the past 20-odd days, the leading cryptocurrency has been stuck in an effectively 8% range — something that doesn't happen all too often.
This likely leaves you wondering — what comes next for the cryptocurrency market? More sideways price action or a spike?
Apparently, it's the latter.
Volatility Nears
Analyst CryptoHamster noted that a Bitcoin price breakout "is approaching", looking to the fact that the one-day Bollinger Bands (a technical indicator meant to determine ranges) have begun to heavily tighten.
It is getting tighter here – the breakout is approaching.
At least, bitcoin is above the Bollinger Bands base line.$BTC $BTCUSD #bitcoin pic.twitter.com/miXhMKwzHf

— CryptoHamster (@CryptoHamsterIO) October 15, 2019
Their observation comes shortly after prominent analyst Josh Rager wrote the following on Twitter: "With three weeks of sideways and the bbands starting to pinch, Bitcoin price could see some volatility soon."
Indeed, as the chart above shows, periods of tight Bollinger Band ranges have preceded large breakouts at least four times this year, implying that this time is going to be no different.
That's not all. Volume levels on BitMEX, the leading Bitcoin futures platform, have begun to fall to multi-month lows. Low volume in markets after a period of consolidation is often indicative of impending volatility.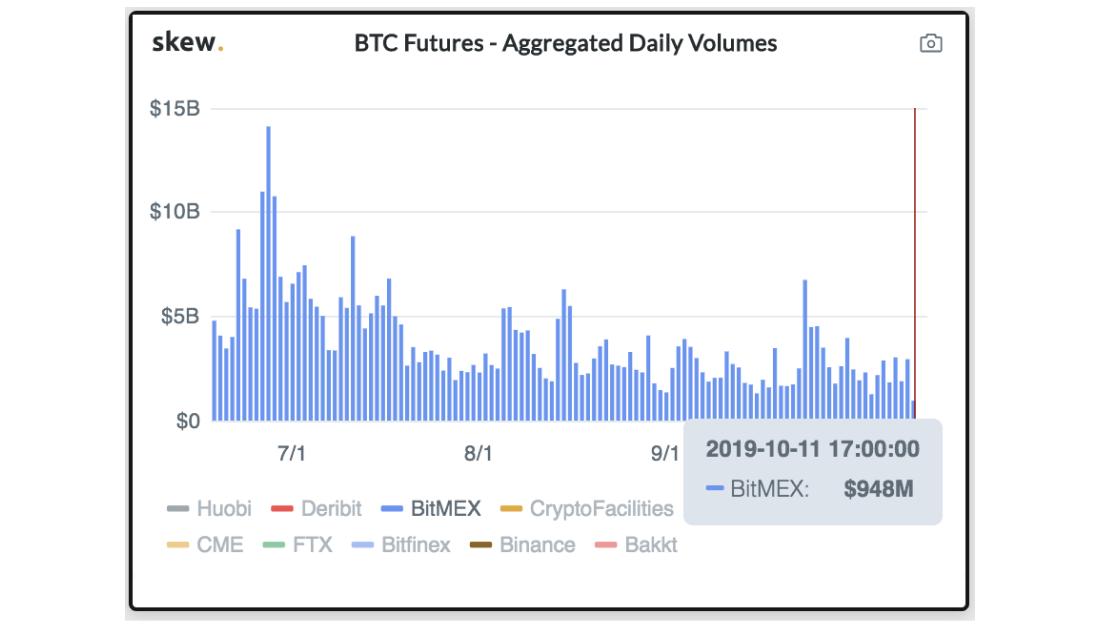 Bitcoin Price to Mount Higher
While the breakout could head in any direction, analysts are leaning bullish on Bitcoin at the moment.
Brave New Coin's Josh Olszewicz recently noted that the Tenkan and Kijun lines of the Ichimoku Cloud suggest that BTC has a higher chance of reverting to a mean (higher than current price) than establishing a lower low under $7,700. Olszewicz added that Bitcoin is trying to form an inverse head and shoulders/diamond bottoming pattern on its 12-hour chart.
With this in mind, Olszewicz said that Bitcoin could feasibly rally by 10% from current levels to hit $9,300 in the coming days and weeks.
TK lines on 12h and 1D suggest mean reversion over lower lows

also known as TK disequilibrium or TK c-clamp

target = 9.3 based on 12h kumo & 1D kijun pic.twitter.com/7Pe8c5JOe4

— Josh Olszewicz (@CarpeNoctom) October 15, 2019
This isn't the only evidence that BTC's price may be ready to head higher once again. Analyst CL argued that Bitcoin ball is in the court of the bulls, noting that BTC is trading above its monthly time-weighted average price while funding is widely negative (a bullish sign) and this market has established higher lows.
Featured Image from Shutterstock