Despite the fact that Bitcoin has made a new ATH above $66,000, the exchange reserves have continued their trend of decline.
Bitcoin All Exchanges Reserve Continues To Go Down
As pointed out by a CryptoQuant post, the Bitcoin all exchanges reserve continues to show a downtrend despite the crypto making new all-time highs (ATHs).
The all exchanges reserve is a BTC indicator that tells us the total amount of coins deposited on centralized exchange wallets.
When the value of the metric shows an increase, it means investors are sending more of their Bitcoin to exchanges. This could imply that there is a selling pressure in the market as holders usually move their crypto to exchanges for withdrawing to fiat, or for purchasing altcoins with them.
Decreases in the indicator, on the other hand, suggest the supply for BTC is shortening as investors are taking their coins off exchanges. Such a trend could mean there is a buying pressure in the market and may prove to be bullish for the price.
Here is a chart that shows the trend in the Bitcoin all exchanges reserve indicator over the past couple of weeks:
Bitcoin reserves seem to be trending downward | Source: CryptoQuant
As you can see in the above graph, while the price of BTC has shot up recently as the crypto makes new ATHs, the indicator's value has sharply fallen down.
Related Reading | As Bitcoin reaches New ATH, Another Promising Cardano Project RavenDex unveils Their DEX front Demo, Kicks Of Seed Sale To Early Investors
What this implies is that many investors still haven't tried to realize their profits. They have rather withdrawn their BTC and took it to personal wallets for hodling.
Below is another chart, this time for the Long-Term Holder SOPR indicator, which shows the degree of realized profits by investors who have owned their coins for more than 155 days.
BTC SOPR has been minimal recently | Source: CryptoQuant
As you would expect based on the reserves, the long-term holder SOPR has low values right now, showing that long-term investors still haven't moved to realize their profits.
Related Reading | Bitcoin Futures ETF Exceeds Expectations, Trades $1 Billion On Day One
Even though BTC has already made new ATHs, it would seem holders are still expecting the price to appreciate further before they begin to harvest their gains.
BTC Price
At the time of writing, Bitcoin's price floats around $65.7k, up 14% in the last seven days. Over the past month, the crypto has gained 51% in value.
Here is a chart showing the trend in the price of BTC over the last five days: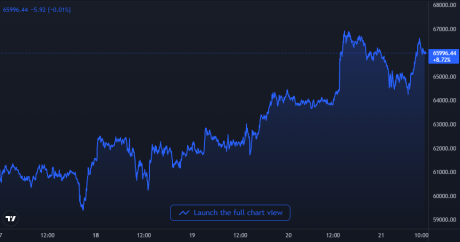 Bitcoin's price continues to make new ATHs as the price flies past the $65k mark | Source: BTCUSD on TradingView
Featured image from Unsplash.com, charts from TradingView.com, CryptoQuant.com