Bitcoin price is back in the mid-$50,000 range, unable to push any lower despite bears best efforts and overheated technical indicators pointing to a potential trend reversal. However, several fundamental factors are proving to be too strong, and are setting the stage for the next leg up in the ongoing cryptocurrency bull trend instead.
Here's what rising stablecoin supply says in the face of diminishing BTC reserves on exchanges, and what it could mean for all of crypto.
Fundamental Factors Have Fueled The Cryptocurrency's Recent Rise To Stardom
Cryptocurrencies, like all free markets, are driven by the dynamic forces of supply and demand. Other factors, such as regulatory, political, environmental, and economical issues can also have a dramatic impact.
Related Reading | Bitcoin Technicals Overheated, But Bullish Fundamentals Remain Unfazed
Two examples of one extreme or another, include the Black Thursday market crash due to pandemic panic, and the polar opposite move to the upside due to a BTC supply shock.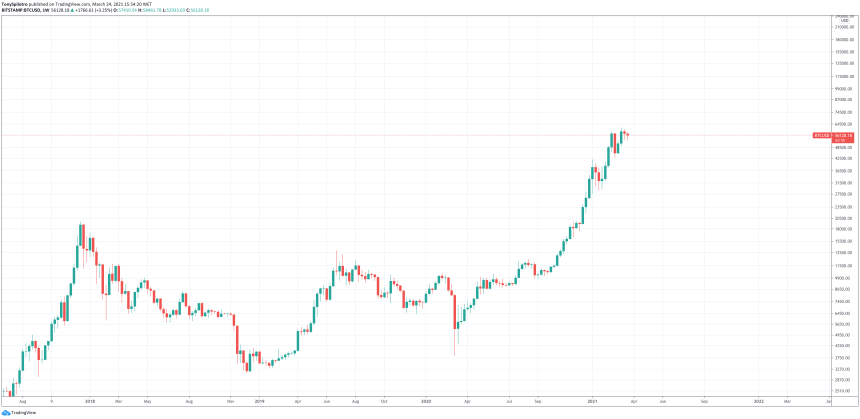 Bitcoin has grown significantly, driven by bullish fundamentals | Source: BTCUSD on TradingView.com
A shift in avalaible supply and increasing demand for Bitcoin, has brought the price per coin to more than $60,000 at the high. Technicals have been mostly overheated the entire way up, and are reaching a boiling point.
Yet prices still aren't falling any deeper than the mid-to-low $50,000 range, and it could be due to just how strong fundamental factors are currently.
The Bullish Factors Keeping Bitcoin Afloat, Another Leg Up Possible
Among the factors keeping Bitcoin price action afloat despite technical momentum indicators turning sharply down, is the continued lack of BTC on crypto exchanges. The liquidity crisis that has driven up prices so far, remains a vital factor in the buoyancy.
Related Reading | This Bitcoin Metric Says The Top Is Still 350% Away
Next, stablecoin supply has been steadily rising again, one of the primary factors behind each bullish impulse on the way up. Quant analysts have said that fresh USD was necessary to push higher, however, an increase in stablecoins could shift more capital into Bitcoin, and have a similar impact.

Stablecoin reserves continue to rise while BTC held on exchanges drops further | Source: CryptoQuant
If the leading cryptocurrency by market cap can sustain the current support levels and keep several bearish technicals at bay, then another leg up is the only way ahead. A continued rise could squeeze shorts at current all-time highs, causing prices to return to their parabolic trajectory.
If not, however, technicals will have outweighed fundamentals for the first time during the bull market, and it could result in the first more sizable correction since it all first began.
Will the increasing supply of stablecoins and low BTC reserve be enough to shake off momentum flipping bearish?
Featured image from Deposit Photos, Charts from TradingView.com