Bitcoin plunged roughly 12 percent on Thursday, breaking below critical support levels to target $30,000 for a potential pullback.
The sell-off occurred despite a positive risk-on sentiment across the traditional markets. That prompted analysts to blame a flurry of fundamentals, ranging from the US Treasury Secretary Janet Yellen's remarks on Bitcoin's use for illicit purposes to the Deutsche Bank's survey that concluded the cryptocurrency is in a massive bubble.
"When asked specifically about the 12-month fate of Bitcoin and Tesla — a stock emblematic of a potential tech bubble — a majority of readers think that they are more likely to halve than double from these levels with Tesla more vulnerable, according to readers," the bank stated in its report.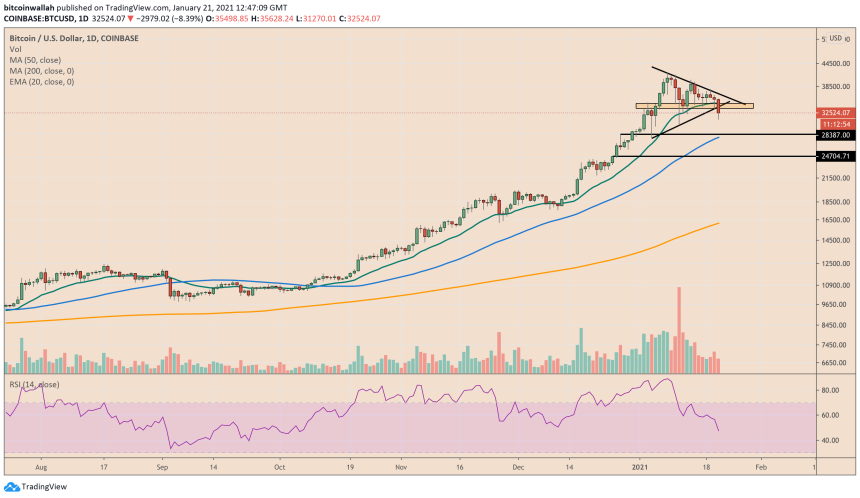 Bitcoin breaks below the horizontal support zone. Source: BTCUSD on TradingView.com
A $30,000 Bitcoin
The pessimistic fundamentals flipped Bitcoin's short-term bullish bias to bearish—technically. The cryptocurrency broke below two critical patterns: the Symmetrical Triangle and the Descending Triangle. Invalidating their lower trendline supports paved the way for Bitcoin to target lower levels—even below $20,000 in the medium-term.
Nevertheless, the market appeared hopeful for a pullback from the levels around $30,000. Two weeks ago, the price floor had capped bears from taking control over the bearish correction sentiment after Bitcoin reversed direction upon rallying to its record high near $42,000. Analysts expect a fractal.
"Two scenarios I'm watching for on Bitcoin," Jacob Canfield, a lead trader at Signal Profits. "Took a small long on this sell-off, most likely will get stopped out, but worth the RR on the trendline. Will most likely bid the zone heavily right below the wick around $30,000. Should see an aggressive buyback if we reach that level."
Bullish Catalysts
Part of the upside sentiments takes cues from a rising accumulation sentiment. Grayscale Investments, a New York-based investment firm, purchased 16,244 BTC worth more than $600 million in a day, bringing its net Bitcoin reserves to more than 63,000 BTC, which is worth around $23 billion. Many analysts agree that their buying spree would offset the cryptocurrency's downside risks in the long term.
Meanwhile, analysts are also optimistic about BlackRock's recent filing with the US Securities and Exchange Commission (SEC). In it, the firm, which manages $8.7 trillion worth of assets, said that two of its funds are planning to invest in Bitcoin futures.
"BlackRock loves BTC, they manage the equivalent of 8% of world GDP. Bitcoin is 0.6% of world GDP in comparison. This is what happens to Bitcoin price when the High Net Worth get that kind of validation to buy BTC."