Data from Santiment reveals both Bitcoin and Ethereum currently lack the trading volumes to justify their market caps.
Bitcoin And Ethereum NVT Ratios Are Both Bearish Right Now
According to the on-chain analytics firm Santiment, both the bitcoin and ethereum networks will need to see a pickup in activity this year. The relevant indicator here is the "Network Value to Transaction" (NVT) ratio, which measures the ratio between the market cap of any crypto and its transaction activity.
Usually, the trading volume is considered as the transaction activity of a coin, but Santiment's NVT ratio works differently. Instead of dividing the market cap by the volumes, this version of the metric makes use of the "daily circulation," a measure of the total number of unique coins that have seen some movement in the past day.
The advantage of the circulation indicator is that transactions, where the same coins jump through several wallets, are only counted once towards the measurement, while the normal trading volume metric would have counted them as many times as they were transferred. This helps eliminate duplicate transactions and gives a more accurate idea about the market activity.
Now, what the NVT ratio tells us is how the market cap of Bitcoin or Ethereum currently compares against the activity on the respective networks. High values of the metric suggest the volumes are much lower than the cap right now, and hence the coin may be overvalued at the moment. On the other hand, low values suggest the price may be undervalued.
Now, here is a chart that shows where the NVT ratio has been valuing Bitcoin and Ethereum during the past few years: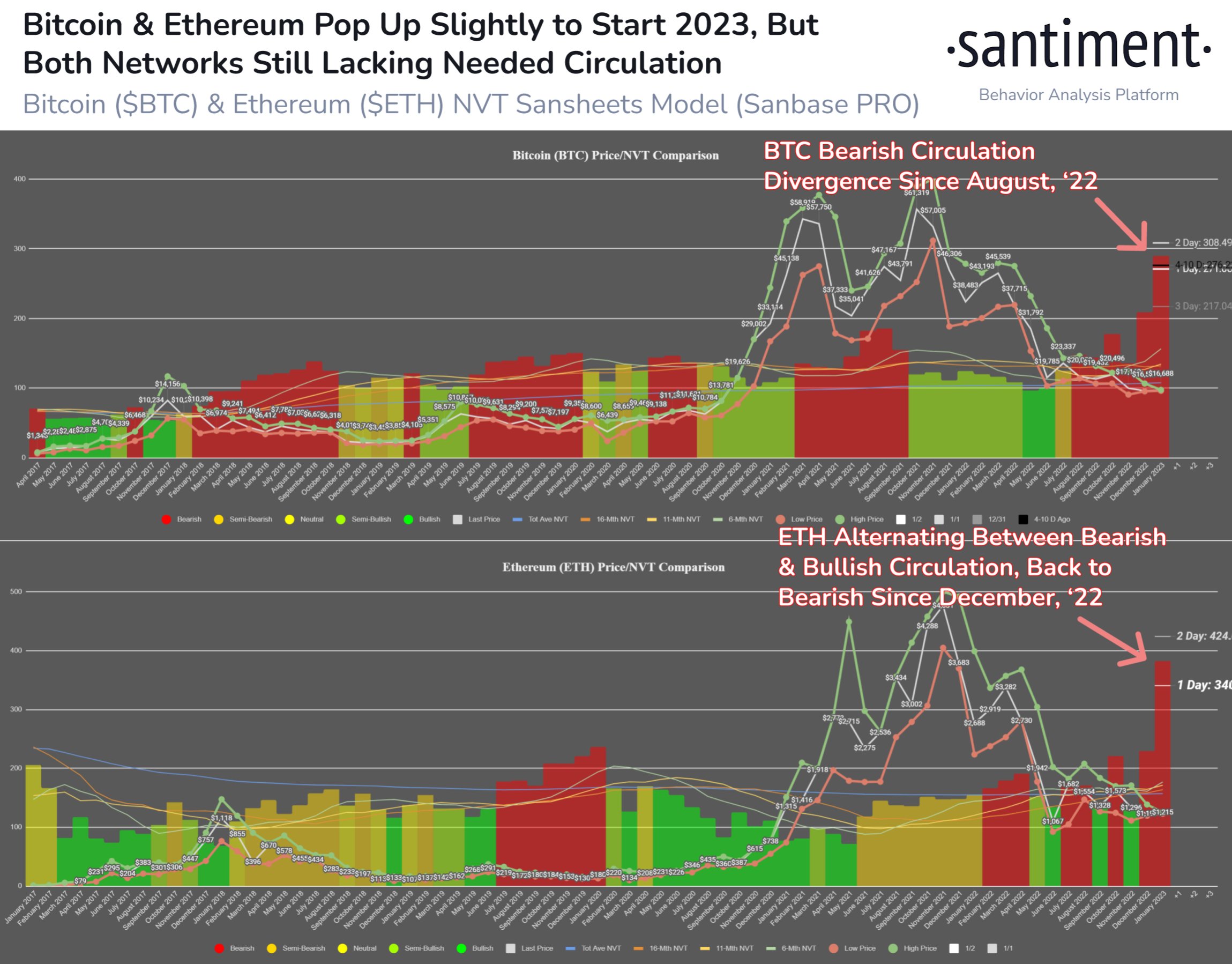 The value of the metric seems to have been bearish for both the coins recently | Source: Santiment
As the above graph shows, the NVT ratio has been bearish for Bitcoin since August 2022. This means that in the last few months, the circulation on the BTC network has remained pretty low when compared to the market cap of the crypto.
For Ethereum, the indicator's value had been switching between bearish and bullish throughout 2022, but the coin seems to have ended the year being overvalued as the circulation was bearish in December.
If the cryptos continue to be overvalued according to the NVT, then a correction may be imminent for them. "The circulation rate of both networks need to pick up in 2023, and this week will be telling as non-holiday days begin," explains Santiment.
BTC Price
At the time of writing, Bitcoin's price floats around $16,700, down 1% in the last week.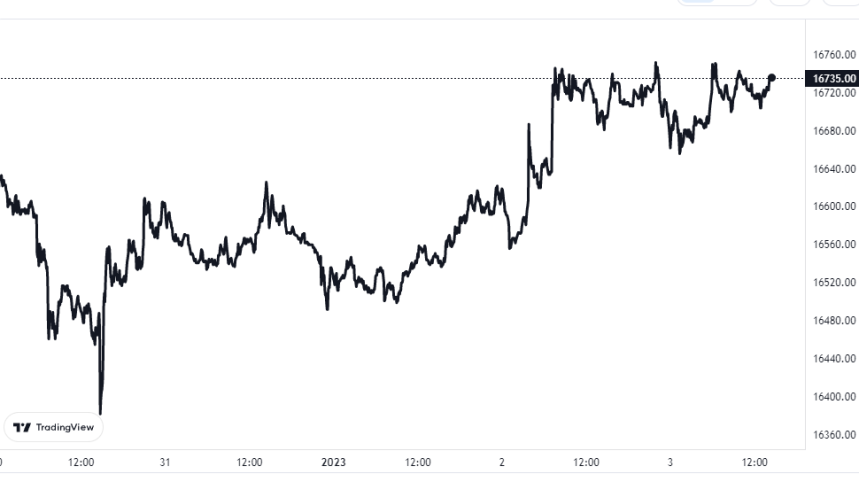 Looks like BTC has surged in the last couple of days | Source: BTCUSD on TradingView
Featured image from mana5280 on Unsplash.com, charts from TradingView.com, Santiment.net