The start of a new year kicked off Bitcoin price and crypto market forecasts across social media and mainstream media platforms. Experts are debating whether bulls or bears will drive 2023's price action. Last year, bears took over and sent the benchmark crypto back to its 2020 levels. 
As of this writing, the Bitcoin price trades at $16,700, recording a small profit during today's trading session. On higher timeframes, the cryptocurrency continues to record sideways price action. The latter could operate as the dominant price action for 2023.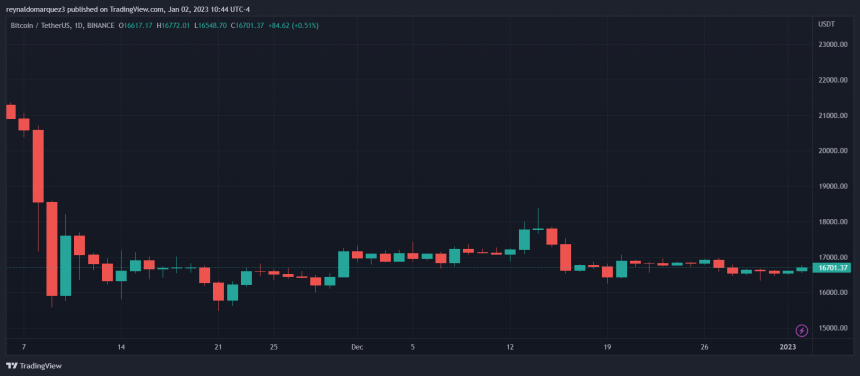 The Best Is Yet To Come For The Bitcoin Price
Per a report from CNBC, the Bitcoin price is bound for an extreme shift in its trajectory. Optimistic experts, such as BTC bull Tim Draper, believe the cryptocurrency will trend higher from its current levels. 
Draper believes the benchmark crypto will experience a 1,400% rally, reclaim previously lost territory, and break above $250,000 by mid-2023. The BTC bulls believe macroeconomic conditions will push adoption much higher. 
One demographic will lead this potential new wave of adoption that will coincide with the upcoming Bitcoin halving. This event is scheduled for 2024, but in the past, the market has priced its impact much earlier. Draper said:
My assumption is that since women control 80% of retail spending, and only 1 in 7 bitcoin wallets are currently held by women that the dam is about to break.
Professor of finance at Sussex University, Carol Alexander, believes Bitcoin could see two short-term rallies. The first could take the Bitcoin price back to $30,000, and the second to $50,000 on the back of less trading volume and prominent players.
As FTX and Three Arrows Capital collapse, Alexander expects less competition in the market, which could provide other prominent players with room to push BTC upwards. The professor explained:
There will be a managed bull market in 2023, not a bubble — so we won't see the price overshooting as before. We'll see a month or two of stable trending prices interspersed with range-bounded periods and probably a couple of short-lived crashes.
Exploring Less Favorable Scenarios, How Low Can BTC Go?
Better macroeconomic landscape, adoption, halving and supply squeeze, and less competition. These are the factors that could work in favor of the cryptocurrency. 
On the other hand, Eric Robertsen from Standard Charted claims the Bitcoin price could return to its 2020 levels and touch $5,000. A lack of trust from investors and more capitulation from crypto companies could prompt this scenario. 
The low liquidity levels in the sector make things worse. The current state of the market could experience another leg lower if the U.S. Federal Reserve (Fed) doubles down on its hawkish monetary policy. 
According to Mark Mobius, who successfully predicted the BTC crash from $30,000 to $20,000 in 2022, if the Fed continues to tighten, the cryptocurrency could drop to around $10,000. Mobius said:
With higher interest rates, holding or buying Bitcoin or other cryptocurrencies becomes less attractive since just holding the coin does not pay interest.