Bitcoin funding rates had fallen below neutral two weeks ago after finally recovering from a month-long downtrend. This had sparked fears of another bearish trend starting in the market. However, this has quickly changed as the numbers for last week have come in. This time around, the bitcoin funding rates are painting a better picture for the digital asset.
Funding Rates Return To Neutral
The bitcoin funding rates for the last week have been more optimistic compared to previous weeks. This is because it had continued to maintain its positive at neutral for the whole seven days; there was not a single point in the week that funding rates had actually fallen below neutral. This is the first time since March that the funding rates have consistently remained above the negative level for a while week.
A recovery in funding rates is always a welcome change for the market, this is why last week's day remains important. With a market such as this, where bitcoin continues to struggle to comfortably break above $23,000, there needs to be a significant change in not only sentiment but in the amount of money being injected into the space.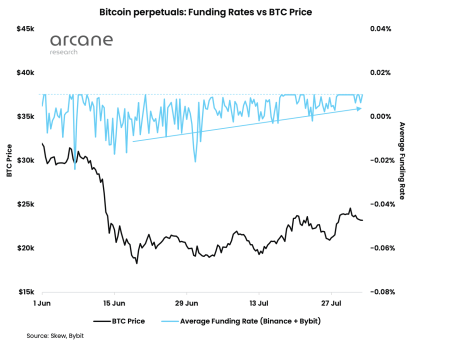 BTC funding rates return to neutral | Source: Arcane Research
With funding rates recovering to neutral, it once more puts it on a path towards becoming neutral, something that has eluded bitcoin for most of the year so far. The trend, which had started in June, has now reached an acceptable point, but the end game remains for finding rates to turn positive if bitcoin is to continue on a bull rally.
BTC trading below $23,000 | Source: BTCUSD on TradingView.com
Will Bitcoin Recover?
Bitcoin is still trending at $22,800, which has surprisingly become a support level for the digital asset. This level continues to hold tentatively but needs a big push to rise out of this level. With funding rates recovering, perp traders may likely provide that needed push.
Related Reading: Why Bitcoin Investors Should Pay Attention To The Macro Environment
As for the leverage in the bitcoin market, it remains elevated. This means that more traders are opening positions in the digital asset. But it also puts them in a precarious position in a situation where liquidations could pile up quickly, especially with a move below $22,000.
Nonetheless, the bull indicators remain strong, albeit a bit weaker compared to last week. The resistance at $23,000 is not as strong as bears would like, which puts the next major resistance well above $23,500. If bitcoin can beat the 50-day moving average once more, then it is likely to surge above $24,000 once more.
Featured image from The Economic Times, charts from Arcane Reseach and TradingView.com
Follow Best Owie on Twitter for market insights, updates, and the occasional funny tweet…