Recent reports show that Bitcoin mining uses great amounts of renewable energy due to economic incentives. This turn of events raised their numbers of sustainable power mix to almost three times higher than the world average.
As renewable energy offers low costs, bitcoin miners, who had to spend 68.42% of their total income to purchase electricity, have upscaled their efficient use of green energy. A recent data review shows how their mix of sustainable energy is higher than any country or industry.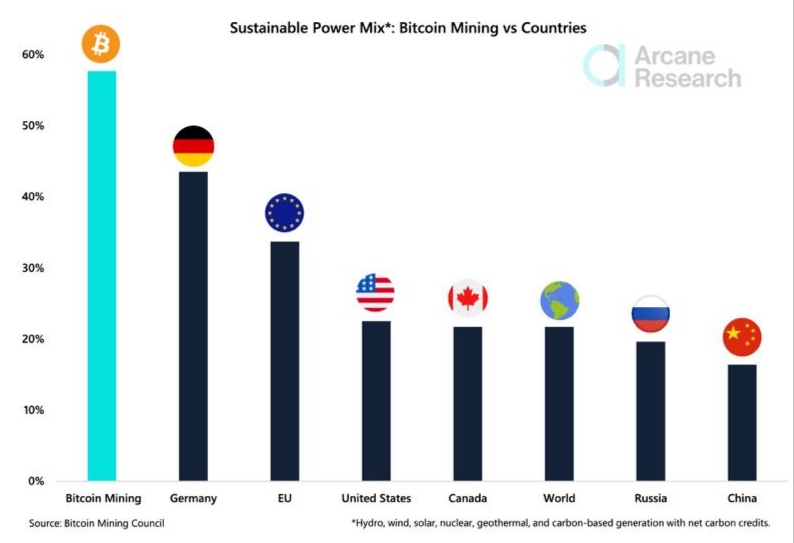 Renewable energy is not flexible and their locations do not tend to be convenient for most people. As bitcoin miners move close to sources of energy to lower the costs, they are a viable solution to not waste the sustainable energy that otherwise would be deployed, as explained by CoinShares.
According to a survey carried by the Bitcoin Mining Council (BMC), the electricity mix used by bitcoin miners increased 3% from second-quarter to an approximate of 57.7% sustainable in third-quarter 2021 "making it one of the most sustainable industries globally."
MicroStrategy's CEO Michael Saylor had stated earlier that the Bitcoin Mining Council's effort to bring clarity and transparency over Bitcoin mining will most likely "play an important role in demystifying" the industry.
Furthermore, a whitepaper by the Bitcoin Clean Energy Initiative from earlier this year had explained how bitcoin mining, when using renewable energy, "is especially suited to accelerate the energy transition" towards a cleaner electricity grid:
With bitcoin mining integrated into a solar system, (…) energy providers – whether utilities or independent entities – would have the ability to play the arbitrage between electricity prices and bitcoin prices, as well as potentially sell the "surplus" solar and supply almost all grid power demands without lowering profitability.
China's Ban Impact On Bitcoin Mining
Digiconomist data shows that China's ban of all Bitcoin mining activities dropped the total amount of "active computational power in the network" by 50%. The reduction of mining competition also generated higher levels of income for active miners worldwide.
Torbjørn Bull Jenssen CEO of Arcane commented earlier:
As China is turning away from bitcoin mining, the mining industry as a whole is becoming increasingly green and a driver for renewable energy around the world. Now is excellent timing for Arcane to enter into this segment, (…) Mining is a very interesting business stand alone, and it also has considerable synergies towards our other investments and business. I am looking forward to finalizing the strategy for Arcane Green Data and presenting it in more detail for our partners and investors.
Related Reading | Is China Considering Lifting The Bitcoin Mining Ban? The NDRC Runs Public Survey
In a wider panorama of energy usage by Bitcoin miners, Square funds a solar-powered facility for bitcoin mining, El Salvador explores the viability of using volcanic renewable power for mining bitcoin, and other countries propose economic incentives for bitcoin miners who use renewable energy.
Related Reading |Jack Dorsey: Square Could Build Bitcoin Mining System
CoinShare stated in June's report that bitcoin's network is "more renewables-driven than almost every other large-scale industry in the world."