So we're off on another day's trading out of Europe and it is time to get some levels in place that we can use to take advantage of any volatility in the bitcoin price. Yesterday's session was a pretty interesting one. We got lots of early morning volatility and we were able to jump in and out of the markets on some pretty rewarding entries. As the evening came around, however, things settled down a bit and markets started to consolidate.
This isn't always a bad thing – consolidation can make a real difference to the size and momentum of a breakout trade – but it does make things a little dull from an intraday trading perspective.
Anyway, enough moaning.
Let's get a strategy outlined and push forward into the European session. As ever, take a quick look at the chart below before we get started so as to get an idea where things stand and where we are looking to jump in and out of the markets as and when things move. It's a one-minute candlestick chart and it's got our key range overlaid in red and green.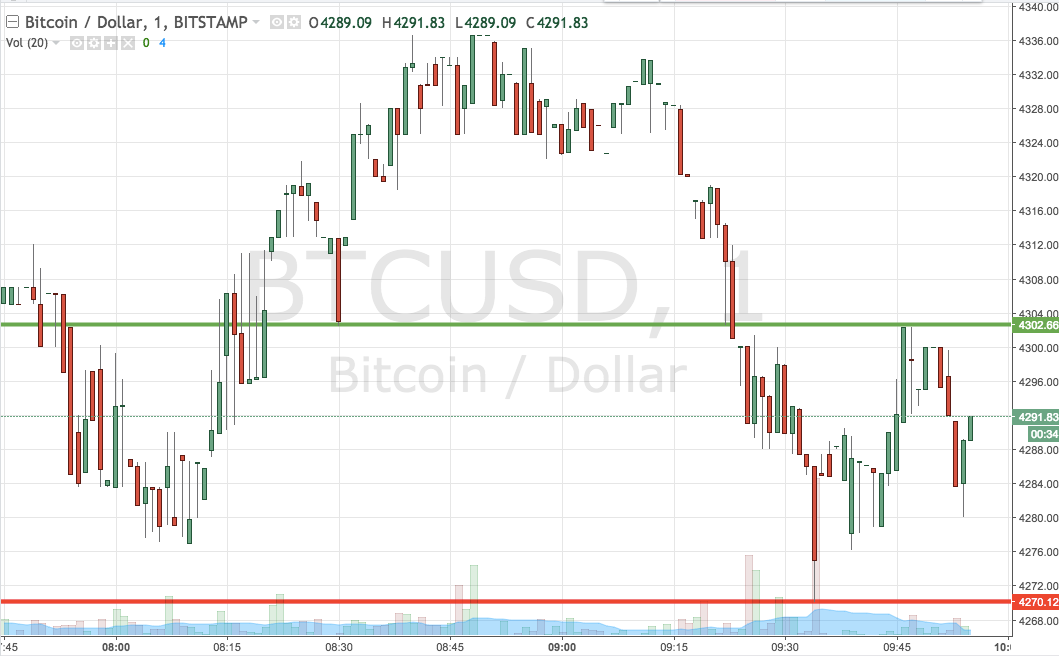 As the chart shows, the range we are looking at for the session today comes in as defined by support to the downside at 4270 and resistance to the upside at 4302. We are going to stick with our breakout approach only for now and leave our intrarange strategy in the draw, at least until things pick up.
So, a close above resistance will get us in to a long entry towards an immediate upside target of 4335. A stop on the position at 4290 looks good.
Looking the other way, if we get a close below support, we'll jump in short towards a downside target of 4250. A stop on this one at 4280 looks pretty good.
Let's see what happens.
Charts courtesy of Trading View