So that's the week pretty much done in our bitcoin price trading efforts and it's been a pretty strong one. We've seen the bitcoin price gain a considerable amount of strength across the week, with initial starting levels of in and around 2200 now very much in the rear view mirror. The hope is that we can get a continuation of this sort action as price matures throughout the late US session this evening and, beyond, into the weekend. If we do, great, as it means we can add a cherry on the top of what has been a pretty darn successful week. If not, no real problems. So long as we keep our risk management tight we're going to be able to stay on top of the markets and protect our losses, meaning we don't have too much to be concerned about moving forward.
So, with this in mind, let's get the details out of the way and set the stage for tonight. As ever, take a quick look at the chart below to get an idea of where things stand. It's a one-minute candlestick chart and it's got our key range overlaid in blue.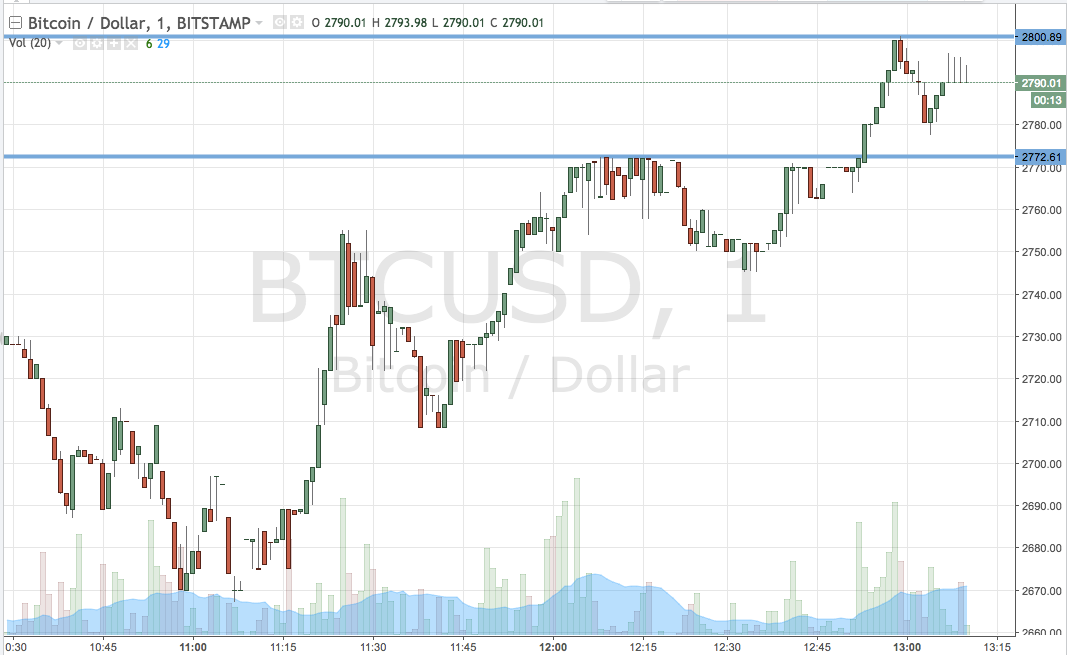 As the chart shows, the range we are using for our trading strategy this evening is defined by support to the downside at 2772 and resistance to the upside at 2800. We will initially look for a close above resistance to get us into a long position. If we enter, we'll target an upside target of 2830 and place a stop loss around 2782 to ensure we don't get caught out on the wrong side of the markets. Looking short, a close below support will get us into a downside entry towards an immediate downside target of 2750. A stop on this one at 2778 looks good.
Let's see what happens.
Charts courtesy of Trading View