Much of Bitcoin's short-term market bias now hinge on the outcome of the virtual Jackson Hole meeting at the end of this week.
The benchmark cryptocurrency showed signs of weakness ahead of the event. It fell by close to 1.5 percent during the early London trading session Tuesday after setting an intraday top at $11,823 a day before. Traders showed resilience to enter the market at the said high as they waited for the monetary policymakers to shed more light on the global economy's health.
To Ease or Not to Ease
The US Federal Reserve's chairman, Jerome Powell, will speak at the virtual symposium, providing further clarity over how they would tackle the slow economic growth. In the minutes of their July 2020 meeting, the Fed had hinted at not expanding its stimulus program in the near-term.
Instead, the US central bank gave an overview of its long-term outlook. It signaled that it might tolerate higher inflation before it withdraws support. While that should have raised the bids for safe-haven assets–such as Bitcoin–the short-term uncertainty among investors kept the cryptocurrency's upside under control.
The focus from Bitcoin also shifted as global equities rallied. The S&P 500 on Tuesday closed 1 percent higher while its peers, the Dow Jones and the Nasdaq Composite, surged 1.35 percent and 0.60 percent at the close.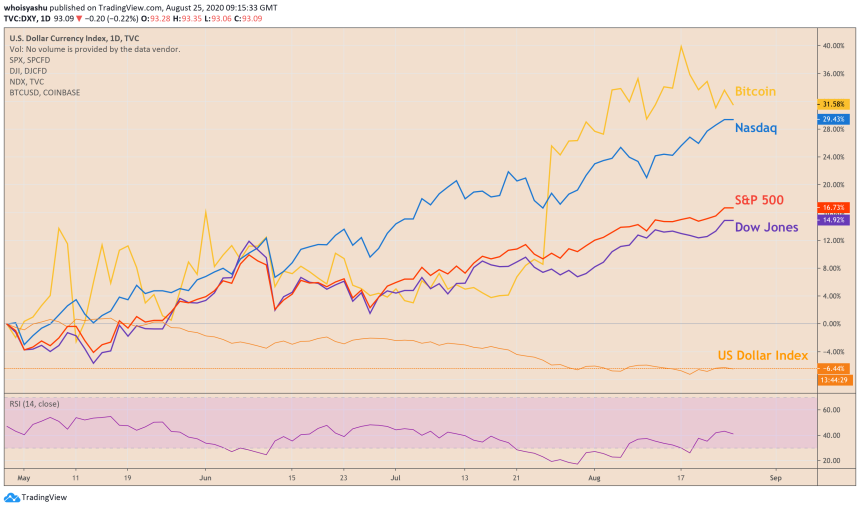 Bitcoin against the US dollar index, Dow Jones, Nasdaq, and the S&P 500. Source: TradingView.com
The gains took cues from the Trump administration's decision to fast-track the development of the COVID vaccine in Oxford University's laboratory.
The upside also followed as the US and China admitted that they are going ahead with the phase-one trade deal. The two superpowers ignore their recent spat over the alleged origins of COVID in a Wuhan lab and China's increasing control over Hong Kong through a national security law.
Safe-haven traders now await Powell's speech on Thursday.
If the Fed chairman decides to continue its monetary easing policies–such as maintaining interest rates near zero and buying bonds infinitely–then it may leave the US dollar in a weaker state. That would help Bitcoin to continue its growth further into the year – or vice versa.
Bitcoin Technical Outlook
Bitcoin is trading marginally below its short-term support at the 20-daily exponential moving average (the green wave in the chart below). An extended daily close below it points to a correction towards $11,370.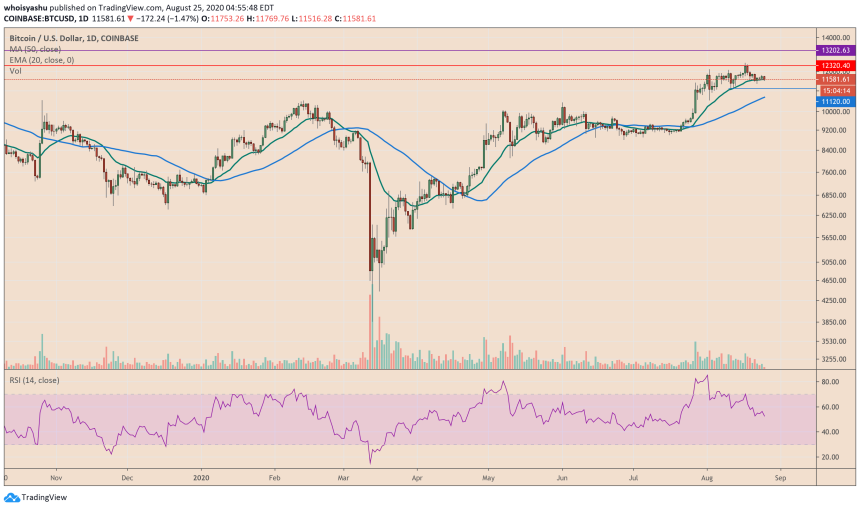 Bitcoin testing the 20-day moving average as support. Source: TradingView.com
Meanwhile, a further break lower would expose the price towards $10,500, the final downside target to hold the short-term bullish bias. Alternatively, a rebound above the 20-DMA may set the stage for an upside run towards $11,800, followed by a retest of the $12,000 and levels above it.